Pro gamers reveal their FIFA 17 wishlist
Pro gamers are enjoying FIFA 16, but they want these changes to be made for FIFA 17.
Some of the world's best FIFA players have the chance to show how they've adapted to
FIFA 16
this week when
ESWC
(Electronic Sports Word Cup) kicks off in Paris. Of all the games at the tournament - Hearthstone, CS: GO, League of Legends - it is the FIFA 16 competition that's perhaps the most intriguing as it comes just a month after the new game was released. 

Gfinity champion
Spencer 'Gorilla' Ealing
is one of two British players competing at the tournament, along with Sean 'Dragon' Allen. In the build up to the competition, he told us how he's getting on with FIFA 16 and what could be improved for FIFA 17. Fellow FIFA pro gamers
Tass Rushan
and
Olly Shaw
also deliver their verdict on EA's latest football game.

Olly Shaw's FIFA 16 verdict
I think FIFA 16 is a great improvement on the two previous instalments of FIFA. The integration of the driven pass has really led to some diverse gameplay in the professional scene. The players who have mastered this pass early are currently doing really well in all tournaments we are playing and I think, in time, this will become one of the most important things to master. I am also having great fun in FUT Draft mode and the rewards given for doing well in this mode are great for building your ultimate team with your favourite players.

What could be improved for FIFA 17
I would really like to improve the goalkeepers. I still feel that some of their decisions when coming out and also their inability to save a shot at their near post is a little frustrating. There is nothing worse than your keeper deciding to have a shocker when you are in full control of a game. I have seen shots go in from crazy angles that really should never trouble a goalkeeper. Also, this year I feel EA have gone slightly over the top when helping people to defend. The CPU defensive intelligence is giving a lot of help to player
Watch this video to find out what footballers think of FIFA 16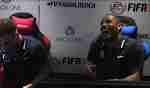 What do footballers think of FIFA 16
Spencer 'Gorilla' Ealing
's FIFA 16 verdict
I'm liking it at the moment. I was a bit sceptical at the start but I'm getting used to things like the passing - at the start it was a pain but I like it now. 


What could be improved for FIFA 17

I think pace needs to be upped as defenders can catch you easily at the moment. Also penalties are given easily. Just walking next to the opponent is risking giving away a pen.

Tass Rushan
's FIFA 16 verdict
It is definitely better than FIFA 15 and anyone who doesn't agree needs their head checked. It is definitely not all about pace like it was in 15. I think that's mainly because the over the top through ball (LB + Y) is almost non existent.
The main reason I prefer it is because it is much more of a passing game compared to FIFA 15 - on the last game, you could make literally one to two passes from back to front, and you would be in on goal, even against top players. This made no sense. In FIFA 16 you really need to build up play in order to make something happen. Just as it should be! 

This way for more FIFA action: