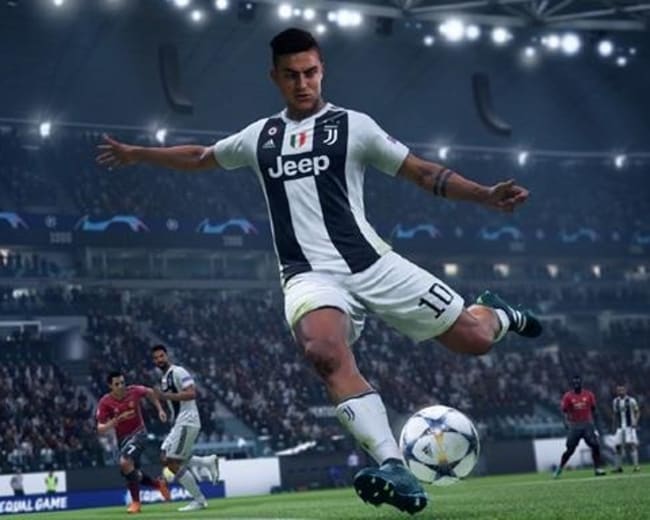 These FIFA 19 shooting tips will help you master timed finishing
© EA Sports
There's a new way of scoring goals in FIFA 19 – here are the best ways to use it.
This year's FIFA boasts a selection of noteworthy
new features
, headlined by the return of the UEFA Champions League to the series. There are plenty of improvements to gameplay, too, with one of the most intriguing additions being a new shooting mechanic called Timed Finishing.
This new system takes a different approach to scoring goals, requiring players to focus on timing over shot placement. It's not quite as easy as it sounds, however, so after getting hands-on with it, we've come up with some top FIFA 19 shooting tips to guide you through Timed Finishing.
1. Master the controls
The first step is making sure Timed Finishing is turned on in the controls settings menu. It's then activated in-game by double-tapping the shoot button, with the first tap setting your shot's power as usual. As your player goes to strike the ball, tap the button again and you'll switch to the new mechanic.
If you time it just right, you'll get a boost of power and accuracy. Press it too early or late, and the result will be a scuffed or wild shot. Miss the timing window completely and your kick will simply revert to the normal method of shooting.
2. Use the FIFA Trainer
The best way to get used to Timed Finishing is to utilise the FIFA Trainer, which offers helpful gameplay tips mid-game. Turn it on in settings, and you'll see a mini meter when you go to shoot, indicating how early, late or spot on you are with your timing.
If you're not keen on using the Trainer for long periods of time, the indicator above each player's head also offers Timed Finishing feedback. You'll notice it turning yellow or red if you've double-tapped too quickly or late, while a green flash indicates a perfect execution.
3. Consider situational factors
Perfect timing doesn't guarantee that you'll score every time of course. There are heaps of factors that you need to be aware of before taking the shot, and superstar attackers are obviously more effective than bustling
centre-backs
at hitting the back of the net.
You also need to think about when and where you're going for goal. Activating Timed Finishing from tight angles, when off-balance, or with a player's weak foot will naturally make it harder to get your shot on target. Line it up correctly, and your odds of scoring increase.
4. Save it for special occasions
This new way of shooting can prove lethal when you've mastered it, but it doesn't always make for the best option. Timed Finishing is best reserved for when normal shooting isn't as effective – when having a dig from distance, for example.
For simple chances like one-on-ones, the risk-or-reward nature of Timed Finishing isn't worth the hassle. Instead, stick to the old way of putting the ball in the net, and keep in mind that because of the timed feature, low shots are now mapped to the bumper buttons (LB + RB/L1 + R1 + shoot).
5. Practice, practice, practice!
There's no doubt that Timed Finishing offers a fantastic benefit for skilled players. But ultimately, it's going to take time to achieve perfect timing on a consistent basis. Don't give up if you're finding it tough – your persistence will pay off in the long run.
For now, focus on getting in as much practice as possible away from online competition. Kick-Off, Career Mode and The Journey: Champions are great modes for honing your Timed Finishing skills before unleashing it in FUT Division Rivals and beyond.