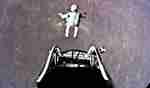 It's rare that a 10-minute point-of-view (POV) video exists from a skydive, but then Red Bull Stratos was not your average jump.
Fans will particularly appreciate the extra data this video provides, such as air speed, g-force, altitude, and heart rate.
After you've clicked 'play' above and watched the full-length POV cam from Felix's record-breaking skydive, click over to the brand new full-length documentary,
Red Bull Stratos - Mission to the Edge of Space
, available exclusively at
rdio.com/redbullstratos
for free starting today [No longer available to viewers outside of the USA, Australia and New Zealand].