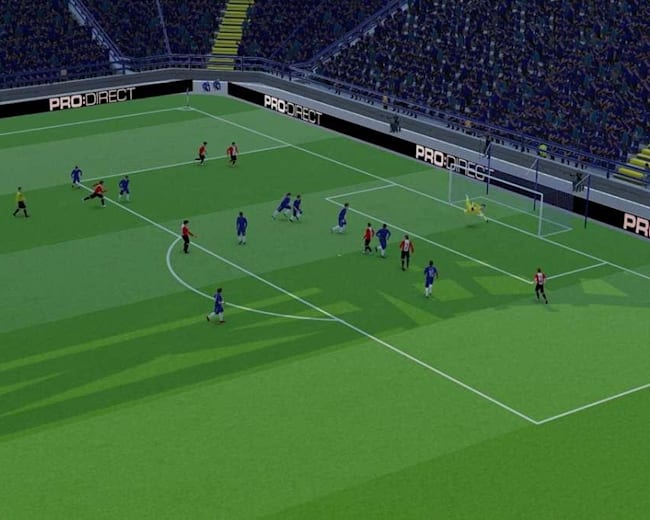 Football Manager 2018 tips to guide you to victory
© Sports Interactive
Master the new features in FM18 with these top tips, direct from Sports Interactive.
Football Manager
is back, and this year's edition is packed with new features that make the experience of managing a team more realistic than ever.
The scouting system has been overhauled, with data analysts having a bigger role to play than before, and you can use their findings in the new pre-match briefings that you can deliver to your team, while there are also new player roles and instructions. However, it's not just about signing players and getting your tactics right – you also have ensure that you have a harmonious dressing room.
To help you master the new features and start winning games, we asked Sports Interactive's Tom Davidson for his top Football Manager 2018 tips.
How do you keep influential players happy?
It's important to keep Team Leaders and Highly Influential Players happy. The best way to do this is to ensure that they're playing the amount of first-team football that they're expected to. So, if their squad status is set to 'Key Player' then they should be in the starting line-up for the bulk of your team's matches, whereas 'Rotation' players should be looking to start every few games.
There are cases, though, where going against your most influential players can benefit your club in the long-term. For example, if you have a Team Leader who is lacking in ability compared to what's available on the transfer market then it may be worth selling him and taking the hit of the initial unrest amongst the squad to improve the overall quality of the team.
Is a bad egg ever worth it?
Only when their ability on the pitch outweighs the potential negative effects on the dressing room. A good way to reduce the impact of a bad egg on the rest of the squad is to sign players with similar personalities or from the same country as that player so that he has a chance of forming a social group with them.
How much should you trust your scouts?
There always has to be an element of trust between you and your entire scouting team. They're the ones who are getting a first-hand view of a potential signing and, in Football Manager 2018, they offer a more accurate assessment of how a player would fit into your team thanks to the new recommendation score.
That said, if you find that several scouts have higher scores for judging players than your current scouting team then it could be a sign that you need to improve in that area.
What are the most important statistics you should be looking at when signing a player?
Probably the most important is to see what roles the player can fulfil. If they're going to force you to radically alter your tactic in order to fit them in, then they might not be the best option. It's also important to look at the key attributes for their position – it's no use having a central midfielder who can't pass the ball, for example.
Finally, you should look at how the player's physical attributes compare to your team's style of play. If the player has a score of eight for pace and your team like to play a fast, counter-attacking strategy, then I'd suggest looking elsewhere.
Do you have any top tips for getting transfers over the line?
We've added in a raft of new transfer and contract clauses into
Football Manager 2018
so make full use of the new instalment options that can help you comply with Financial Fair Play more easily. You can also offer a bonus to the selling club should the player win some silverware at your club, which can help convince them to sell the player to you.
Is it more important in the long term to spend more money on scouting than blow your money on players?
Having a well-organised, talented scouting network that can identify good players that have slipped beneath the radar is the holy grail
It depends on which sort of club you're managing. For 95% of the teams in the game, it's important to find value in the transfer market so having a well-organised, talented scouting network that can identify good players that have slipped beneath the radar is the holy grail. If you're managing in the upper echelons of world football then you're usually going to be fighting for the elite players with the biggest clubs in the world, although it's always important to look out for talented youngsters.
What are the most effective pre-match instructions/team talks?
Well, this year you've got more ways to communicate with your squad ahead of kick-off. Firstly, there are a whole range of new contextual team talk options this year that incorporate more noteworthy statistical elements that you can use to motivate your squad ahead of kick-off. There's also a new pre-match tactical briefing which allows you to explain to your squad the tactical approach you want to take for the upcoming fixture.
To get the best out of your squad, you're going to want to use the pre-match briefing to give them as much information as possible ahead of kick-off and then use the team talk to really get them fired up on matchday.
Should you do the team talk or leave it to your assistant?
Team talks can be a good way to build a strong connection between you and your players
With the introduction of Dynamics into the game, there's a more direct response from the players to your management style. So team talks can be a good way to build a strong connection between you and your players. However, if you don't have a high score for your 'Motivating' attribute or if your assistant has a higher 'Motivating' score then it could be worth handing those duties over to them.
Should you listen to the pundits' analysis?
The pundits can give you an insight into where the momentum lies ahead of a match and can also be quite useful for providing you with team news on the opposition if you've missed it in the build-up to the match. Of course, when the pundits put you down as second favourites, it's up to you to prove them wrong!
What are the most important player roles? Should you always try and fit the new Segundo Valente, Mezzala or Carrilero in your team
A pacy midfielder with a good long shot on him may be a prime candidate to train into a Mezzala
The truth is that there isn't a single new player role that stands out above the others as they all give you greater control over your players in each of the positions that they can be used in. It's worth looking first at whether any of your players are naturally comfortable in any of the new roles before you try and implement them into your tactic. It's also a good idea to scan through your players' attributes to see if they're a good fit to be retrained in a particular role. A pacy midfielder with a good long shot on him may be a prime candidate to train into a Mezzala, if he can't operate as one already.
Is it a good idea to play with two inverted wingers? When would you want to play them?
If you've got good support around them and are managing a side that is comfortable in attack, then it could work. You'd need to have wing-backs with good stamina who could cover for them out wide if one of your wingers loses possession around the halfway line. You'll also need to ensure that there's plenty of attacking options for them to feed the ball into once they've cut inside the defence.
The new tactics overlay highlights potential weaknesses – how much should you focus on your side's weaknesses or should you play to your strengths?
It's very easy to fall into the trap of concentrating solely on fixing your side's weaknesses without paying much attention to their strengths but that can easily leave you compromised in attack and struggling to hit the back of the net. Every tactic will have advantages and disadvantages but you need to weigh up which of those will affect your team the most. For example, you may have a strong defence but be weak in attack so can afford to focus a bit more on building an attacking tactic.
How important is player chemistry? Would you rather have two great players or two decent players with a green line?
The ideal situation is to have strong partnerships forming amongst players across the key areas pitch, depending on the formation you're using. If the majority of your attacking play is generated by your central midfielders then you'll want them to have a strong connection, similarly if you play with two strikers.
Do you have any effective ways of scoring from set pieces that you can share?
It's important to regularly mix up your corner routines
I'm a big fan of the short corner. It's not much more effective than swinging the ball into the box but can help draw defenders away and create space for your attackers to exploit. It's still important to regularly mix up your corner routines to stop opposition defences learning them but keeping a short option in there has done well for me.
How do you make sure your side is fit enough to score a 96 minute equaliser, but don't suffer too many injures?
This is where Sports Scientists really come into their own. In FM18, there's the Medical Centre where your medical team will report back on the injury situation at your club as well as any players that are potential injury risks.
Your Sports Scientists will give you regular updates on the players' training workload but, perhaps more importantly, they'll also suggest ways you can tweak this to reduce the likelihood of injuries occurring – particularly when you've got a lot of fixtures over a short time-frame. If you take their advice on board, you should see a reduction in the amount of injuries your team suffers.
It's always useful to make subtle tweaks to your tactic depending on the opposition
Is there anything else we should know?
It's always useful to make subtle tweaks to your tactic depending on who the opposition are. Even if you've got a base tactic that you're happy with, your opponents will have studied your recent matches so using the exact same tactic all the time might not give you the results you hope for.