Join Tyler Bereman as he gets to grips with motocross fundamentals
© Garth Milan / Red Bull Content Pool
Most athletes appear to have been born with an obscene amount of natural talent, but they've all got one thing in common – they've obsessed over and mastered the fundamentals of their sport.
What does the word 'fundamentals' mean to you? Some say the root of the word fundamental is a strong basis of knowledge in a subject that allows you to progress further. When you break the word down, two words stand out – fun and mental. The fun of it is learning at an early age, it's the emotion and joy you feel while inherently learning the basics. For some, that feeling is enough. But for a select few, the obsession with progression takes over and the mental aspect of 'fundamentals' is exposed.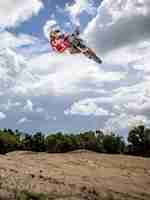 Watch Tyler Bereman in Fundamentals in the video above
Aside from the technical details of sport though, it's often the trials and tribulations of life that are crucial building blocks used to propel one to greatness. Such is the case for
Tyler Bereman
. Just shy of two years ago, the idea for the first instalment of Fundamentals was born and in June of 2018, the crew set out to Florida to begin filming. After four days of dodging storms to get clips and sweating gallons in the boiling Florida heat, Mother Nature won the battle and filming was postponed.
Fast-forward to early September, Bereman hopped on a plane to Australia to enjoy some time at Red Bull Day in the Dirt Down Under. Amped to ride after a long flight, he immediately tossed his gear and set out to rip a few laps – little did he know, this would be the last time he swung his leg over a bike for the next eight months.
With just a couple of laps under his belt, Bereman's bike ran out of fuel on the face of an uphill jump, sending him feet first into the landing. Upon impact, he suffered a horrific list of injuries: a shattered talus, heel and navicular in his right foot, a torn ACL in his right knee for the fourth time and to add insult to injury he broke both of his big toes. Down but not out, Bereman posted a message on his Instagram from the hospital bed in Australia, "This injury will test my will, but I'll do everything in my power to get back on my feet." After a series of surgeries, the recovery process began.
No stranger to injury, Bereman knew the mountain he was going to have to climb to get back to 100 percent. This time, though, he wasn't alone in the recovery process. Almost immediately after the crash, the team at Red Bull High Performance in the U.S. were notified of his injuries and a plan of recovery was put into place. The team behind the scenes offers a host of human performance tools to Red Bull athletes. From training and recovery, to diet and sports psychology — they're an incredible asset to someone in Bereman's position.
With a team of folks behind him, recovery became less of a chore and more of something that Bereman seemed to obsess over. Early mornings, lengthy stays in Los Angeles Airbnb's, hours of time spent in traffic back and forth from Murrieta to LA, matched with hours of teeth gritting time in the gym. Bereman and the team pulled out all the stops to get him back to 100 percent and ultimately into better shape than he was right before his injury.
While unfortunate, this timeout was a reset and ultimately laid a new foundation for his future. He absorbed info like a sponge in his time off the bike, picking up countless new tools for training, nutrition and recovery.
"Being exposed to the work ethic and programs of athletes from around the globe across many disciplines of sport kept me motivated throughout the process," Bereman said.
Back on his feet and back on the bike, Bereman began to prep for his return at X Games 2019. While there's no shortage of places to ride motocross in southern California, there's a complete shortage of quarter pipes up for grabs like the one used in competition at X Games. So Bereman enlisted the help of longtime friend
Kendall Norman
. An off-road legend in his own right, Norman saw a lot of similarities to himself after talking to Bereman post-injury and wanted to offer any guidance he could to help him through the process.
As it turns out, Norman has been helping out around Chocolate Mountain Ranch over the last three years. About 30 minutes east of San Diego, Kevin McCarthy and his sons Gavin and Dustin have created the moto version of Disneyland on their 300-acre-plus property, paradise for the likes of Bereman and Norman.
So, when the time came for Bereman and crew to finish the Fundamentals project before X Games, Bereman approached Kendall about building his own training space. Chocolate Mountain seemed like the perfect fit and they really took things to the next level, both in terms of the build and their friendship. With five weeks to X Games and two weeks until filming kicked off, they got to work.
As the dust settled on the final touches of the freshly minted quarterpipe, camera prep started and just over a year later the final pieces of the project came to life. Months of patience, perseverance and hard work culminated in an epic three days of camping and shooting on the ranch. While so much time off the bike could have easily kept Bereman from showcasing his skills, one thing proved true: the mastery of fundamentals is undefeated. For as long as you've put the time and effort into progressing, the urge for progression never dies and you'll always find a way to bounce back.