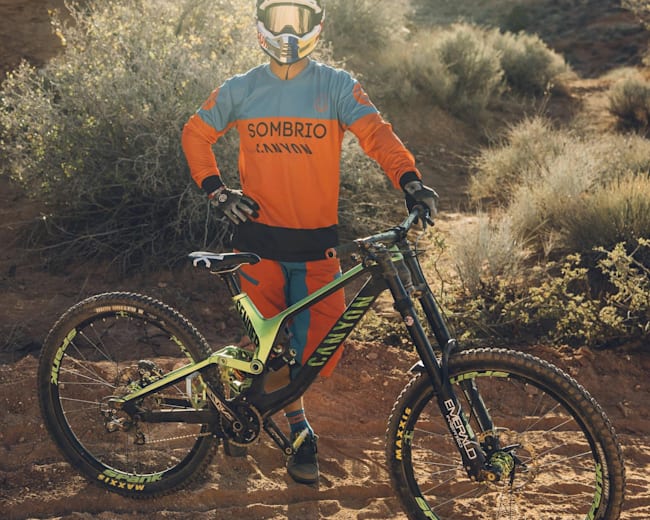 5 essential GoPro accessories for mountain bikers
© Bartek Wolinski
Superchage your POVs with these must-have GoPro accessories.
It's fair to say that few gadgets aimed at the action sports world have had the reach and impact of the palm-sized
GoPro
. Since releasing their first 35mm film (yes, film) camera in 2004, GoPro has constantly developed its devices, with the latest HERO5 models packing a serious 4K punch.
As GoPro's range of cameras has developed, so too has the third-party accessories market, meaning you now have countless creative ways to record your ride.
1. Mounts
Whether you're looking for a regular 'helmet-cam' POV shot or something a bit more creative, there's a multitude of mounts available to attach your GoPro to virtually any part of your body or bike.
For the ultimate bike mount, look no further than K-Edge's Go Big Pro Handlebar and Saddle Rail mounts, which offer class-leading rigidity and can even be used in conjunction with cycle computers and other accessories.
When it comes to body mounts, GoPro's own Chesty never fails to give a great perspective looking over your bars at the trail ahead, or if you always ride with a backpack, Peak Design's CAPTURE P.O.V. is a great alternative, allowing your GoPro to be mounted to any backpack strap up to three inches wide.
Last but not least is GoPro's re-engineered Helmet Front and Side Mount, which evolves the original fixed mount into a multi-positionable one, allowing you to position your camera in infinite ways… perfect for close-up action selfies.
2. Gimbals
Today's miniature gimbals are lightweight, ultra-responsive stabilisers, letting you add professional style and finesse to any GoPro footage. Feiyu-Tech's excellent range of WG models are best used when combined with regular GoPro-style mounts such as the Chesty, and can provide one, two or three-axis stabilisation, delivering incredibly smooth footage, even on the roughest trails.
GoPro's Karma drone also comes with Karma Grip, a handle that allows the drone's gimbal to be removed and used either by hand or attached to any regular GoPro mount. Karma's gimbal is extremely robust, but unless you're also in the market for buying the Karma drone, the Feiyu-Tech gimbals are definitely a more cost-effective option.
3. Filters
While many photographers use lens filters to enhance their photos, few people realise there are an increasing number of high quality polarising and ND (neutral density) filters available for many GoPro models. Using filters on GoPros has a dual role. Firstly, they instantly improve the overall look of your footage by reducing glare, de-hazing and darkening skies, saturating colours and reducing reflections. Secondly, they act as an additional protective element in front of your precious lens, in case gravel, dirt, water or anything else hits the camera.
PolarPro offer a range of clip-on filters for HERO3/4/5 and Session models, while LEE Filters have a range of bolt-on interchangeable LEE Bug filters for HERO3 and 4 models.
4. Power
With more accessories comes more drain on your batteries, so it's good to know there's plenty of post purchase batteries and chargers available. GoPro's new Supercharger provides a fast-charge port to juice up your HERO5 cameras up to 20% faster via USB-C. Their Portable Power Pack provides enough mobile power to either fully recharge a single GoPro up to four times, charge two devices (including non-GoPro devices such as phones) simultaneously, or provide continuous power when doing extended time-lapse or video shot.
5. Software
Been on a ride, shot some footage, then forgot to edit or upload it? Yep, been there. Enter GoPro's latest gadget, Quik Key, which plugs directly into your smartphone or tablet. Simply pop your microSD card out of any GoPro camera and into Quik Key, then into your device. Run the free GoPro Quik app, and allow Quik to analyse your selected photos and video clips. The app then quickly and automatically assembles your clips into an edit, inserting transitions as it goes, all synced to app-provided music.
If you're not happy with the result, Quik allows you to choose from a library of edit styles, quickly trim or reorder clips, mute, duplicate or add slo-mo effects. You can also add text, image filters, re-frame your masterpiece to widescreen or square output, set a duration and even add and edit music from your own library. Once saved, you can upload to numerous social platforms or save to your device.
GoPro also have a desktop version of Quik, incorporating GoPro Studio, which gives you more control over your production. Best of all, all GoPro software is completely free, so you've got no excuse not to show off your riding.