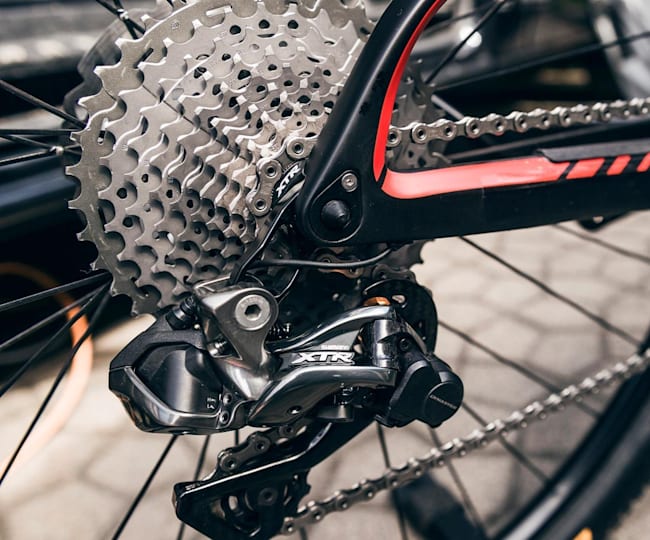 © Bartek Wolinski/Red Bull Content Pool
How many gears do I need on my MTB?
In a spin as to how many cogs you should be cranking? Here's our guide.
If you're
Brandon Semenuk
(or any other top slopestyle rider) then you can stop reading now. Trick ferrets only need one gear, as speed and flow are their natural allies. For the rest of us however, there are a lot of options when it comes to gearing and how many cogs to run.
Gear range can dramatically affect your bikes usability and is often heavily influenced by where and how you ride. Roughly speaking, the wider the variety of gradients you ride, the more gears (or wider spread of gear range) you want.
Take DH racers for example, they only go downhill so they only need the very tallest ratios and typically run between 10 and seven rear cogs.
Cross country racers on the other hand need to go up steep things, as well as down, so they need a wider spread of gears. By running 11 or 12 at the back and often two at the front, they'll have over 20 options mere clicks from each other.
Should I run a single ring at the front?
That is a very popular option now and for good reason. Firstly, it dramatically reduces the number of moving parts on your bike which increases reliability and drops weight. It also helps to simplify things in a rider's head too as you don't have to worry about dropping a chain or grinding a front ring shift.
Secondly, many new frames are now 'one by' specific so won't have somewhere to mount a front mech. This can free up space for designers and generally looks cleaner to boot.
Which of my front rings do I keep then?!
Many front chainrings now feature a 'stepped' design which translates to a thick/thin tooth pattern. These slot into your chain more securely and help to hold it in place, for the most part eliminating the need for chain guides (although some still like to run them just in case).
Typically, for trail riding, you'll want between 30 and 36 teeth with anything above that being more gravity orientated.
Do I need to buy one of these expensive new cassettes?
For the time being, if you want to take advantage of 12-speed shifting then yes, you'll have to invest in one of
SRAM's Eagle systems
. They feature a 50T final drive which eclipses most rear brake rotors and can climb stuff that'd have Spiderman twitching.
Remember though, you can't just buy a new cassette. Chain, derailleur, shifter and cassette will all need to match.
That said, some companies offer
range expander rings
which basically means that you lose the smallest gear from the outside of the cassette and replace it with a whopper on the inside. It's an easy and cheap way to upgrade your current system.
But dual front ring drivetrains are still available?
Yes, and they are still very good and an extremely efficient way to offer smooth pedaling. The trickest of the trick is
Shimano's Di2 systems
which are electronically operated and even keep themselves in trim. They can be programmed to automatically shift front rings independently so that you only need to run one shifter on the bars. It's pretty cool stuff.
They're pretty pricy though…
Well, yes, yes they are but the performance is sensational and the sound of a servo automatically selecting your next ratio is so much posher than the ham-fisted crunch of chain suck. Take heart though, Shimano have long stood by their policy of trickle-down tech through their product ranges and Di2 has already made it to XT level.
Seems a bit daft to have all that technology getting coated in filth?
This is one of the great riddles of modern mountain biking – the peril of the external drivetrain. In just about every other mode of transport, drive gears are hidden away in sealed boxes swimming in oil. Not getting plastered with grit and muck every weekend. The problem is that the mountain bike drivetrain does a lot of things (performance, durability, weight, price) very well.
Gearbox bikes do exist and they are getting better and better. They too are bristling with positives (suspension performance, shift any time) but these come at the expense of having to have the whole frame designed to incorporate them. Neither of the big two drivetrain manufacturers (SRAM or Shimano) produce a gearbox yet, but it'll be interesting to see what they come up with when they do.