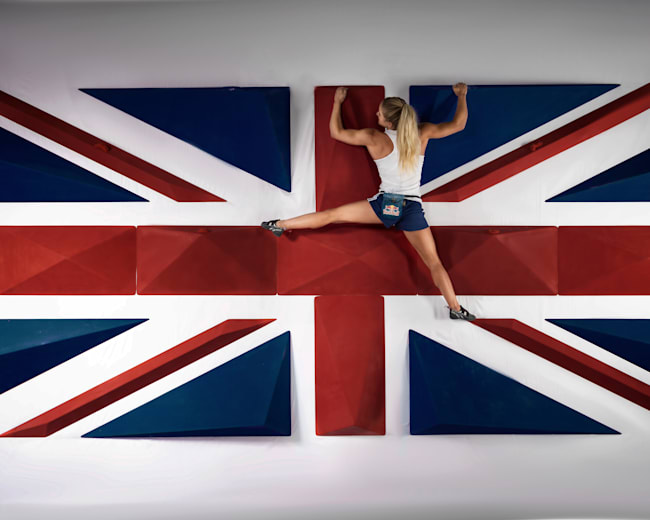 How I became pro: Shauna Coxsey
© Matthew Bird / Red Bull Content Pool
The climber reveals how her childhood dreams have made her the athlete she is today.
How many eight-year-olds turn to their dad and say, "I want to be a professional competition climber"? The number could well be just one:
Shauna Coxsey
.
Shauna laughs at the memory. "My dad just said, 'That's incredible. No one has done that in the UK before, and I will help you and support you all the way,'" she says. "He's always been incredibly supportive – even if he has no idea how to do things, he'll help me figure it out. He's the person I go to for pretty much anything."
Her father played a huge influence right from the start, even before eight-year-old Shauna had made her dreams known to him. "I saw climbing for the first time when I was three years old watching the Adventure Sports channel on TV with Dad," she says. "We'd always watch that channel, and one day climbing was on, and it was French free-climber Catherine Destivelle climbing in Mali. I remember saying, 'That's what I want to do. I want to go climbing.'"
That moment was where Shauna's journey to the heights of winning climbing World Cups and qualifying for the Olympics began. From a childhood spent scaling her local climbing wall with her dad – who learned to belay at Shauna's request so she could climb with him, instead of having to wait in line in the kids' classes – to summer jaunts to the birthplace of the sport, Fontainbleau, this is Shauna's journey to becoming Britain's most successful ever competitive climber...
Born into obsession
"As a child I was in the school swimming team, I played netball and did all the typical school sports, but for me it was always about climbing," she says. "I was obsessed from day one, it's always been the thing I knew I'd do."
The Cheshire-born climber's skills at scaling walls were evident from the first time she chalked her hands at her local climbing wall, at the age of four. "Almost from day one, people would tell me and my dad that I was talented, and even though I didn't know what that meant at the time, I just knew that I loved it," she recalls. "It's hard to say whether where I have got to is borne from talent or just drive to do it and a love for the sport."
At the age of six, Coxsey took part in her first regional competition and qualified for the national final. Three years later she took part in her first national championship – which she won – and, by the age of 13, she was competing internationally.
Shauna focused on lead climbing to begin with, as when she was a junior there weren't any international bouldering competitions. Then everything changed when she suffered an injury when she was 16. "While I was rehabbing from that injury, I was more motivated to go bouldering than lead climbing," she says. "With lead climbing, the training can be pretty gruelling – you get a horrible, lactic-acid burn in your forearms over and over again in order to gain fitness, and that really put me off." She adds that she's learning to adjust to it now, as she currently trains across lead climbing, bouldering and speed climbing in order to compete in the upcoming Olympics, as climbers are required to compete across all three disciplines.
Bouldering, Shauna adds, is also more social. "It's more free, too," she says. "You don't need anything to do it, not even a partner. So I was always driven more towards bouldering, but as soon as I was old enough to compete in World Cups, that's when I fully turned my attention to bouldering. My dream was always to compete on the world stage, and that turned into my goal once I realised that it might actually be possible."
Life-changing choices
Shauna's path to world glory was not straightforward, however, and has taken many years of dedicated training, focus and big decisions.
"I did my A-levels, and applied for university, as I wanted to know that the option was there," she says. "Then I deferred university for a year so I could give pro climbing a go and see if it could work out." She was 18 at the time, and decided that if it didn't work out after a year, she'd take up her place at university and go down a different path.
I deferred university for a year so I could give pro climbing a go and see if it could work out
"It was a huge moment, and a scary decision," she says. "There weren't any professional competition climbers in the UK at the time, and not so many climbing in competitions around the world, so it wasn't easy. Then, about a month after I made my decision, I broke my leg, so it wasn't the best start."
Pivotal moments
The injury turned out to be a life-changing event in Shauna's career, and, as it turns out, a blessing in disguise. "It was a huge moment for me, because it made me take a step back and reflect on what my goals were, and assess how they were going to be possible. It transformed me as a climber and athlete. There was a lot of shifting in my mentality, and my approach, and I realised I couldn't do it on my own, I needed to work with a team of people to achieve those goals."
One year later, in 2012, Shauna finished third in the IFSC World Cup for bouldering. The following year she went on to claim silver in the event, taking silver again in 2015. But in 2016 Shauna had done enough to claim to the top spot, becoming the first Brit to ever win the IFSC Boulder World Cup series. "After coming on the podium so many times before, to finally win was more of a relief than anything else," says Shauna, who also won the British Bouldering Championship in 2015 and 2016.
But after the high of that victory came a devastating low when Shauna suffered an injury to her shoulder at the end of the 2016 season, which required surgery and a long period of rehab. "Winning the overall title in 2016 was incredible but, at the same time, I guess I didn't know what to do next. So when I injured my shoulder coming back and winning again became my new goal."
And that's exactly what she went on to do, taking the overall Bouldering World Cup title again the following year. "I didn't expect that would happen so quickly," says Shauna. "I didn't even know if I would be ready for the first World Cup in 2017. Coming back from that injury and winning the overall title again taught me so much!"
But just four months later, Shauna found herself injured once again, partially rupturing her A2 pulley tendon on her right ring finger while climbing in Fontainebleau, putting her out of the 2018 World Cup. "I think I am still coming back from that injury now," she says. "It's been the toughest injury to come back from and I still don't think it's as strong as it was before. It's so annoying because it seems like such a small, insignificant injury but, as a climber, my fingers are so important."
After coming on the podium so many times before, to finally win was more of a relief than anything else
When asked about her most significant moments in her career so far, Shauna says her injuries have been more pivotal to her development as an athlete than any medal she's won. She said: "There's no big, defining moment – if anything, a lot of the setbacks, like my injuries have probably been more important in making me who I am."
Greatest challenge yet
In recent years, Shauna has been dealing with a setback of a different sort: getting to grips with two relatively new disciplines within her sport.
In 2018, the International Olympic Committee announced that climbing would make its debut at the Tokyo 2020 Olympics (now postponed to 2021), but in a format which requires athletes to compete in three separate climbing disciplines: lead, speed and bouldering.
And with only top-level experience in bouldering, training specifically for lead climbing (where climbers are attached to the wall and climb as high as possible) and speed climbing (where climbers race 15m up a wall) hasn't been easy. "It's massively challenging," says Shauna, "when you're training for one discipline you're training six or seven days a week just on that one discipline, making tiny micro-gains. Then you add in two other disciplines that require different training strategies. It's very demanding, as you're putting a strain on different energy systems."
But less than a year after completely overhauling her training regime, in 2019, Shauna placed third in the combined final at the IFSC Climbing World Championships, setting a new British Speed record in the process. "I still can't really believe that happened," says Shauna, "I had no idea what to expect going into the Combined World Championships. I really wasn't in the shape I wanted to be. I had a few niggles and also got the flu when I arrived in Japan. Plus this event was my first ever combined event. To stand on the podium receiving the bronze medal knowing I'd qualified for the Olympic Games was one of most surreal experiences of my life. It was so unexpected."
Choices not sacrifices
Unusually for someone who took up a sport so young, Shauna does not believe she has had to make any sacrifices on her journey to the top. "Throughout my career, and even now, my dad and I have always spoken about sacrifices," she says. "He always asked me when I was younger, 'You're making choices, decisions based on what your goals are. Do you consider them sacrifices?' and I never did. I was always making a considered decision about what I wanted to do, so I never felt I was sacrificing my youth or I was missing family events."
In terms of influences, for Shauna, rather than famous climbers it's her family that have pushed her on to achieve what she has. "I have five older sisters and an older brother, so watching them achieve the things they set their mind to was always incredibly inspirational," she says. "Seeing my sister push really hard to get her law degree while working full time – that was so inspiring.
I was always making a considered decision about what I wanted to do, so I never felt I was sacrificing my youth or I was missing family events
"My family have always been incredibly supportive – they've changed dates for birthday parties or made it possible for me to join in where I could, so I never felt I was making any sort of sacrifice."
Best is yet to come
Despite winning a significant amount of silverware, being the first British woman to climb the V12, V13 and V14 grades and receiving an MBE in the Queen's 90th Birthday Honours in 2016, Shauna remains level-headed, continually looking to the future and focusing on what's next. "I'm not someone who likes to shout about their achievements necessarily, because I'm so focused on what's coming," says Shauna. "I love the process of training and working towards events or projects, that's what fascinates me. I think I'm good at setting realistic goals, and I believe the highlight of my career is yet to come.
"The thing that I'm most proud of is the fact that I still love my sport and I'm still passionate about it," she says. "It's not always easy to remain that way when you're training and you make your passion your job – it can be hard to stay in love with it. I feel fortunate that I'm able to say I still love climbing as much as I did when I was a kid."
To find out about how other Red Bull athletes made it to the top, head to the
Red Bull Pro hub
.