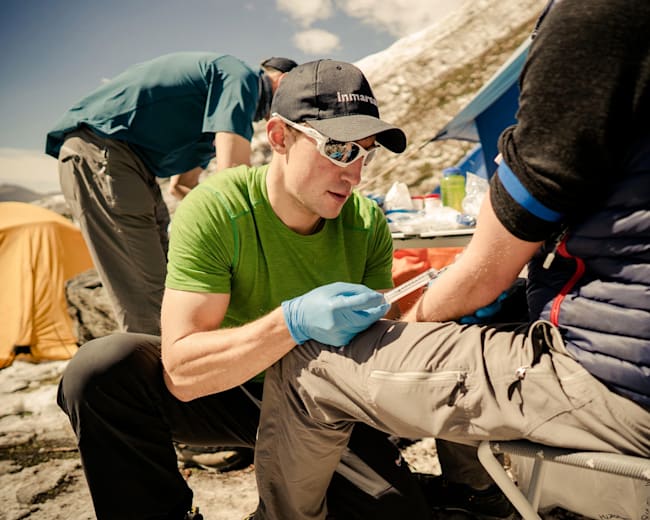 How to save lives and travel the world
© Sandro Gromen-Hayes
It's all in a day's work for a military doctor.
Surgeon Lieutenant Josh Bakker-Dyos
is a Royal Navy doctor. He's completed Royal Marines Commando training, climbed Himalayan mountains and travelled to five continents – and that's just the first few years in the job.
We asked him about the adventurous places he has worked, and learned about the commitment and education he needed to get started.
How would you describe your job?
I'm a
Royal Navy doctor,
attached to the Royal Marines – the ground troop unit of the Royal Navy. Often I will spend extended periods of time on deployment in conflict zones around the world. I also get the chance to participate in exciting adventurous training opportunities.
Where have you been recently?
I've just got back from Nepal. I was the Medical Officer for the
British Services Dhaulagiri Medical Research Expedition
. We attempted to climb 8167m Dhaulagiri – the world's seventh highest peak – without supplemental oxygen. We climbed two 6000m+ training peaks, and I spent two nights at 7500m on Dhaulagiri, but bad weather stopped us reaching the summit.
How should someone start out as a military medic?
It's definitely an academic career path. At A-level, I studied biology, chemistry, maths and physics and got straight As. I
studied medicine
at Edinburgh University for six years and simultaneously completed
Commando training
to earn the Royal Marines' green beret.
How is your job different from a civilian doctor?
After leaving university I completed two years of foundation training to become a junior doctor, just like any other medicine graduate. Only then could I properly become part of the military, as a General Duties Medical Officer, following completion of the Initial Officer Training. I then started the New Entry Medical Officer course, where I undertook the Battlefield Advanced Trauma Life Support course, underwater training and studied other pre-hospital care techniques that most civilian doctors in the NHS just don't learn.
What's the best bit of your job?
Saving lives is obviously immensely rewarding. The medical research opportunities I have in the military are also really motivating. Some of the war in Afghanistan was fought at altitudes of up to 4000m, where there was a risk of personnel developing potentially life-threatening high altitude illness. Developing knowledge in this field is essential for the Armed Forces and also for future civilian expeditions. In the Himalayas, I led and participated in new groundbreaking research into what happens to the body at altitude.
And the worst bit?
In the last three years, I have spent a lot of time in harsh and hostile environments. You need to be prepared for that and to spend considerable time away from home. A good sense of humour really helps. It's part of the Commando ethos: courage, determination, unselfishness and cheerfulness in the face of adversity.
What's the pay like?
The pay is good – not that I'm around much to spend it!
Anything unusual about your job that people might not realise?
There is actually a lot of downtime when deployed. Situations obviously change very quickly in conflict zones and sometime you have to work long hours to get the job done. Rest and relaxation, however, is essential for physical and mental health. The Armed Forces try to ensure there is time for this. When not deployed, the majority of my job involves the delivery of primary healthcare to Royal Marines.
And when you're not working?
I live a pretty active lifestyle. Often I'll be diving, rock climbing or biking. This September I'll run the Salomon Glen Coe Skyline ultramarathon.
Anything else we should know?
My job this year gave me the chance to attempt an 8000m peak and our team's research could potentially save lots of lives. As jobs in adventure go, I'm pleased with my choice.
Want more career inspiration?