5 long-distance enduro mountain bike rides in the UK
© Chris Wachsmann
Put your skill and stamina to the test over these long enduro-style mountain bikes rides across the UK.
The distance, the blend of riding skill and fitness, the ability to pace yourself, the fun, the opportunity to ride in beautiful places with your friends – all of these are elements which characterise
Enduro mountain biking
.
If you've got a taste for this type of riding but want to ride without the
pressure of a timing chip
, or just want to push your riding distance in some of the most beautiful countryside the UK has to offer, then these routes will be right up your street.
Offering a blend of technical descents and long, stamina-testing climbs, they make a good non-race alternative – so you can get all the buzz without any of the stress.
Here are the top five long-distance MTB routes:
Coast to coast off-road, England

Trans Cambrian Way, Wales

West Highland Way loop, Scotland

South-east Lake District loops, England
1. Coast to coast off-road
There's something pleasingly symbolic about starting off on one side of the country and finishing up on the opposite side, even if the ride is through one of the narrower bits of the UK's landmass.
This 300km route is an off-road variation on a popular C2C, or Coast to coast crossing, travelling from St Bees on the West coast to Robin Hoods Bay on the East.
On the way, you'll be riding through the Lake District and Yorkshire Dales, so beautiful scenery is guaranteed. Epic climbs are also included; this is definitely a route for fit riders!
Sadly, it's not entirely off-road, but then even the Enduro World Series sometimes takes to the streets, so we prefer to think of it as just even more authentic.
This ride is usually done over four or five days and is a point-to-point ride, so you'll need to carry most of your essentials out with you and plan somewhere to stay, whether that's a nice bed and breakfast, remote youth hostel, or, for the more adventurous,
wild camping
.
2. Trans Cambrian Way, Wales
If you've never ridden in mid Wales, you're missing out. While Snowdonia in the North and the trail centres of the valleys in the south get all the attention, in the middle is a vast landscape with rolling hills and mountains, where you can ride for hours without seeing a soul.
The Trans Cambrian Way
takes you through it all.
Terrain varies from large rolling grassy hills, to rugged slate-strewn peaks to vast pine forests, so there's something for everyone.
This point-to-point route starts in Knighton and finishes in Machynlleth – though you can do it the other way around. It's about 175km and there are challenging climbs and beautiful views along the way.
It can be completed self-guided, or there are a few bike companies like MTB Wales who'll handle the logistics, so all you need to do is focus on pedalling and enjoying the views.
Watch Rob Warner experience authentic Welsh MTB when he visits Rachel Atherton in her hometown in the player below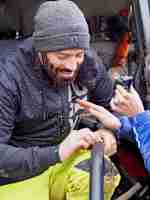 Rob Meets Rachel Atherton
3. West Highland Way loop
Scotland is a goldmine of long distance routes and technical riding, but a good one to start with is a section of the West Highland Way.
Traditionally this is a long-distance hiking route but thanks to two things, it's also perfect for mountain biking. 1; the fact that this area is just a bit mountainous which means long, technical descents and 2; thanks to Scotland's open access laws, bike can ride anywhere – though obviously don't be an idiot about it and do ride considerately.
The section in question runs from near the Glencoe Mountain Resort where you could do a spot of chairlifted mountain biking to warm up, then to Fort William over several mountain passes and aptly named Devil's Staircase climb. There's plenty of scope for adding in a few detours on the way – check out any of the various online ride guides and you'll find the area is packed with trails.
Once you're in
Fort William
, we recommend spending a bit of extra time riding at the Nevis Range and channelling your inner DH rider by taking on some of the world-famous World Cup track.
4. South-east Lake District loops
Those towering mountains and epic Lakeland views mean two things: plenty of climbing, and plenty of descending. While there's no end of riding to be had here, if you've only got a long weekend, then a multi-day ride that takes in a few loops is perfect.
This route takes in two very popular rides that typify Lakeland riding: The Nan Bield Pass and a beautiful, flow-y loop next to Ullswater. With Nan Bield, expect to hike-a-bike to reach the top; it's beautiful, but you have to work for it!
When you're finished, why not treat yourself to some other Lakeland classics, such as a Cumberland sausage or a tea cake smothered in rum butter. You'll most definitely have earned it.
There are of course plenty of other rides in the area, and plenty of guiding companies if you want someone to sort the logistics out, like
Endless Trails
or
Trail Brakes
.
5. Explore Exmoor
Exmoor is a vast
National Park
that has more than enough riding to sustain the fittest and most ambitious mountain biker for a good three or four days of back-to-back riding.
While the total elevation might not be on the same scale as the Lake District peaks or Scottish mountains, you'll clock up a surprising amount over the course of the day, and there are over 600 km of bridleways which are legal for mountain bikers to ride on, so you're not going to get bored.
You're best off basing yourself in Porlock or Minehead, then riding out from there. If you want to make it truly adventurous, then you could even wild camp!
Watch Irish Enduro star
Greg Callaghan
go flat out in Sound of Speed in the player below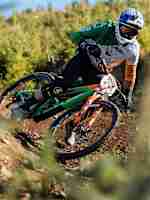 Sound of Speed: Greg Callaghan