Well, good news for all petrol heads!
'Mad' Mike Whiddett
debuts his brand new, fully customised to drift Lamborghini Huracán, called the NIMBUL.
Watch as Mike races the 2019 Dakar Rally winner
Eduard Nikolaev
in his KAMAZ Master as they battle it out for the last parking space at Goodwood's prestigious Summer Ball in the player below.
The NIMBUL is for sure going to be a game changer in giving the credibility our sport deserves
Scroll down to catch up with Mike about the new edit and how he came to building the NIMBUL.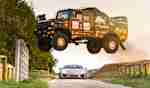 Mad Mike's drifting Lamborghini NIMBUL races KAMAZ to Goodwood
How did the NIMBUL project come about?
I knew for 2019 I needed to build something way outside the box, so I started piecing together a proposal and concept render to build a Lamborghini Huracán from their latest release for 2019, the LP580-2 RWD!
A month later I was at the Goodwood FOS ball dinner and Lord March had kindly positioned myself on his table. I explained, 'well I want to build a drift supercar and reveal it here at FOS,' and then I showed him a picture on my phone, which was the concept render I had created.
Luckily my qualified trade is graphic design and signwriting, so the render looked explosive enough for Lord March to be blown away and say 'We need to make this happen, let me introduce you to someone.' He leant over to the table beside us and said 'Mike, please meet Stefano [Domenicali], CEO of Lamborghini.' Stefano said he needed no introduction to myself as he already followed me and loved what we do. Then I showed him the concept, and before you know it, I'm meeting some of the other key players at Lamborghini the following day. A few months later I was in their HQ in Italy speaking with R&D team and letting them know what I required.
Six months later our brand-new Lamborghini Huracán was delivered! It was (still is) a very surreal moment to realise this dream was coming true.
How long did it take to build the NIMBUL?
We built the car in less than four weeks, we had no choice so there were some serious number of hours compressed into the days and countless all-nighters.
What does it mean to be working with an iconic manufacturer like Lamborghini?
It's an absolute honour to now be partnered with Lamborghini, but I'm even more pumped the Mazda have given me full support of taking up this opportunity. Mazda is my blood, my number one passion behind my family and what I do, and there is no way I would have signed the Lamborghini deal if it jeopardised my partnership with Mazda. Lamborghini respected that and so it really is beyond the wildest dream to have the incredible support from both!
What can people attending Goodwood expect to see from the NIMBUL?
It's going to be a massive weekend for myself and NIMBUL. Everything from the reveal of Red Bull 'Car Park Dash' clip we filmed in the run up, the actual reveal of the car, then enjoy me shredding tyres in the new FOS Drift Arena and then take on the huge challenge to drift the hill climb.
How did you find the filming experience the Car Park Dash?
It was a huge challenge to push the Lamborghini against the giant KAMAZ and make sure it still looked brand new for its reveal at the FOS! It was also a chance to get some more seat time, as I had only driven it for less than five laps back home before it needed to be loaded into the container for Goodwood.
What is it like working with Top Gear director, Mark McQueen?
It was an absolute honour to work with Mark. He has a very clear vision but would still take my advice and use it if I mentioned different ideas around the movements of the vehicles. I really can't wait to see the edit and hope to work with Mark again. I have a lot of confidence with this clip as the production team were many that made the
Misguided Tour with Monty
clip, which is by far one of my favourites.
This isn't the first time you and Eduard have driven 'against' one another – how impressed are you by each other's skills behind the wheel?
Eduard is a machine! The way he can move that truck around is very impressive. Both film shoots we have worked on together have taken the highest level of driving skill as both vehicles are in environments far from what they're designed for. It's always fun working with so much talent.
Finding a parking space isn't easy at the best of times – how difficult is it to pull off in the vehicles you're driving?!
Very hard, mainly because I have had very little seat time driving the Lamborghini and it is very different to what I am used to. Many of the controls are in different places or just not there at all, so my natural instinct doesn't work as strong when trying to make the car an extension of my body.
You've had the chance to create some pretty special drifting machines in the past – where does this one rank for you?
This is a hard question, all the cars I've built have been built around my dreams at the time, with the help of all my partners onboard to tackle the next toughest challenge in my path. When it comes to building cars I love to have no role model, and always think far outside the box and be original, bring something unique and express my style and personality through my cars and driving style. The NIMBUL hasn't been built as a competition spec car but purely to make people's jaws drop and put smiles on people's faces.