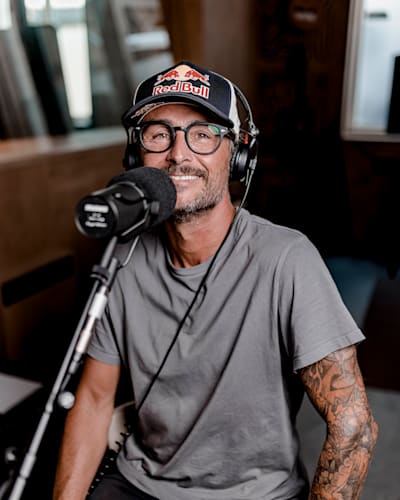 © Jelle Lapere / Red Bull
Introducing Mind Set Win, the podcast fuelling your mental fitness gains
Join hosts Cédric Dumont and Kate Courtney on a fascinating journey to discover how the psychological approaches of top sports figures can help develop your own mental strength.
It's almost time to press play on
Mind Set Win
, a new podcast series launching on January 19 that lifts the lid on how mental techniques used by inspirational sports athletes, coaches and managers can unlock performance in day-to-day life.
Not just content with hearing stories, hosts
Cédric Dumont
and
Kate Courtney
then analyse the revealing insight and outline practical tips for listeners to take away and action in the real world.
I believe everyone can get better at what they do
Dumont says: "Developing your mental attitude can be quite easy to understand, but very difficult to apply. Mind Set Win aims to help people gain the confidence and courage to take action."
Read on to learn more about series one of Mind Set Win.
01
We can all learn from high achievers
Each episode features a new guest detailing the mental tactics behind their success. But are their learnings from developing a winning mental attitude transferable to anyone else?
Dumont passionately believes they are and provides practical steps anyone can adopt to improve their own mindset. "I believe everyone can get better at what they do," he says.
"We want to help people discover an approach, mindset and focus that works for them and provide relatable learnings they can transfer to their daily lives."
02
Cédric Dumont is on a mission
Dumont has been a pioneer of the Base Jumping and Wingsuit Flying world for three decades. When he's not pushing his limits in the air, he's embracing his other true passion of coaching and inspiring other individuals to achieve their goals.
Earlier in his career, the Belgian was so fascinated with how to improve his own resilience and mental strength that he completed a degree in High-Performance Psychology.
"The thing I enjoy the most in life is trying to become better in everything I do," he reveals. "And not just as an athlete but as a person too."
03
Don't miss the first episode drop
The series launches on January 19 with three captivating episodes filled with revealing interviews and actionable tips for listeners. Here's a sneak preview of what's on the way.
Episode 1 – Tennis player
Stefanos Tsitsipas
describes how to find your flow state and perform at your best
Episode 2 - Olympic pole vault champion and world record holder
Mondo Duplantis
outlines how he's developed a growth mindset
Episode 3 - Ironman 70.3 world champion
Lucy Charles-Barclay
reveals how to find and maintain high levels of motivation
Guests including former Bayern Munich and Germany striker Mario Gómez, France's big wave surfer
Justine Dupont
, pioneering England cricket captain
Ben Stokes
and the Olympic champion high jumper from Qatar
Mutaz Barshim
all feature in upcoming episodes.
Dumont says: "We have a tendency to mystify high achievers and think they aren't like us, but sometimes they also have self-doubt, hesitation, fear, stress, anxiety and lack self-confidence like everyone else. "They will take action, though, to get closer to their dreams, and that's something we can learn."
A new episode of Mind Set Win will be released weekly on Red Bull.com and will also be available on Apple, Spotify, Google or wherever you listen to your podcasts.