You have to check out this supercharged Audi RS4
© Mark Rodway
SlammedUK boss Jordan Clarke interviews Charlie Dunn, who fully-modified an Audi RS4. Get the full details on his rig here.
This month I've been talking to
Charlie Dunn
about his flawless Supercharged Audi RS4, a car I've really liked for a long time, it was great to catch up with him and see why he built what he has and his future plans for the car. I asked him a few questions to gauge his thought process on the build and to see if he was happy with the various outcomes of his vision for the car.
Why did you buy the Audi RS4?
My daily MK4 Golf was the only car I owned since I was 18. I was tempted to modify it but ended up deciding that my first "proper" car had to be fast and beefy, because the "low and slow" thing wasn't really something I was after. I'd worked hard and saved up for a few years to buy a house and a nice car, which meant that at this point I had a few options. But, just like picking something new to watch on Netflix, the problem with having lots of choice means it takes a hell of a lot longer to decide!
After a while I narrowed it down to the C63 AMG, 996 Turbo, and the B7 RS4. The deciding moment came when I was at an Ace Cafe meet one night. There were a couple of C63s doing burnouts, which was fun and all – but then out of nowhere I saw a Daytona grey RS4 Saloon rocketing past. Not sure what exactly did it for me… maybe it was seeing the reflections off the big flared RS arches, the raspy tone of the V8, how it looked on the move, or maybe some combination of the above. But that right then was the moment when I knew what was happening next…
How long did it take to find the perfect car?
A couple of weeks later and after a few long nights of research, I found a nice low mileage one for sale: two previous owners, garaged all its life and in perfect condition. I went out for a test drive with him riding shotgun and once the oil had reached the right temperature to unlock the upper rev range and I planted my foot for the first time, it was impossible to hide my grin. I looked over and saw him smirk, presumably because he knew that he had just sold the car. As soon as we got back to his place, I wired him the cash, grabbed all the docs and took the beast home before he changed his mind. That was three-and-a-half years ago now, and I've never looked back.
What was the first modification you did?
I did nothing with the car for the first six months apart from a service, full paint correction, fresh tyres, and brake discs and pads. I wanted to enjoy the car for what it was before I started "ruining" it. But from that point it all started happening very quickly – Air Ride, new 20" split wheels, powerflex bushes, uprated anti-rollbars, new induction kit, and a new Tubi Style exhaust all happened in one weekend!
The only thing that actually changed the appearance of the car at the time was the wheels and ride height, and I was fine with this because I wanted performance before messing with the aesthetics. Still chasing performance, a couple of months later it had a de-cat exhaust, Stage 2 map, launch control, uprated clutch, and lots of other changes under the bonnet to improve its performance.
How far is too far when modifying a car?
My number one rule was that every modification needed to be pure improvement, and to not make a tangible sacrifice on anything.
I wanted to be proud of the fact that the car corners better on Air Ride, that it rides faster than it did from factory, and just loud enough to remind everyone that there's a big old German V8 block under the bonnet. Once I was happy with the Stage 2 performance mods, it was time to make a start on the cosmetics; modified lights, custom front grille, carbon splitter, rear diffuser, side skirts... carbon accents everywhere, carbon engine bay, full wrap, and tinted windows.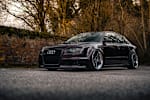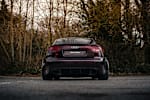 What's your favourite modification on the car now? I understand that you've just had a supercharger fitted?
Definitely the supercharger. It's been on the cards since I bought the car, so it was simply a question of when I would do it. The car is already fast enough by many people's standards, but who would say no to an extra 200bhp if the block can take it? An opportunity presented itself with the kit, so I really couldn't turn it down. Now I'm super stoked that it's on for our Worthersee trip this year, fingers crossed it'll behave itself out there – I can't promise the same for the driver though!
Did you do the work yourself or use garages?
It was a mixture of both. The engine upgrades, tuning and exhaust work were done by Doug and the boys at MRC + Fourie Fabrications up in Banbury. The wrap and tints were done at Monsterwraps in Southampton, and the other bits were done at home. My mates helped a lot along the way especially when it came to repairs/fixes, and often dropped what they were doing to come help me out, so I have loads to thank them for, in particular our
F
our Instance
family and
Sham Star Paint
.
What's your favourite thing about the car?
The noise. Three years after getting the exhaust done, I still can't get enough of the rumble it makes. And I don't think it matters how "sensible" you think you are behind the wheel, the sound of your car will change your driving style... or at least that's what I like to tell myself. I'll always manage a few miles driving fairly civilised, but all it takes is a brick wall to one side to echo my exhaust, then I'm off again. Nothing quite like a de-cat V8 at 8500rpm down a long tunnel – I literally cannot stop myself, but I love how it never ever gets old.
Other than that, it's just the fact that it does pretty much everything I want from a car. It's aged really well in terms of looks and considering its weight and the fact that it's a 12-year-old car, it handles brilliantly, and puts down a respectable time on the quarter mile. After all this, it still takes four passengers and there's room in the boot for your shopping. The fuel consumption isn't ideal, but I knew that would be the case from day one.
Do you have any future plans for the car or are you thinking of buying something different?
The to-do list is almost as long today as it was two years ago. The more you modify, the more the list grows. The next big thing will probably be a full new top-to-bottom interior. It's long been overdue, and I've got lots of carbon fibre goodies sitting waiting to go on, wingback shells, etc but the supercharger took priority for now. After that, rear ceramic brakes to match the fronts, a full bare metal respray in the not too distant future, and a big overhaul of all the little bits I'm not happy about while I'm at it.
Do you think you'll sell it in the future?
I have no plans to ever sell the RS4, I'm in way too deep on it financially to ever conceive of making even half the money back that I've sunk into it, but that's not why we do it, right? Once the car is 'complete' – like that will ever happen! – it will still be going to shows, racing down the drag strip, and around the racetrack once I've sorted an elegant noise reduction solution.
As for 'something different', the next car I buy is going to be parked on the driveway beside it and will be something Japanese and drifty. Again, I want to get something proper, like a GTE Supra or DET Nissan Silvia, but that's still a good year away at least!