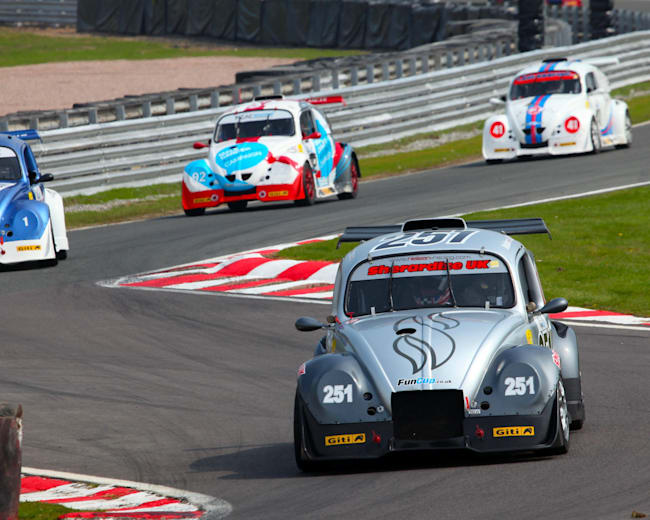 What's the most underrated motorsports series?
© Fun Cup
In this week's Big Question, we seek out the racing championships that deserve some more love.
Which motorsport series is the most underrated? It's a question with a million answers depending on your persuasion, especially with a wide and varied motorsports spectrum that takes in everything from traditional
circuit racing
and
rallying
to more obscure spectacles like
motorcycle trials
and
tractor pulling
.
We asked four racing drivers, all of whom are still competing (not in tractor pulling though), for their thoughts.
Anthony Reid
Touring car legend and current European Le Mans Series racer
The
Fun Cup
. It's a one-make series for spaceframe single-seater chassis with Volkswagen Beetle bodywork and 1.6-litre Golf engines. Races are four to six hours long so each car has three or four drivers. This allows the costs to be split and the series as a whole provides excellent value for money.
I've done a few races last year and this, and the endurance element actually made it decent preparation for when I had a last-minute call-up to race an LMP3 car in the
European Le Mans Series
at Silverstone recently. There are some damn good drivers dipping in and out of the series too, like
Phil Keen
and
Oliver Bryant
, who have both been impressive in the
ELMS
and
Blancpain
over the past couple of years.
There's even a taxi class where you can take a passenger.
The pièce de résistance is the
Spa 25 Hours
, which is held annually and has something like 300 cars. They allow
Fun Cup
cars from across Europe to contest that race, so you get different classes of car – the Belgian series, for example, runs with different aero and a more powerful engine than the British – and there's even
a taxi class
where you can take a passenger. As the name says, it's great fun too.
Filipe Albuquerque
Factory Audi sportscar driver, LMP2 driver in the FIA World Endurance Championship
It's a tough question. It used to be pretty easy to turn up at a circuit, see a championship and think 'Wow, the racing's great. How have I never seen this before?' But now it doesn't happen so much. Because it's relatively easy to go online and get the results of
V8 Supercars
, or see a live stream of a
Super Formula
race, it's hard to think of any series as underrated.
The
Blancpain Endurance Series
used to be, but the promotion of GT3 racing has got so much better over the past three or four years that everyone knows about it now and it's full of top drivers.
Not many people realise that the ADAC GT Masters is the best national GT series in the world.
Perhaps one that's still a bit unknown is
ADAC GT Masters
– the German GT championship, in other words. It's popular in Germany, but outside of their borders, not many people realise it's the best national GT series in the world.
Laurens Vanthoor
,
Markus Winkelhock
,
Marc Basseng
,
Guy Smith
and
Christian Engelhart
are just a few of the big names from GT racing in there. I'd like to give it a go myself one day.
Tiff Needell
Fifth Gear presenter, Le Mans podium finisher and ex-F1 racer
I'd like tell all the kids out there who spend £50,000 a season on karting and who moan that they can't afford £100,000 to do
Formula 4
that there is an alternative. It's called
Formula Vee
and it's a series for cheap, lightweight single-seaters powered by VW Beetle engines.
If you can win the Formula Vee title, I'm sure you could go and run strongly at a higher level.
It used to be the staple for youngsters with single-seater ambitions in Germany and Scandinavia in the 1970s and 1980s, but there has been a thriving series in Britain, run by the
750 Motor Club
, for a long time. You can buy a car and run it for a full season for a lot less than £30k. The racing is close and there are guys competing who have done Vees for years, so a teenager would be learning against drivers with good racecraft.
If you can win the
Formula Vee
title, I'm sure you could go and run strongly at a higher level. Just look at
Ash Sutton
; he started his career in Vees in 2010, won the
Clio Cup
last year and has already had a
BTCC
pole position in his rookie season.
Darren Turner
Factory Aston Martin FIA WEC racer, Le Mans and Sebring class winner
I'd choose a series I competed in just a few weekends ago; the
VLN
in Germany. It's a 10-round series and it only takes in one circuit. But as that circuit's the
Nürburgring Nordschleife
, I think they can probably get away with it!
I regret not taking the plunge into the VLN earlier.
I had dinner with
Anthony Davidson
a few nights after my last VLN race and he was telling me how he'd love to do some events in the future. He's not the first one to say that. It made me regret not taking the plunge earlier. 200 cars, from the top-class GT3 machines like the
Aston Martin Vantage
I race to
Porsche Carrera Cup
cars, slower saloons and even an
Opel Manta
from the mid-1980s.
Since GT3 became so popular and manufacturers have begun to take the
Nürburgring 24 Hours
very seriously, the
VLN
has become a way of professional drivers learning the Nordschleife ahead of the big race. Events are four or six hours and the most you'll ever have clear track for is about a kilometre. It's the most demanding circuit I've ever raced at and it gets no easier with experience, but I just can't stop myself going back. I'd recommend it to anyone.