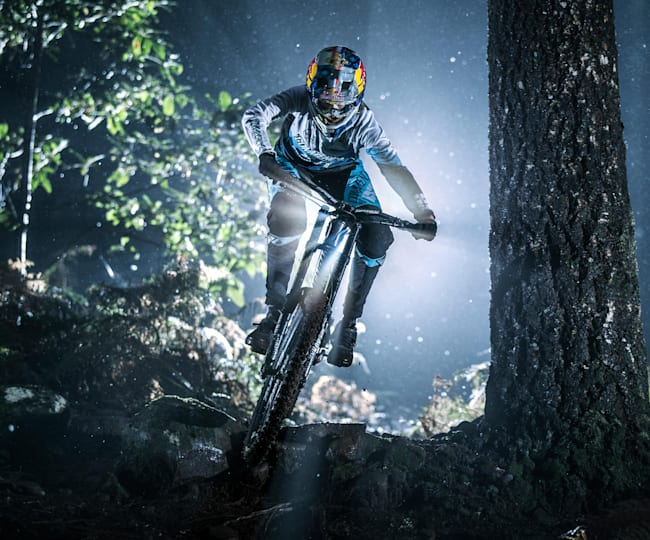 © Jean-Baptiste Liautard
MTB night riding: benefits and tips for heading out after dark
Cycling coach Alan Milway explains why you should consider strapping on some lights and heading out after dark this winter.
The clocks have gone back, the nights are drawing in and it's time to start thinking about what
mountain bike-themed gifts
you can add to your Christmas list. But just because it's now dark by the time you finish work, that shouldn't spell an end to your evening sessions.
In fact, heading out on the bike in the dark can have a number of benefits – from quieter trails to improved fitness come next spring. MTB coach
Alan Milway
explains why you should consider strapping some lights on your bike and get out in the elements this winter, and shares his tips for making the most of a post-work ride.
1. There's no need to wait until the weekend to ride
For most of us, working hours are during daylight, and we leave and return in gloom. The temptation is to stay in during these long evenings, and wait until the weekend to ride during the day. However, by adding a night ride to your week you can keep that momentum, improve fitness and keep riding more frequently.
2. Experience a new adventure on your doorstep
Local trails within riding distance are where many riders head most frequently for their sessions, and these can become less inviting or challenging if you know the area and different lines all too well. If you've just got a beam of light to guide the way though, these predictable trails take on a completely different character and your perception of where you are riding changes hugely. It is like a new set of trails, in a new environment and completely reinvigorates the experience. There is nothing like feeling you have been somewhere new right on your doorstep. Also, with less people out on their bikes, there's a good chance you could have your local spot all to yourself.
Night riding condenses your field of view into a band of light guiding the way, with the periphery a blur of branches or bushes. It can make what would otherwise be quite a tame trail into an exciting track with new obstacles, character and challenge. Riding at the limit of your speed or skill isn't needed to take the most from them, and the flow is rewarded.
4. Have improved fitness come spring
Without regular mid week rides, it is hard to keep fitness up unless you use a turbo trainer or static bike at the gym. And if you do, fitness may remain but your sharp skills from the summer will have dulled come spring. Get a head start on next season and enjoy a new, fun challenge through the winter as you do.
I have been there myself: I hadn't prepared anything before a wet night ride, the bike and kit were returned to the shed uncleaned and a muddy mess, work took over until the weekend and as the door creaked open again to clean up there was a rusty, smelly devastation of kit before me!
Set up a hose or jet wash prior to riding, meet at the house of a riding pal who has a lit courtyard or drive to clean off kit and bring black bags to put hosed down gear in to. Decent waterproof kit and MTB trousers make all the different and with a bit of prep when you finish the ride you can be all cleaned up in no time – and bikes will be ready for next time.
6. E-bikes come into their own at night