6 minutes of hurricane slab at Nazaré – we can't stop watching this
In the last week of October 2020, a late-season Atlantic hurricane pushed massive swell to the shores of Western Europe, but no place was bigger, or more in the spotlight, than Portugal's Nazaré.
It's become somewhat of a tradition in the last few years at Nazaré: Autumn is barely beginning and a historic swell crashes into Praia do Norte, sending the pros from zero to sixty in 24 hours time.
If you remember
last year
, it was the swell that
Justine Dupont
scored the biggest wave of her life up to that point. Well, not to be outdone (as we've come to expect), 2020 just might have brought Justine an even bigger slab of Atlantic Ocean.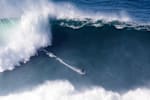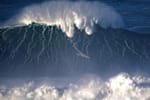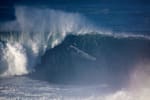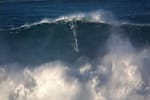 The scrambling began around Monday, October 26, when a hurricane called Epsilon, which had been spinning around the Atlantic for weeks, finally set a steady course toward Europe. The swell maps went red. Then purple. Then black. Even better – and rarer so – the weather conditions for the arrival of the first bands of swell looked pretty favourable.
The first footage to break the internet came from Ireland, on October 28. Young big wave phenom
Conor Maguire
found himself alone at Mullaghmore, where Epsilon's swell was announcing its arrival in strange places way out beyond the normal spot where the infamous slab usually begins to break, like snowy mountain peaks marching to shore. Eventually, Maguire sunk into
a terrifying Mully beast
– a wave that will surely be a top
XXL Biggest Wave
contender.
As the swell began to fade at Mullaghmore that afternoon – and Maguire was deluged by media requests that would keep him swamped for the next week – all eyes moved south, to what big wave surfer Nic Von Rupp calls "the biggest show on Earth."
For a moment, however, it was unclear if the biggest show's biggest star would be there for the biggest day. Twenty-four hours earlier,
Kai Lenny
was sitting at home in Hawaii, trying to figure out if he could even fly directly to Portugal and be able to surf, given all the current travel restrictions in Europe.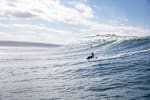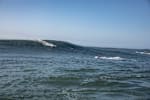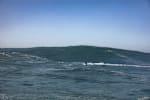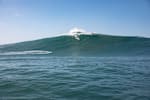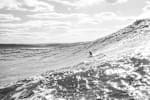 Lenny frantically gathered every official letter and signature he could, packed his tow and foil boards, raced to the airport, and rolled the dice, fully expecting to be turned away when he arrived in Lisbon the next day. But the stars were aligned, and not long after touching down in Portugal, he was at the Red Bull garage at Nazaré harbour, prepping for what was certain to be a historic day on October 29.
Meanwhile, Dupont,
Lucas Chumbo
,
Carlos Burle
,
Andrew Cotton
and
Pedro Scooby
were already in town, ready to roll for the big day. The night before the 29th, Chumbo didn't get much sleep – the rumble of Epsilon's swell across the deep sand bars of Praia do Norte kept waking him up.
For filmers like
Alex Laurel
, who, along with his team, captured the moments leading up to the swell, there was trepidation about the Epsilon swell, because, when Nazaré gets this big, the action is often shrouded in a heavy mist, rendering footage almost useless.
Not so this time around. By noon, the morning mist hanging over Nazaré had cleared and the skies had gone baby blue. Thousands of onlookers had crowded onto the famous cliffs overlooking the wave. Everyone got some of the biggest waves of their lives, and, in Lenny's case,
the worst beating of his life
– a five-waves-on-the-head journey through Nazaré's inside section.
It's all in Laurel's edit above, from the pre-session jitters to the post-session glory. Enjoy the show and fingers crossed for another big swell real soon.