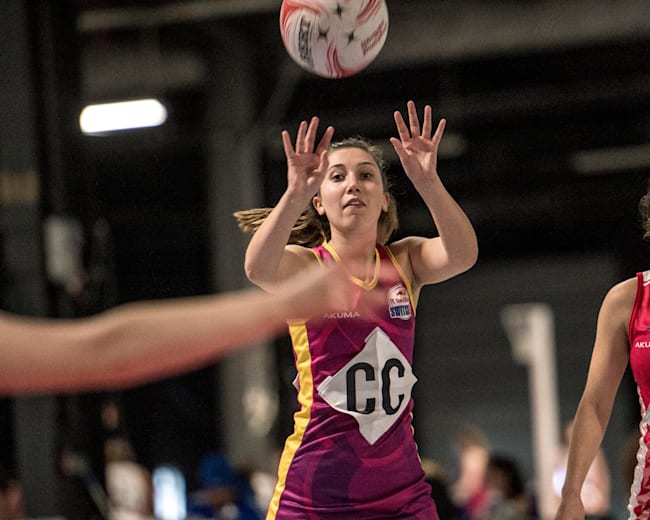 How to improve every part of your netball game
© Leo Francis/Red Bull Content Pool
Netball icon Tamsin Greenway gives us her top tips on how to make yourself an all-rounder.
Tamsin Greenway
is a former England star and the brains behind four back-to-back Superleague titles, including her final victory as a player-coach with Wasps in 2018. What she doesn't know about netball isn't worth knowing.
So ahead of Red Bull Switch Up, which will grace Manchester's EventCity on November 23, 2019 (
register your team here
), Tamsin shared her advice on how to improve every part of your game.
Whether you're a GK, GS, or somewhere in the middle, these gems will give you the edge next time you step on court.
We all know it's a defender's job to stop the ball from going in the net, or, even better, to stop it from getting into the shooting circle in the first place. But doing so entails a lot of small jobs – do you fly out of the circle for interceptions or stay on your attacker like glue? Tamsin says pick one and be decisive:
"The best defenders are the ones that actually try to do something, whether that's going for an intercept, allowing the ball to land through top mark or simply dictating the space. They're always sticking to one job and making things happen for themselves.
"A GD can make all the difference. As a defensive unit they're the most important player. They're the ones where, as a coach, I like to have the match winner, the thinker, the one on court dictating everything. Because they're out on the court, they can see what's happening a lot more. They lead the defensive unit and keep things supported, as well as talking to the WD and C out in front to win ball."
Centre court: roll with it
Centre court players are responsible for bringing the ball down the court and feeding into the shooters. They need to outwit their defender to get the ball – not by running around like a headless chicken, but rather by playing smarter to beat their defender. Use different movements, such as a roll or a dodge, to get free, as Tamsin explains:
"When the ball comes through the court you should be constantly moving, thinking, getting yourself in the game and trying to shift the defence. To do this you need to have a range of movement – most attackers will have a favourite way of getting free and they'll do the same thing over and over again, and it can get quite predictable. You can often break down people and teams by their predictability, so the key is to start looking at what you do and what you like and that becomes your biggest weakness. Then, find the moves that are different."
Shooters: keep a handle on it
Shooters are known for having a calm head and getting points on the score-board, but there's more to just flicking the ball in the net:
"A shooter has got to have everything now, it can't just be about standing under the post and putting the ball in the net. We see a lot of tall shooters at the top level, but they've got to have the best movement and the best ball-handling skills, too, because the circle is getting smaller and smaller with the range of shooters and defenders in there. As well as agility and instant ball control, they need very good vision."
When you coach not one, not two, but FOUR teams to become Superleague champions, there's got to be a nugget of advice to give to shooters when they're under pressure, right?
"The general idea is to play without fear. If you saw the way Rachel Dunn played in this year's Superleague final for Wasps, she was totally different from how you'd expect her to play - she wasn't predictable in that game and I think it surprised everybody because she didn't just stand and hold. Her movement beat people time and time again."
Most shooters are taught only to take shots under the post. Red Bull Switch Up allows shooters to gain more points with long-range shots. Tamsin says playing this way will prepare shooters for the future evolvement of the game.
"I think we've got to start understanding that the game is changing and actually there's a massive gap now for shooters to be able to take the ball and shoot from anywhere. I think you're going to see a switch over the next few years in terms of short GAs coming back and shooting from the edge of the circle and I think that needs to happen again in the game. It's good to encourage shooters to be able to shoot from anywhere."
How Switch Up can improve your game
With Red Bull Switch Up taking place on November, 23 Tamsin tells us how playing across half a court, with teams of four, can help attackers boost their armoury.
"You have to be really fit to play a game like that because you don't get to rest. Although the area is smaller, you don't get the same rest you would do on a full court. Also, the movement becomes really important because you've got to get that flow from the centre pass. That off the ball movement - what you're doing with the ball, what kind of skill levels you have to open up the court and the timing of how you all work together - has to be spot on to be lethal."