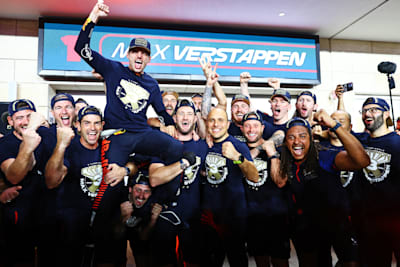 © Getty Images/Red Bull Content Pool
F1 to 10: What really happened at the Qatar Grand Prix
Max Verstappen secured his third F1 title at Lusail after his 14th victory of the season, placing the Oracle Red Bull Racing driver in esteemed company – get up to speed here.
1. Qatar in exactly 74 words*
Max Verstappen
wrapped up his third Formula One world championship in style at the
Qatar Grand Prix
, the
Oracle Red Bull Racing
driver leading Sunday's race from start to finish after securing the title with second place in Saturday's Sprint. It was Verstappen's 14th victory from 17 Grands Prix this season. Verstappen's team-mate
Sergio Pérez
, who started from the pit lane after being taken out in Saturday's Sprint race, finished in 10th place.
* 2023 is the 74th season of the F1 world championship
2. The Qatar GP in six pics
Verstappen arrived in Qatar needing just three points from the weekend to secure a third world title, which – given he'd won 13 of 16 Grands Prix and two of three Sprints coming in – was as close to a nailed-on certainty as you could get. That the championship was confirmed with a second-place Sprint race finish behind McLaren's Oscar Piastri – and on a Saturday – was unusual, but perhaps appropriate given how atypical his season-long dominance has been.
After joining Sir Jack Brabham (1959, 1960, 1966), Sir Jackie Stewart (1969, 1971, 1973), Niki Lauda (1975, 1977, 1984), Nelson Piquet (1981, 1983, 1987) and Ayrton Senna (1988, 1990, 1991) as a three-time champion, the Dutchman was in no doubt that this success was the one he rated most highly.
"The first one was the most emotional, that's when your dreams are fulfilled," he explained.
"This has been my best year. I always try to be better every race weekend I go to … that's why I think this year performance-wise is definitely the best one. The middle one is now the middle one."
Sunday's Grand Prix – after a night of celebrations, but not too many – saw Verstappen in complete control throughout, stealing a march from pole position and ending Lap 1 with a significant advantage after Mercedes team-mates Lewis Hamilton and George Russell clashed at the first corner, Hamilton later taking responsibility for an accident that eliminated him from the race.
It wasn't an easy night in the cockpit by any means – air temperatures were still in the 30s despite the 8pm local start time – but Verstappen had enough in the tank to set the fastest lap of the race on the penultimate lap and win by 4.833secs – his F1-record 14th consecutive victory from pole.
By contrast, Pérez's Qatar weekend contained considerably more speed bumps. The Mexican was one of five drivers not to finish a stop-start 17-lap Sprint on Saturday, which was interrupted by three safety cars. Pérez was involved in the last stoppage, coming off second-best in a three-way scrap for eighth place on lap 11 along with Esteban Ocon (Alpine) and Nico Hulkenberg (Haas); a squeezed Hulkenberg clipped Ocon, who speared into the side of Pérez and sent the damaged car spinning into the Turn 2 gravel trap.
Pérez started from pit lane in Sunday's Grand Prix after Oracle Red Bull Racing was forced to make up a new chassis as his car's floor and sidepod were damaged, with the repairs taking place more than two hours after the chequered flag was thrown for the Sprint, a contravention of the sport's regulations.
A series of five-second penalties for breaching track limits interrupted his comeback drive, and he was classified 10th at the chequered flag when hit with a third penalty after the race.
4. AlphaTauri pair left hot and bothered
It was tough going for
Scuderia AlphaTauri
pair
Yuki Tsunoda
and
Liam Lawson
in the heat in Qatar. Neither driver was able to advance into the top 10 for points, Tsunoda finishing the better of the duo in 15th place.
Lawson, again deputising for
Daniel Ricciardo
, was the final classified finisher in 17th after he spun out of Saturday's Sprint race on the first lap. Ricciardo, having missed the past five races after breaking his left hand at the Dutch Grand Prix, is set to return for the United States GP in Austin in a fortnight's time.
"It was pretty extreme," Lawson said of the conditions, adding, "It was tough to breathe – I was really struggling the whole race just to stay on track."
Tsunoda, who qualified 11th, ran inside the top 10 in the early stages of Sunday's race, but dropped back after making the race's first pit stop under green flag positions following a safety car for the Hamilton/Russell incident, and was unable to get back into contention thereafter.
5. The number you need to know
5:
By winning his third drivers' title in a row, Verstappen became one of just five drivers to go back-to-back-to-back in F1 history – the others are Juan Manuel Fangio (1954-55-56), Michael Schumacher (2000-01-02), Sebastian Vettel (2010-11-12) and Lewis Hamilton (2017-18-19).
6. The word from the paddock
Max is the most competitive driver that I have ever met. The passion, the heart and the abundance of skill puts him up there with the very best
Drivers' championship top 5
Constructors' championship top 5
What's better than a Japanese TV game show? A Japanese TV game show with props, mini-trucks, giant inflatable balls and – oh yes – four Formula One race drivers.
Check out the latest instalment of the
(Un)serious Race Series
, where Oracle Red Bull Racing partners Max Verstappen and Sergio Pérez take on Scuderia AlphaTauri team-mates Yuki Tsunoda and Liam Lawson on Tsunoda's home turf in Tokyo. Reverse parking, ten-pin bowling and a few surprises… watch below to see who comes out on top.

10 min
F1 drivers vs Japanese show
Drivers from each team will work together through a series of three challenges to win points for their team.
9. Where to next, and what do I need to know?
Round 18 (USA), October 20-22
Circuit name/location:
Circuit of the Americas, Austin, Texas
Length/laps:
5.513km, 56 laps
Grands Prix held/debut:
10, 2012
Most successful driver:
Lewis Hamilton (five wins)
Most successful team:
Mercedes (five wins)
2022 podium:
1st: Max Verstappen (Red Bull Racing), 2nd: Lewis Hamilton (Mercedes), 3rd: Charles Leclerc (Ferrari)
10. Inside the wide world of Red Bull Motorsports
They say street circuits sort out the men from the boys in any road-going motorsport category. With no margin for error and precious lap time to be gained by skimming the trackside walls (but not too hard), it's easy to see why. But not all street circuits are created equal.