Red Bull Basement
is a global competition and workshop asking university students to come up with ideas to change the world. Big. Small. Edgy. Innovative. Mind-blowing. Whatever you have in mind, send a one-minute video outlining your idea and it might even take you to the big leagues.
Of course, before you can get started, you'll need inspiration to strike. So, in order to provide some creative spark ahead of the looming deadline (
the deadline for submissions is 24 October
), a group of startup whizzes, tech industry talent and other big names attended Red Bull Basement's Launchpad event to impart some of their expertise.
Hosted by Chelsea Slater, founder of
InnovateHer
, at the
Red Bull Gaming Sphere London
, it was a brilliant mix of Ted Talk-style speeches and intimate Q&As. Dig in to the videos below and your frontal cortex will be firing in no time...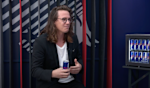 Sam Jones talks to InnovateHer's Chelsea Slater
A man who went into Dragon's Den and slayed, Sam Jones is the founder of Gener8, a tech firm helping people to monetise their online data via a crafty browser extension. Revealing how he didn't know anything about coding before he started wowing titans of industry on national telly, Jones is proof that even people without core tech skills can still make a real dent in the industry. He's one smart cookie.
Killer quote:
"Anyone can build technology to impact things and can create something meaningful and really personal."
Bridget Wilkins, Build ID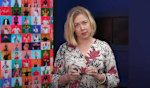 Bridget Wilkins, Build ID's Director of Community Engagement
Connecting real people with real estate developers, Built ID has launched the world's first community engagement digital platform, allowing citizens of towns and cities to have a bigger say in the changing process of their habitats. In a rousing keynote speech, Wilkins, the start-up's Director of Community Engagement, talks about the incredible response the app has had in under two years and urges students to think of other ways they would like technology to deliver wider social value and outcomes.
Killer quote:
"Walk the talk, be passionate, get on a soap box, get on a stage, and make sure that you're behaving in ways that align with the world which you want to create."
Catie Munnings, Extreme E driver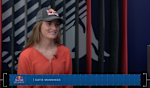 Catie Munnings talks to InnovateHer's Chelsea Slater
For rally supremo Catie Munnings, it's been
a thrilling start to life in Extreme E
, the off-road electric SUV championship raising awareness for climate change, where she's often doing as much work off the track as on it. Having worked with locals on conservation efforts at some of the planet's farthest reaches, she shares her learnings during a lively Q&A, while also finding time to discuss what innovation she'd like to see in the future, starting with an eco-efficient way of shipping packages for next day delivery. A cloning machine to create drivers as fast as Catie wouldn't be a bad shout...
Killer quote:
"Be bold with your ideas. If it hasn't been done that doesn't mean it's not possible."
Joanna Power and Paramveer Bhachu, 2020 Red Bull Basement Winners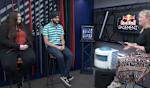 2020's Red Bull Basement Winners talk to InnovateHer's Chelsea Slater
Killer quote:
"Use your minute to shine, do something, bring storytelling to the front of entrepreneurship."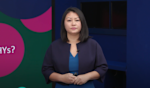 Rene Perkins of CityMaaS gives a keynote speech at Launchpad
On average, £2bn a month is missed by businesses that don't take into account accessibility and inclusive design. It's an area that Rene Perkin, co-founder of CityMaaS, a business unlocking a world for people with disabilities, knows is full of potential. Focusing on the importance of championing accessibility in a diverse world, she reminds the audience that many of the world's most popular products started off as inclusive, including the Oxo Potato Peeler (originally developed for arthritic hands) and even the humble fidget spinner, which began life as a toy designed to reduce anxiety and help people with ADHD.
Killer quote:
"Technology is not a privilege, it is a tool to succeed."