Playing 5-a-side against Neymar Jr = LIFE GOALS
Neymar Jr is on the search for the seven best amateur footballers in the world to take on him and his mates in a friendly Red Bull Neymar Jr's Five match at a secret location this December.
The Red Bull Neymar Jr's Five World Final had to be cancelled in 2020, but seven skillful ballers will still get the chance to take on the PSG striker in a five-a-side match this year.
To participate and be in with a chance of sharing a pitch with the Brazilian star, players have until September 30 to prove their skills by posting a video (60-seconds max) to their Instagram channel using
#outplaythemall
, tagging
@redbullneymarjrsfive
and detailing their home country. Six players will be selected by a global jury while the seventh spot is a wildcard that will be handed out by Neymar Jr himself.
Neymar Jr is currently in Lisbon, where his man-of-the-match performance helped fire PSG to the semi-finals of the Champions League for the first time in 25 years.
Here's what he had to say about the 2020 version of his signature football event.
How pleased are you that football fans around the globe still have the once-in-a-lifetime chance to play against you in 2020?
I think that all of this current situation is making us to review our values. I was really sad about the cancellation of this year's Red Bull Neymar Jr's Five edition, but I'm very happy that we've been able to provide an alternative to all the football fans in the world. It will be very good.
Can you explain to us how it works?
It's called
#outplaythemall
. People from all over the world can post a video on Instagram, using that hashtag, where they can show us their skills and how they outplay them all. Then, my jury and I will look at clips and choose seven winners to play against me and my team.
You're personally giving a wildcard for one player. What are you hoping to see in people's entry videos and do you have any tips for them?
I like being inspired by participant's videos. The videos are always very creative, so that's what I'd like to find: inspiration.
Think you have what it takes to be in Neymar Jr's hand-picked team? Check out the best goals from last year's Red Bull Neymar Jr's Five below to see if you match up: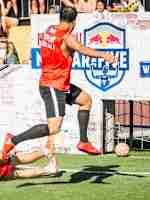 Five-a-side soccer is usually played with friends. What do you think will happen when you put five strangers together from all over the world? How can they become a team in a very short time?
Football is 'magic'. Sometimes, people that have never seen each other can become best friends at first glance on a football pitch. I've lived that in a professional environment, so it can certainly also happen at five-a-side.
What do you expect from the friendly match against the winners?
I'm really looking forward to it. The players are always so passionate about it. I really like the team spirit and their motivation to overcome these challenges together. That's exactly what Red Bull Neymar Jr's Five is about.
Do you already know your team for 2020? Any big surprise that can be revealed?
I already made my first contacts. After the Champions League I'll intensify the negotiations. Who knows, maybe a big surprise is coming.