POV: Ruaridh Cunningham's Epic Crash at Hardline
Ruaridh proves he's hard as nails as he smashes into a tree before going on to win the race.
Red Bull Hardline 2015 was not for the faint-hearted. Out of the 15 riders who signed up, only eight managed to make it to the Finals. We saw crashes left, right and centre over the course of the weekend. It was carnage.
Check out this POV footage of Ruaridh colliding with an unsuspecting tree. Taking it in his stride, Ruaridh bounces straight up and goes on to win the race. Pretty impressive stuff.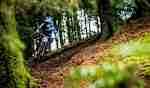 Ruaridh Cunningham's epic crash
It doesn't look any better from this angle either...
Don't forget to follow Red bull UK on
Twitter
.