Watch Nazaré go mega!
© Bruno Aleixo
It's been a winter of dangerously big swells, but this one took things to the next level.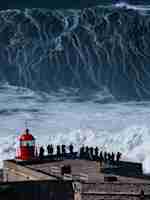 Sessions: Nazaré day of the season
By the beginning of last week, the surf world was buzzing with news of a mega-swell sprinting directly toward Nazaré.
Wednesday, they said, would be the day – probably of the winter, maybe ever. A few pundits even dared to throw around the prospect of three-figure wave heights. Would the elusive
100-footer
finally be ridden?
But then at dawn, reports of victory at sea conditions started coming in. It was, however, the biggest day we had indeed seen this year.
On hand were this winter's familiar faces:
Scooby Vianna
, Jamie Mitchell, Lucas 'Chumbinho' Chianca, Francisco Porcella, Everaldo 'Pato' Teixeira, Hugo Vau, Rodrigo Koxa, Garrett McNamara, and others.
If the condtions improved and a window opened, these maniacs were ready to roll.
Also ready to go were the boys from
Timelapse-media
, who were running the cameras on land and in the water, and
Maquina Voadora Produçõs
, who have been delivering mind-blowing drone imagery of Nazaré all winter long.
It didn't take long for things to get chaotic.
After going down on an absolute bomb, Scooby was picked up by Chumbinho, but they lost control of the ski in the foam and went down.
What ensued was a long journey back to the beach. And, as you'll see in the heart-pounding edit above, that was just the beginning of the carnage!