Listen to a Choice Mix by drum'n'bass trailblazer Skantia
© Press
A new face on Andy C's RAM Records, this Newcastle DJ/producer is trusting his instincts and shaking up d'n'b convention.
Skantia is undeniably one of drum'n'bass' new guard, but his music already comes with some impressive pedigree. Hailing from Newcastle, he was just 21 years old when his tunes caught the attention of d'n'b stronghold RAM Records, with mainman
Andy C
rinsing a couple of tracks at his second XOYO residency.
Now firmly ensconced on the RAM roster, Skantia's released a handful of increasingly ambitious tracks that lace the 160 sound with unexpected textures and influences – from the abrasive Disconnect, a collab with Haribo, to the flickering beats and ambient washes of Jubilant. In short, he's full of surprises -- and that's before you get to his brilliant Choice Mix, which takes in slinky disco, jungle, and techy drum'n'bass over an hour of unexpected twists and turns.
Listen to it in the player above, then read on to find out more about Skantia's rise...
First let's take it back a bit – when did you get into drum'n'bass, and what was your entry point to the genre?
I don't really know to be honest; I've always known about drum and bass and listened to certain tracks – usually Noisia,
Camo & Krooked
etc. But I fully got into the mixing side in late 2015. It wasn't until 2016 where my love for the genre and my urge to be involved in the scene pushed me towards the production side. I started selling tickets for a local night called Dilate, then moved onto a residency, DJing for them. Making tunes was just a side thing to see where it went – but then I soon got addicted.
You signed to RAM Records last year, and Andy C dropped some of your tracks at XOYO. How has that relationship developed?
He did yeah. Whenever I send him new music, he always gets back to me. I'm pretty sure I've only met him once, when he played a gig in Newcastle – he's genuinely the most down-to-earth guy, sounds too cliché to say that but he really is. He got me and all my mates in free of charge with backstage access, the full whack. It's the same with everyone at RAM – really the team they have are such a great bunch of people – like the label manager Jim, Wayne and Hannah too! It's almost like we've known each other for a long time even though we haven't.
Any unusual influences that are feeding into your music? Tell me where your head is at at the moment…
One hundred per cent it's the new techy sound. Phace, Noisia and Camo & Krooked are huge influences on me writing tunes at this stage in 2020. The likes of IMANU, Buunshin, Missin, Synergy and Gyrofield are also extremely exciting artists bringing something completely new to the table. It's so healthy to see a scene go in such a good direction – it's hard not to be inspired by all of that.
I like to go through lots of different styles and switch it up, not keep it on the same vibe
Tell us a little bit about the Choice Mix you've recorded for us – what tunes are you reaching for, and did you have a vision for where you were going with the full mix?
Sure thing – it's a mix of disco, slow jungle, and then some drum'n'bass to get the mix flowing. I've been really into disco recently, as it's such a feel-good vibe – there aren't many other genres that can touch that vibe more than disco. When I say slow jungle, I really mean it's like 130bpm. Just straight vibes, nothing too fast to blow you away out the gate, slowly easing into it.
I really enjoy listening to that kind of mixing style. I want the mix to be easily listenable – you could put it on anywhere. It kind of reflects the way I make music and mix at d'n'b events – I like to go through lots of different styles and switch it up, not keep it on the same vibe. All colours of the spectrum.
Well I'd like to think I'm improving at production and getting more confident trying different things out: just making what I vibe to, rather than catering for a certain audience. Isn't that what it's all about anyway? I find it's easy to get stuck in a rut of making things just because you think it will pop on the charts or in a club or what have you – you lose the reason you started it in the first place, which is to just make a vibe and reflect that to whoever listens to it. Basically just making what I want. No set direction, just seeing how it goes.
Now watch Camo & Krooked team up with a classical composer in Red Bull Symphonic: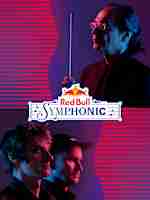 D'n'b meets classical music in Red Bull Symphonic