A brief history of Spice, Queen of Dancehall
© Danny North/Fanatic
She's the risque Jamaican dancehall superstar who rose to fame at just 18. Here's our guide to everything you need to know about Spice.
Last year, Jamaican DJ
Spice
released her debut full-length project, Captured, after nearly 20 years in the business and a glut of hits including So Mi Like It under her belt. The mixtape – which verged from the ribald, reggae-inspired Romantic Mood to the anti-colourism message of Black Hypocrisy ("What's your perception of a pretty woman/is it straight nose with her hair well long?") – cemented her as one of dancehall's leading artists.
Besides music she's also a philanthropist, and became a cast member of the TV show Love & Hip Hop: Atlanta in 2018. But just how did
Spice
– born Grace Hamilton back in 1982 – get to where she is today? Read on for a brief look at the key moments in her career, from risqué performances to raging against the machine.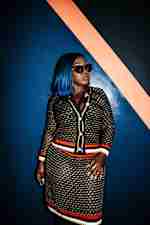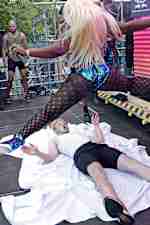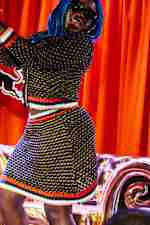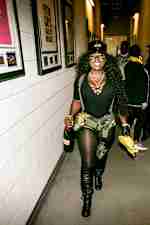 2000: Spice gets her big break
In 2000, Spice was still an emerging name within the dancehall scene, aged just 18. However, she scored an early break when asked to perform at Sting, the premier and staple dancehall event in Jamaica. It was no doubt a big moment for Spice – especially as she hadn't released a record of her own by this point. Although she was a newcomer, the crowd responded well due to he flamboyance of her lyrics and stage presence. Besides, that year also saw
Bounty Killer
,
Beenie Man
,
Merciless
,
Mr Vegas
and
Ninja
all take to the stage, proving that Spice had to be inventive in order to standout in a heavily male-dominated scene. Nothing was the same afterwards; she'd go onto appear at the infamous festival that has been the longest running stage show in Jamaica many more times, even bringing a donkey out on stage at the 2012 event (yes, really).
2003: Releasing her first single
Baby Cham
introduced Spice to Jamaican record producer Dave Kelly, who founded Madhouse Records. After meeting Kelly, Spice signed with the label to release a string of singles, including her debut Complain (Mi Gone), over the Pretty Pretty Riddim. Despite releasing a number of singles, Spice wouldn't go on to chart until 2009.
2007: Beefing with Beenie Man
By 2007, Spice had become a regular at Sting, but none of her appearances left a mark quite like they did that year. The feud between
Beenie Man
and Spice – which is still ongoing – began, with the two arguing over who should be considered the queen of dancehall – a title previously held by
Lady Saw
. Things escalated when Spice was allegedly physically assaulted by someone associated with Beenie Man. However she took to the stage to respond, dissing her rival while wearing a pirate's outfit. With her performance still lauded online to this day, it's clear she walked away from that early exchange a winner.
2008: A memorable duet
Although
Ne-Yo
released Miss Independent the same year, there was every chance that you were far more likely to hear
Vybz Kartel
's Ramping Shop, which sampled the original. Since peaking at number 76 on the Billboard Hot R&B/Hip-Hop Songs in 2009, the song has become a dancehall classic. Arguably,
Ne-Yo
missed a massive trick by not recruiting
Spice
and
Kartel
for an official remix, though perhaps they would've had to have made some lyrical changes; the song was so suggestive it was banned by the Jamaican Broadcasting Corporation.
2009: Spice signs to VP Records
Following the success of Ramping Shop, Spice signed a five-album deal to VP Records, home to the likes of
Beenie Man
and
Sean Paul
. However, a decade later and she's yet to release an album, despite Spice being one of the most popular dancehall artists around. There has been much back and forth between Spice and the label since then, with Spice expressing her frustrations at them in an interview with Jamaica's Star newspaper last year ("Up to this day, from 2009 they have not released an album with me, and so I'm ready now to battle with them in court because I have to fight for my fans, my fans need an album from me").
2014: Release of Spice's first EP
By 2014, however, there was at least one release: Spice's first EP, So Mi Like It. The five-track EP, featuring an incarcerated
Vybz Kartel
on the track Conjugal Visit, was a more romantic affair compared to what was to come. Even so, on tracks such as Like a Man, Spice deepened her voice - making the point that women deejays had just as much to offer in dancehall as the men who had dominated it for decades. Of course, in classic Spice fashion, she wore a fake moustache in the video, with a posse of men behind her.
2016: Appearing at Red Bull Culture Clash with Mixpak
After Rebel Sound won Culture Clash in 2014, beating A$AP Mob, they laid a blueprint for the likes of Mixpak to follow. But really, Mixpak have Spice's exuberant performance to thank for their win. Only she would enter the clash by doing the running splits, while telling
Wiz Khalifa
to "eat mi pum pum." At a clash that saw the
Mixpak
crew go up against
Eskimo Dance
,
UKG Allstars
and
Taylor Gang
, her performance remains one of the event's most memorable moments.
2018: Spice raises awareness of skin bleaching
Last summer, Spice posted pictures on her Instagram with much lighter skin.
Understandably, fans were shocked – but it was part of a wider stunt to spark conversation surrounding skin bleaching. She then released Black Hypocrisy, a slow-paced reggae song that sees her address the issue of colourism, while expressing pride in who she is. Both timely and timeless, the track went straight to number one on the iTunes Reggae Singles chart.
2018: After 18 years, her first mixtape is released
It says a lot about Spice's status in dancehall that she remains highly sought after, despite not having released a full-length album during the span of her 18-year career. Spice and her fans have long been waiting for the release of a project, but due to continued friction with her label, it's still yet to materialise. Still, her live shows have provided much excitement in the meantime; during her show on the
Red Bull Sound System stage at Notting Hill Carnival in 2017
, she invited a fan from the audience who was subsequently met with a hilarious bout of daggering.
And, of course, there's her mixtape. Last year, she self-released Captured, a genre-crossing project with standout tracks such as the titular track, where Spice sings "I wanna be free," addressing love, relationships and her own label issues. On other songs – such as Moving Fast – she leaned more towards US rap styles, broadening her appeal. Released on her own label, Spice Official Entertainment, its title is seemingly a subtle jab at VP Records. Thankfully, nothing and no one can hold her back for long.
Spice is in conversation with Sian Anderson as part of the Red Bull Music London Festival on August 22. Tickets are on sale
here
.