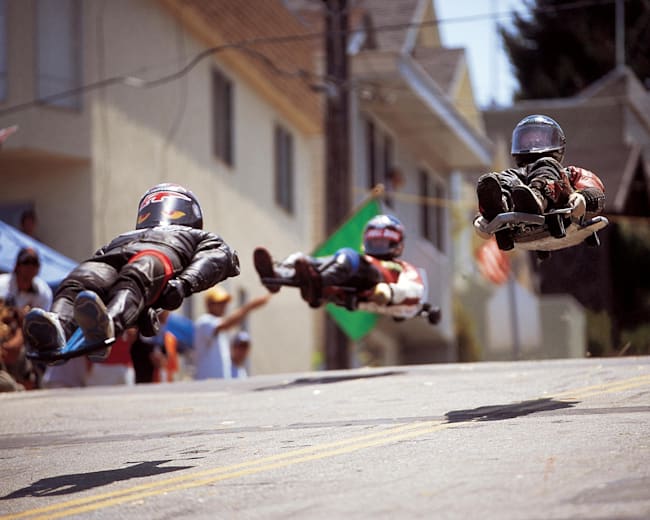 The beginner's guide to street luge racing
© Christian Pondella / Red Bull Content Pool
Here's how to get involved with one of the fastest gravity-powered sports on the planet.
One hundred miles per hour. That's fast. Autobahn fast. But imagine for a moment that you're not in a car, but on a skateboard – flat on your back – mere centimetres from the road, twisting your body to bank towards a sharp corner. Welcome to street luge.
With the downhill skate scene getting bigger and bigger,
Will Stephenson
, current street luge world number three, explains what the sport's all about – and how to get involved...
What is street luge racing?
Essentially a cross between longboarding and winter luge, street lugers use customised sleds with longboard-style wheels to race each other on downhill courses. Because participants are much lower to the ground, there's less wind resistance than downhill skateboarding, often making for faster straight runs at the expense of manoeuvrability.
How fast, you ask? The highest speed ever recorded on a gravity-powered luge is 101.90mph, clocked up by USA rider Mike McIntyre in September 2016.
"A lot of people don't expect us to achieve the speeds we do, without engines, without power sources," says Stephenson. "It's astronomical, and when you couple that with the task of racing four or five other guys, it's a whole different level of difficulty."
How are the boards designed?
Breakneck speeds require top-of-the-line equipment to avoid serious injury. "We use the same trucks and wheels as downhill skateboards, but we have a longer wheelbase and low ground clearance to help with stability," says Stephenson.
The boards themselves weigh around 14kg and are built 'dropped', which means the board's deck is almost as low to the ground as the wheels. This is to ensure lugers are riding as close to the ground as possible to avoid 'speed wobbles' – the enemy of every downhill skateboarder. Padding on the front and rear of the boards protect the board – not necessarily the rider – in the event of a crash, while mechanical brakes are strictly forbidden.
In terms of rider safety equipment, riders wear head-to-toe leathers, motorcycle gloves and full-visored hard-shell helmets. With less distance to fall in the event of a crash, riders can slide off their boards and allow their leathers to take the brunt of the damage, avoiding injury.
What are the risks?
"Street luge crashes are rare, but when they do happen, they're quite catastrophic," admits Stephenson. "I had a big crash in Australia in 2008, and I had to have surgery on my arm. I hit a concrete wall."
Because lugers ride so low to the ground, slipping off the board isn't very damaging, providing all precautions are taken. However, at the terrific speeds lugers can attain, the biggest danger is running into a hard obstacle. Course design is key: as much open space as possible to come to a natural stopping point is needed. Unlike downhill skateboarders that cut their teeth on neighbourhood hills, street luging often requires a more specialist environment.
How can I get involved?
If you're unwilling to simply try your luck on local hills, finding a safe place to train isn't as hard to come by as you might expect, with existing riders willing to mentor the next generation of lugers.
"My target is to train around 50 street lugers in the next couple of years, and get a core group of racers to compete internationally," says Stephenson. "I've done my years of racing!"
Stephenson trains on Ride the Dragon, a downhill rally track in Ceredigion country, Mid Wales, while other riders compete on
Gursdon Down
in Wiltshire. Whereas in the early days of the sport riders had to be active on specialist message boards to keep up with the scene's goings-on, aspiring lugers can now find training day details on community Facebook pages like
Street Luge Is Not a Crime
.
What's the competitive scene like?
Although street luge is no longer shown as part of the X Games, there's a small but thriving competitive international scene, with the top riders regularly swapping places on the podiums.
"There are only about five or six of us that regularly attend events at that level, but we never have an easy race. There's so few top-level competitors, but they are incredibly good," says Stephenson.
Top scorers are marked for their best five international events each year, which determines the winner of the overall season. You can keep up with the latest events and rankings on the
International Downhill Federation's website
, while most events are posted to
YouTube
or streamed on
Facebook
at a later date.