Tahnée Seagrave
is one of the best female downhill mountain bike riders in the world. The 26-year-old Brit has been a firm fixture of the UCI Downhill scene since she burst onto the international stage as a teenager back in 2012. She has added a Junior World Championship and seven World Cup wins to her trophy cabinet since, and you wouldn't bet against her adding more to her haul.
In Tahnée's Run Reaction, you can follow her journey every step of the way. The vlog series tracks every stop, giving you Tahnée's insight on what went right during each race (and where there's room for improvement).
Check out Tahnée's thoughts on race two at Les Gets, France, a stone's throw from where she learned to ride a bike.
Post-Les Gets vlog – Reflecting on a win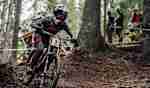 Tahnée's Run Reaction: Les Gets
It all came home for Tahnée Seagrave at Les Gets. Despite carrying a nasty neck injury, and after having a torrid qualifying run, she upset the odds to grab first place by 0.252 seconds from
Myriam Nicole
.
You can never count me out – I put my doubts to one side and rode the race with a big heart
It was Tahnée's first World Cup win since the start of 2019, and came in front of fans for the first time since COVID restrictions were eased. Check out photos from the weekend below, and read more about it
here.
Racing with the fans again felt like racing again – it felt normal!
The race was more or less on home soil for Tahnée, who learned to ride a bike on the hills around the French Alpine village.
Sector 3 was where the race was won for me
She now looks ahead to the next stop, in Maribor, Slovenia, on 14th and 15th August. Coverage, as ever, will be live on Red Bull TV.
Don't miss it!
Post-Leogang vlog – Super stoked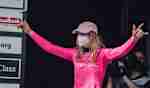 Tahnée's Run Reaction: Leogang 2021
Returning from a broken leg and dislocated ankle during the delayed and much-shortened 2020 racing calendar, Tahnée looked like she was getting back to her best. After recording some impressive splits at the World Championships, she added some consistency to her race runs, which were capped off by
two third-place finishes at the doubleheader in Lousã, Portugal
.
A long off-season dented this momentum, while a bout of chronic fatigue caused by overtraining wasn't the best preparation ahead of the 2021 season opener.
I'm super stoked considering the last few years that I've had
Come race day, though, Tahnée pulled things together in difficult conditions. Her first sector was only bettered by eventual runner-up
Vali Höll
, and she was caught out attempting the higher, faster lines in a tricky and treacherous wood section. While she remained off of the pace set by the winner and reigning World Champion Camille Balanche, she was just happy to be back on her big bike and competing on the world stage.
"I'm super stoked considering the last few years that I've had," she said.
"Self-confidence is still something I have to teach myself because it doesn't come naturally at all. I realised how powerful it was on a track like Leogang.
"The weather is so unpredictable and it ruins the track. It's not nice for the riders or the trail builders."
"I've got one under my belt now. I know what I need to work on and I'm just excited to get back racing and get that momentum and race rhythm back."