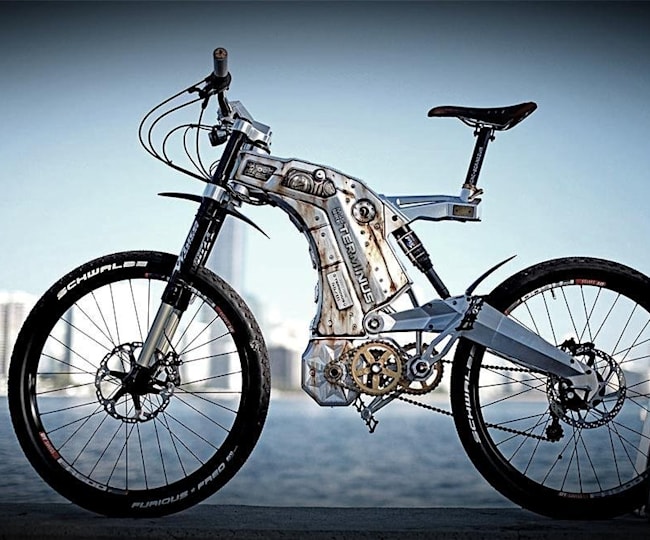 © [unknown]
The most expensive mountain bikes on the planet
Would you spend $500,000 on a bike? Here's the most insanely expensive mountain bikes in the world.
In the market for a new mountain bike? On the lookout for some inspiration? Well, look no further. If you have infinite budget, we have a couple of fantastically expensive suggestions just for you.
A 24k solid gold frame? Check. 600 black diamonds? Check. 500 golden sapphires? Check. An alligator skin saddle? Check. It's official, this fat bike ticks all the boxes.
And at $500,000 we reckon it's quite the bargain. Who doesn't have half a million dollar bills just hanging about to spend on a bike? All but 13 people on the planet apparently. That's right, demand stopped at just 13 for the solid gold fat bike so don't expect to see it at your local trail centre any time soon.
Designed with Formula One technology, the M55 looks like a prop in a sci-fi movie.
Equipped with an aluminium frame, the bike has air shocks at the rear and Brembo floating disc brakes front and back (that's the Formula One bit).
Unlike most e-bikes whose speed is capped at 15mph, the M55 can reach speeds of 42mph and has a rotation sensor which detects when the rider is in need of some extra shove from the electric motor.
Starting at $35,200, the brand assure us it is worth every penny: "It is a conversation piece you will never get bored of. No matter if you ride it on a daily basis or simply exhibit it on your yacht as a piece of art."
This bike is a regular on podiums across the world. It is a lean, mean racing machine.
As you would expect from Santa Cruz, the attention to detail is second to none to ensure you have the best ride possible.
The bike even has adjustable geometry which can be set to your own personal preferences and suited to your current terrain. Weight savings have been applied throughout, from the frame to the rims. But there's no compromise has been made when it comes to strength or stiffness.
We reckon the only thing standing our way of making it as a pro rider is the cash to buy this bike. It's all about the tools and not the workman, right?!
No expense has been spared when it comes to this Enduro machine. The super light yet aggressive frame has managed to maintain an impressive level of strength and stiffness.
As you would expect from the price tag, the bike is finished to a high-spec throughout. Carbon rims, top of the range suspension and a SRAM XX1 1x11-speed drivetrain complete the picture. In addition to that, the bike is also equipped with the all-important dropper seatpost as standard.
This bike looks pretty darn slick. But is it worth the hefty price tag? Well the website does claim that "this is possibly the most fun you can have on two wheels." We're sold!
In all seriousness though, these appear to be well-built bikes. "The handmade titanium frame weighs just 2.2kg, and you can fully customize your steed – although it will cost you. A colour change is $800, while upgrading to hydraulic disc brakes will set you back another $290.