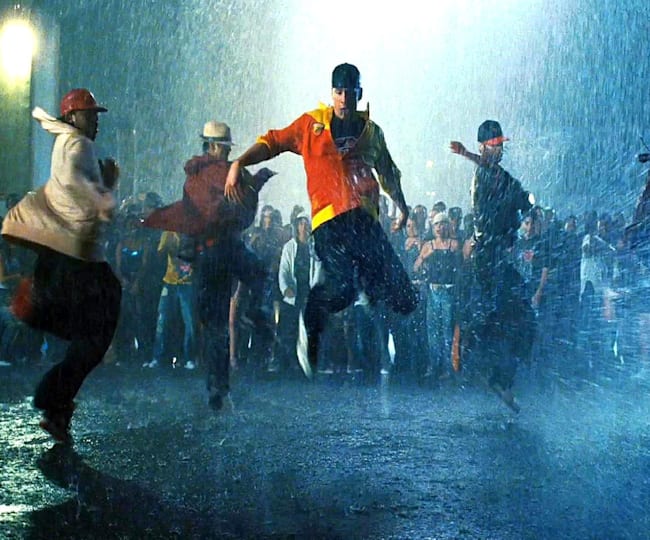 © Step up 2
9 films that will make you want to work out
From Rocky to Million Dollar Baby, these motivating movies will work you up into a sweat...
Motivational movies can uplift you, inspire you, make you think, laugh and – yes – even inspire you to work out, train in a new way or take up a new sport.
Whether you prefer to lift weights, sweat it out in cardio, play a specific sport, or let your hair down on the dancefloor, there's a movie for each exercise.
From gritty underdog flicks to feel good classics, we've rounded up the very best to get you in the mood to sweat.
A film that makes you want to hit the beach
Feisty surf girls Michelle Rodriguez and Kate Bosworth make this movie a fit girl's must-watch. The disciplined and relentless Kate gets up before sunrise each morning for a run and resistance training workout on the beach in prep for a huge surfing contest. Watching this will make you want to do the same if you live by the sea. The hardcore surfing scenes and slim toned bods matched with happy, hippy vibes and a tropical Ace of Base soundtrack portray exercise as a natural and joyful part of life – which it should be for us all.
A film that makes you want to run
Forrest runs because, well, he's not really sure why. Another movie that makes exercise seem so natural. And he accumulates a swarm of disciples to run with him, for unknown reasons aside from curiosity over his mission. This movie will make you believe in exercising for the smallest of reasons – after all, why the hell not?
A film that makes you want to run
Lola just runs and runs and runs in Run Lola Run. It will makes you feel bad for sitting on the couch.
A film that makes you want to hit the gym
Arguably the best gym workout montages of all time involve Rocky – a normal, everyday guy who went the distance and overcame a series of obstacles to become a professional boxer. For some programme inspiration, you could choose from Rocky's moves such as one-armed pushups, clap pushups, Roman chair situps, sledgehammer swings, one-armed pullups, speed bag work and sparring.
A film that makes you want to hit the gym
For a female take on such hardcore training, look no further than Moore's G.I. Jane. In prep for her role she trained with an actual US Navy SEAL (as well as shaved her head – which she totally rocked). Watching Demi do one-arm pushups, three-chair push-ups, sit-ups and pull-ups will set your fitness goals for the next few weeks.
A film that makes you want to try cheerleading
Cheerleading is way more than jumping around and shaking some pom poms – it's a High School b*tch fest too, according to Bring It On. Fighting talk aside, cheerleading, as demonstrated in this movie, in an incredibly impressive and athletic sport in its own right – full of super-sharp choreography, high lifts and tosses. It will motivate you to get down to your local trampoline park at the very least.
A film that makes you want to go boxing
Hilary Swank won an Oscar for her performance as an amateur boxer in this inspiring movie, after undergoing extensive training in the ring and gaining 19lbs of muscle, aided by a professional trainer. In the film she convinces an underappreciated boxing trainer (Clint Eastwood) to help her to achieve her dream of becoming a professional. Despite his reservations that's she's too old to train for pro status, she convinces him she's worth it, and trains her butt off to finally win her big fight. You'll be left wanting to take on the world...
8. Step Up 2: The Streets
A film that makes you want to dance
After watching this you'll either find yourself breaking out ambitious moves down the club at the weekend, sweating it out on the treadmill (fast walk, high incline) while listening to the sound track, or at least shaking your hips down to Zumba. Or, you never know, you may actually join a local street dance or breakdancing group.
A film that makes you want to step up the cardio
Technically Flashdance is a dancing movie but it deserves its own category. Man, Jennifer Beals is the ultimate 80s icon. She's not afraid to sweat while training or talk back when required, but she's also so graceful and multi-talented. Her collective features make her awesomely beautiful and aspirational. It's the kind of movie that shows you can work a side job while you have to, even welding (and rock it), study and train hard for your big dream, and give it your all when the time is right.