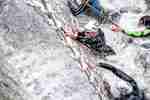 The UK's 6 toughest swimming challenges
© Leo Francis/ Red Bull Content Pool
Escape the confines of your comfort zone this year and take on one of the most difficult open-water swims the country has to offer.
Open water swimming in the UK is booming. The latest
Sport England Active Lives Survey
reveals a significant growth in participation in the past couple of years, with over two million people competing in an open-water swim of some kind.
Among them are a certain group of swimmers partial to challenges of a particularly gruelling kind – the kind that
Ross Edgley
might find especially enticing. Think swimming in freezing temperatures (without a wetsuit) – or for 24 hours.
Sound like your cup of tea? There are plenty of punishing swims on offer around the UK this year. Here are seven of the toughest...
1. IISA Ireland National 1km Ice Swimming Championships
If you thought open water swimming was hardcore, then you haven't heard of ice swimming. The International Ice Swimming Association was formed in 2009 to formalise swimming in icy water and host events all over the world each year.
Like all of its events, the 1km National Championships involves competing under a specific set of rules and conditions: the water temperature must be five degrees Celsius or less, and swimmers can wear only a swimming costume, cap and goggles.
Held at Wild Water, Armagh, each year, this isn't an event you can just dive into: to be eligible for the championships, entrants must submit a qualifying swim beforehand under IISA regulations.
What's more, 2020 will see the introduction of the 500m distance, a great intermediate distance for those who took part in sprint events last year and feel like pushing themselves a little further.
2. Red Bull Neptune Steps
The unique spectacle that is Red Bull Neptune Steps takes place at Glasgow's Maryhill Locks. The event sees competitors braving 400m of open water swimming and hauling themselves up and over seven locks along the way.
There is a competitive element to proceedings, too; swimmers are put into heats, with the fastest (or unluckiest, depending on your thoughts on swimming in teeth-chattering conditions) moving onto the semi-finals and finals, where an overall winner will be crowned.
And for the first time ever, Red Bull have introduced a pairs category, where pairs will take on the event in a relay format.
3. The Thames Marathon
The River Thames is nice to look at, but you wouldn't want to swim in it, would you? Well, upstream from the stretch that runs through London, people do just that, and there aren't any abandoned shopping trolleys to dodge along the route, either.
Now in its ninth year, the Thames Marathon pits entrants against 14km of open-water action, starting in Henley-on-Thames and finishing in Marlow. There are three locks to navigate along the way, but unlike Neptune Steps, competitors aren't made to clamber over them.
You can swim with or without a wetsuit, but non-wetsuit places are limited and soon sell out.
4. The Hurly Burly
Missed out on entries to the Dart 10km? Fear not. The Outdoor Swimming Society has set up another swim that rivals it, calling it "the most beautiful" they have ever found.
Set on the edge of Snowdonia, North Wales, the swim is held in the Mawddach Estuary, starting on Barmouth beach and ending up in Penmaenpool. The 10km race takes swimmers on a scenic route up the wide, mountain-lined estuary, which becomes narrower as the swim goes on. Thanks to the incoming Spring tide assisting swimmers, this race is fast – the winner last year finished in 1hr 21mins 18secs.
The event also has an 11km run or a run-swim for people who want to do both, which begins with a run from Penmaenpool to Barmouth, before joining the swim on the beach.
5. Paddle Round The Pier
Sign up to the perfect summer swimming event - the Palace To Paddle Swim in Brighton. There are three distances, 15k, 2.5k and the 3.8km Sea Lanes Challenge Swim, AKA the city's most iconic open water swim.
Aimed at experienced swimmers, places are limited to 50 entrants. The 3.8k event sees competitions swim past key landmarks such as the Brighton Palace Pier, West Pier and the i360, parallel to Hove Lawns, all the while getting a swimmers' eye view of Brighton's beautiful seafront.
6. John West Great North Swim
Submerge yourself in one of the most beautiful locations in the UK. Taking place at Brockhole on Windermere, The John West Great North Swim is an open water swim in the heart of the stunning Lake District.
Whether you're a beginner or seasoned swimmer there's a range of distances to suit all abilities from 250m to 10km, so no wonder it's such a popular event.