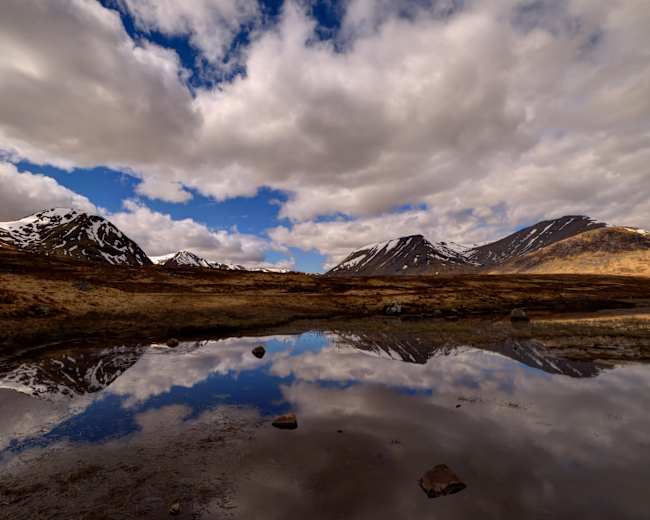 10 of the best UK running trails
© Flickr; Bigcagwell
We're spoilt for trails in Britain. Here's your guide to the very best, from ultrarunner Damian Hall.
There are hundreds of long-distance footpaths spiderwebbed around the UK, offering wonderful trail-running days out.
The 15
National Trails
in England and Wales, and
Great Trails
in Scotland are government funded, so they're the best maintained and signposted paths, are marked clearly on maps and have comprehensive websites and guidebooks. They also call into villages and towns regularly, so you're not usually far from good facilities. More importantly, these trails are also in the most spectacular places.
Most National Trails are 100-plus miles, but you can run whatever distance you fancy. Simply find out which is the best bit (see below), pack yourself a picnic and get going! Here are your best options.
1. Cotswold Way National Trail
Best for:
Cosy countryside with deceptively stout hills.
Where:
The trail stretches 102 miles from Chipping Campden in Worcestershire all the way down to World Heritage-listed Bath in Somerset.
What:
The route follows the edge of the Cotswold escarpment offering the region's finest scenery, classic Cotswold villages, hill forts and ancient beech woodland.
Best bit:
The northern end has the bigger hills and views, with Cleeve Hill, Leckhampton Hill, Cooper's Hill and Cam Long Down all providing spectacular vistas to reward sweaty climbs.
Level of difficulty:
The hills aren't big and you're never far from civilisation. 2/5
Anything else I should know?
Dotted with Iron Age hill forts and burial grounds, it's a great one for history buffs.
2. North Downs Way National Trail
Best for:
Big views, history and varied landscapes as you scamper across the chalky North Downs.
Where:
123 miles from Farnham, Surrey, to Dover, Kent, wiggling across the countryside just south of London.
What:
Celebrating its 40th birthday this year, the North Downs Way is a wonderfully varied and surprisingly tranquil trail, through beech and oak woodlands, across springy downland, and sweeping vistas.
Best bit:
The most fun bit is Box Hill to Reigate Hill, the most scenic is Detling to Lenham in Kent; real garden of England stuff.
Level of difficulty:
While the trail weaves up and down the escarpment, meaning there are some short hills, the route isn't too challenging overall. 2/5
Anything else?
The route follows much of the ancient Pilgrims Way that linked the cathedrals of Winchester and Canterbury.
3. South Downs Way National Trail
Best for:
Quality running with expansive views, historic sites and, at the finale, spectacular coastal scenery.
Where:
Eastbourne, Sussex, to Winchester, Hampshire, mostly in the South Downs National Park, close to the south coast.
What:
A 100-mile trail with history, great views, and excellent running.
Best bit:
The helter-skelter coastal section across Beachy Head and The Seven Sisters. The gorgeous, postcard-perfect view is your reward for your labours – an inspiring place at sunset.
Level of difficulty:
There are some gradual climbs to test the fitter runner, but the terrain underfoot is mainly excellent. 2/5
Anything else?
The SDW passes the vast Iron Age hillfort of Cissbury Ring, one of the largest in Britain.
4. The Ridgeway National Trail
Best for:
Atmospheric running across wide-open hilltops and on secretive enclosed woodland tracks.
Where:
Overton Hill, Wiltshire to Ivinghoe Beacon, Buckinghamshire, 87 miles.
What:
The Ridgeway follows an ancient track mainly on the top of chalk downland, rewarding with vast views and numerous prehistoric sites.
Best bit(s):
Uffington, for birds of prey, atmosphere and hills. And Grim's Ditch, which is perfect running terrain and steeped in history.
Level of difficulty:
Good trails and not too steep, but it's often open countryside so be prepared for the elements. 2/5
Anything else?
The Ridgeway is generally considered to be one of the country's most ancient routes and includes many prehistoric sites, including Iron Age forts, round barrows and Neolithic tombs – and the famous white horse prehistoric hill figure at Uffington.
5. Wales Coast Path
Best for:
Getting away from it all and superlative coastal scenery.
Where:
870 miles from Chester to Chepstow – the entire coast of Wales, basically.
What:
Wales claims to be the only country in the world with a continuous coastal path. It's a remarkably varied trail, including beaches, salt marshes, promenades, rugged cliffs, villages, towns and cities.
Best bit(s):
The cliff coasts of Anglesey, Llŷn, Ceredigion and Pembrokeshire.
Level of difficulty:
There are some remote and rugged paths, and some steep ascents and descents, but plenty of flatter, easier bits in between too. 3/5
Anything else?
This is one of the UK's newest trails, having only opened in 2012 (and costing around £20 million)
6. South West Coast Path National Trail
Best for:
Testing hills, rugged trails and some of the most beautiful coastal scenery in the world.
Where:
This vast trail loops from Minehead, Somerset, all the way round to Poole, Dorset, taking in the entire coastline of Devon and Cornwall, plus parts of Somerset's and Dorset's.
What:
A whopping 630 miles with a knee-squealing 115,000ft of ascent (nearly four times up Mt Everest). It's rugged and sometimes remote, with some incredible, varied and dramatic scenery, including some magnificent beaches, to relax on after a day's run.
Best bit:
So many! The stretch between Westward Ho! and Padstow combines really beautiful scenery, rare stretches of isolation and some of the loveliest villages along the path, such as Clovelly. Also the Exmoor section from Minehead has some spectacular sea cliffs.
Level of difficulty:
The terrain can be technical and testing and there is shedloads of gradient. 5/5
Anything else?
By some stretch this is England's longest National Trail and only the Pennine Way challenges it for the title of being the toughest.
7. Pennine Way National Trail
Best for:
A tough workout on the moors, with the thrill of finding remoteness in the middle of England.
Where:
Edale in Derbyshire, to Kirk Yetholm, Scotland.
What:
England's oldest and perhaps toughest National Trail, stretching 268 miles from the Peak District to Scotland, via three National Parks and some of the wildest, remotest and best upland scenery in the country.
Best bit:
High Cup, near Dufton, is a huge, glaciated canyon, a criminally underrated spot which feels apocalyptic. The section around World Heritage-listed Hadrian's Wall isn't bad either.
Level of difficulty:
The hills aren't huge, but moorland terrain can sap energy and you're often open to the elements. 4/5
Anything else?
The Spine Race takes place on the Pennine Way each January, when madcap ultrarunners attempt to run the distance, while battling the darkness and weather, in seven days.
8. Coast to Coast Walk
Best for:
Experiencing the Lakes
Where:
From St Bees, Cumbria, to Robin Hood's Bay, North Yorkshire
What:
Alfred Wainwright's Coast to Coast Walk weaves across the country for 192 miles. It can be done in one go of course, but following an early section of the route is a great way to experience the World Heritage-listed Lake District National Park.
Best bit:
Patterdale to Shap is pretty special, especially the views back down to the cosy dales from the big atmospheric fells.
Level of difficulty:
Unfortunately this trail isn't signposted on the ground. Some of the fells are big and steep! 5/5
Anything else?
Oddly the Coast to Coast Walk isn't an official National Trail, despite being one of Britain's most popular walks.
9. West Highland Way Great Trail
Best for:
Stunning mountain views from good runnable paths.
Where:
Milngavie to Fort William.
Distance:
94.5 miles from just outside Glasgow, making beeline for the Highlands.
What:
A trail that takes in some of the most dramatic scenery of the Western Highlands. The path begins comparatively gently, up the eastern side of Loch Lomond, then heads up Glen Falloch, over the fringes of Rannoch Moor to the mountains surrounding Glencoe. The final section consists of two climbs over mountain ridges, before heading down Glen Nevis.
Best bit(s):
There are two spectacular climbs, one out of Glencoe up The Devil's Staircase; the other from Kinlochleven then down to Glen Nevis.
Level of difficulty:
The trail is good and well signed. 3/5
Anything else?
There are at least three trail races on the WHW: the popular, 52-mile Highland Fling, 42-mile Devil o' the Highlands and the 95-mile West Highland Way Race.
10. Great Glen Way
Best for:
A wilder Highlands experience.
Where:
Fort William to Inverness.
What:
A magnificent 77.5-mile traverse of Scotland's epic Great Glen, including Loch Ness and Ben Nevis.
Best bit:
The High Route between Invermoriston and Drumnadrochit offers spectacular views over Loch Ness, distant lochs and mountains.
Level of difficulty:
It's mostly sound underfoot, on a mixture of towpath, forest tracks, moorland paths and minor roads. The Low Route is more beginner friendly. 4/5
Anything else?
The route is dotted with castles and prehistoric forts. There's a race on the trail too, the 71-mile
Great Glen Ultra
.