The identity and purpose of record labels has shifted enormously over the past decade. While the majors have largely succumbed to the growing dominance of streaming and the way it's shaped listener habits, traditional indies have found themselves squeezed by digital distributors and 'label services' companies that purport to offer artists everything they need -- without having to sign on a label's dotted line.
But something that came up time and again during the curation of this list was the firmly-held belief that independent imprints continue to be much more than mere outlets for new music, or stables in which artists develop before either being poached or drifting into obscurity.
Intertwined with bootstrapped radio networks, clubnights, and more creative, community-led initiatives, it's clear that independent labels still have a vital role to play in providing a space for unique talents to develop and flourish.
Below, you'll find a selection -- by no means definitive -- of some of the UK labels that best embody this spirit and emphasise the vital role that indies play in maintaining the UK's pioneering musical spirit.
Bristol's UVB-76 is, notionally at least, a drum'n'bass label. Arguably though, it's dragged the d'n'b sound so far from its roots that it exists in a shadowy realm of its own. Collectively run by four DJ-producers –
Vega
,
Pessimist
,
Karim Maas
and
Gremlinz
– the label specialises in a dark and rolling sound somewhere between drum'n'bass and techno that's spacious and heavy on the atmosphere: check out Pessimist's recent Burundanga EP for a taste of the label's special brand of body-moving dread. Adding to the sense that UVB-76 are currently on some sort of hot streak, two sub-labels are pursuing different strands of the label's sound. There's Droogs, home to rude, upfront drum'n'bass; and The Stone Tapes, a more experimental imprint, co-curated by label affiliate
Overlook
, that's dedicated to "audio apparitions" and other experimental ephemera. (Louis Pattison)
Bass-weight futurism, primordial astral travelling, and giddy explorations of hitherto unknown dimensions: these are the keystones of Bokeh Versions. The Bristol label launched in 2015 with
SKRS
' TrustInDigikal/IfUWantMe, a slice of digital pointillism that wrenched lovers rock into new, distended forms. From there, modern classics such as
Jay Glass Dub
's Glacial Dancehall, space opera reissues like Captain Ganja's Traditions, and, most recently, the barometric pressure of
TNT Roots
' latest full-length Raw Dub Creator, all place Bokeh firmly within the relentlessly probing tradition of Basic Channel. Imagine the Chain Reaction crew filtering the Basic Replay catalogue through a digidub filter, add the probing experimentation of the best of Boomkatcore, and you're getting pretty close to the sound. (Josh Hall)
Established in 2009 by
JD Twitch
-- one half of Glasgow-born rave duo Optimo (Espacio) alongside
JG Wilkes
-- Optimo Music has carried its namesake's wild ethos and restless pace forward ever since their Sunday Sub Club service shut its doors in 2010. It inhabits similar musical worlds to the pair's record bags – a mishmash of artists past and present, threading everything from leftfield disco to synth pop to krautrock into a vast discography stretching far beyond its Scottish base. Collaborations with Brazilian reissues imprint Selva Discos and the launch of sublabel Against Fascism Trax (with all profits donated to political action group Hope Not Hate) nod to the label's vibrantly borderless approach. And with a new EP from New York-via-Morocco artist
Bergsonist
kicking off their 2020 in stunning form, Optimo Music's momentum continues apace. (Josie Roberts)
Listen to Optimo in the mix at Together Festival on Red Bull Radio in the player below.
Gilles Peterson
's Brownswood imprint has been running since 2006, but it's on good form right now, in part through happy circumstance – UK jazz is undeniably having a moment – and in part through a dedication to smart initiatives and long-term vision. Standout recent releases include virtuoso London pianist and bandleader
Joe Armon-Jones
's expansive second LP Turn To Clear View, and Sunny Side Up, a document of the thriving Melbourne jazz underground. Elsewhere, the label's Future Bubblers programme has been key in turning up new talent like
Skinny Pelembe
and
Yazmin Lacey
, while the Brownswood-affiliated We Out Here festival returns to Cambridgeshire for a second year this August, mixing up the cream of Brit jazz (
Ezra Collective
,
Melt Yourself Down
,
Sarathy Korwar
) with a massive line-up of DJs taking in
Joy Orbison
,
Jayda G
, and
Underground Resistance
. (Louis Pattison)
Started in 2014 by childhood friends
Facta
and
K-Lone
, who grew up on the bass-heavy diet of east London's formative dubstep nights, Wisdom Teeth has been steadily supplying records that marry that genre's echoing, dark atmospherics with the percussive energy of everything that's come since. As with all the best Bristol labels, it reflects the city's collaborative and close-knit music community in pushing sounds that step outside of traditional genre demarcations – bringing the meditative sensibilities of dubstep and garage swing to broken beat reflections of house and techno. Last year saw a slew of quality releases, including sparse, hazy house from
Piezo
, and K-Lone's Sine Language EP of four slinky, infectious rhythms that borrowed from hip hop, techno, ambient and more besides. Wisdom Teeth is the essential label for a generation looking for fresh perspectives on UK bass music, cut through with an icy slice of nostalgia. Keep an eye out for their first full-length LP coming this year. (Alex McFadyen)
Sheffield's CPU (Central Processing Unit) is a label dedicated to keeping electro alive and pumping in the UK. Founded in 2012, its debut release -- Newmark Phase by
Cygnus
-- fitted more in line with some of the hazy blissed-out IDM that fellow Sheffield label Warp was putting out in the 1990s. But fast-forward to more recent releases and you'll find a much bouncier output --
96 Back
's excellent 2019 debut Excitable, Girl being one such key release. On top of this, the label has been throwing excellent parties for years in the city, it boasts an unfathomably consistent hit rate with records (Maelstrom, Planet 43, Silicon Scally), and possesses an aesthetic so distinct -- using binary digits for release numbers -- that the look of the label has become as synonymous with electro in the UK as the sounds they put out. (Daniel Dylan Wray)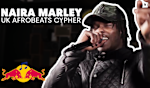 Watch Naira Marley and the cream of UK Afrobeats in the Moves cypher
Over the past couple of years, MOVES has quietly established itself as one of the most on-point bellwethers of UK street culture -- whilst providing a platform for homegrown sounds to have a global impact too. If you've found yourself singing along to
Afro B
's infectious Drogba,
doing the Skiddibop
, or embroiled in defending the
innovations of UK drill
against moral panic in the media, then you've got the MOVES team to thank. While broadly representing UK drill and Afrobeats acts --
Naira Marley
and
Skengdo & AM
are among the most notable signings -- the label has shown little intention of getting comfortable. Recent roster additions include emo-trap duo
13XL
and suburban upstarts
LOVE SEPT.
, as well as
a partnership with Afro Nation
, suggesting MOVES will continue to define the cultural zeitgeist into the 2020s. (Will Pritchard)
Nervous Horizon head honchos
TSVI
and
Wallwork
have laboured steadily for five years, curating innovative, drums-forward club music with a distinct edge. Training a masterful eye on the UK scene (as well as global offshoots), the label continues to ply a percussive-heavy sound that reshapes rhythmic trends aimed directly at the dancefloor. The acclaimed NH compilations offer a comprehensive entry point -- showcasing everything from
DJ Plead
's deliriously fine-tuned drum sequences, Shanghai-based
Tzusing
's lo-fi techno, or TSVI's own fractured spirituality that seamlessly melds Middle Eastern influences with the fundamentals of UK garage. (Esme Bennett)
Home to rising superstar
India Jordan
, the word that best sums up the Local Action label is family. Founded in 2010 by Tom Lea, the label has had a whole decade to develop both a loyal following and a highly envious back catalogue. But it's not just the music that sets Local Action apart. The label is also dedicated to innovating with release formats and trying something new. Last year's Club Love project from
Sim Hutchins
saw a stand-alone website launched, with friends of the label contributing personal stories of quite literally "love in the club" that were shared in audio clips on the site. Visitors to the webpage could then access an interactive experience using loops and stems from the release and create their own Club Love collages. (Rachael Williams)
Ostensibly established as a platform for
Murlo
's own music (including tracks produced under his
Sharda
alias), Coil has unfurled over the past couple of years to include a growing roster of artists who sit on the precipices of invention. Moreover, the label reflects Murlo's singular vision: each release features his sumptuous hand-drawn artwork -- a creative process the Manchester-based artist frequently live-streams on Twitch -- and contributes to the label's broader world-building exercise. Last year's Always Forever EP from Dublin producer
Clu
, the first solo release from a new act on the imprint, extended Coil's cinematic impact, with tingling sci-fi synths cutting over atmospheric basslines. (Will Pritchard)
Much of Bristol's underground music is connected by a common thread: a deep affinity for the heritage of sound system culture, and a desire to augment and propel it. Timedance sits firmly within that heritage, using it as the foundation for a catalogue full of smothering low-end pressure, smash-and-grab raids of the techno hinterlands, and fractured rhythmic explorations. Early output from
Ploy
,
Bruce
, and label head
Batu
set the tone, mining a rich seam of techno experimentalism. Meanwhile the label's most recent release, from
Air Max '97
, cements its dancefloor credentials with a crystalline club cut. Just as important to the Timedance story is Batu's regular slot on Noods Radio (as well as label nights hosted around the UK), which sees the DJ weaving together like-minded releases from around the world. (Josh Hall)
In Glasgow's weighty lineage of electronic music labels, young upstarts Craigie Knowes are blazing a new path. Started by
Max Spittal
and
Mitch Hunter
in 2015, the label-cum-party began life as a fundraiser compilation for War Child UK – featuring tracks from
Bicep
and
Move D
, no less. But, in tandem with the duo's rise as DJs, it has grown into one of the UK's most reputable imprints, with releases from
Reptant
,
Posthuman
, and
Jensen Interceptor
last year pushing its recognition to new heights across European dancefloors. Their releases veer across dreamlike house, rough-and-ready electro and acid-tinged techno, but are loosely tied by subtle surreal atmospheres and a sound palate that feels effortlessly suspended in time and space. (Josie Roberts)
Sneaker Social Club pushes the frenetic end of UK soundsystem culture to a global audience, with releases that draw on rave's halcyon days: teasing out elements from the kaleidoscope of genres that have bubbled out of British cities and rural free parties, and uniting them in unexpected ways. So
Filter Dread
's eski synths are warped and metastasized into explosive breakbeat, label head Jamie Russell processes '80s dub recordings into fractured radio transmissions as
Low End Activist
, and producers
Etch
and
Interplanetary Criminal
make high energy rave tracks with hip hop swagger. This year promises some surprises from this crucial imprint, including a massive compilation of tracks from the label's key names alongside anarchic German producer
Christoph de Babalon
and techno stalwart
René Pawlowitz
(aka
Shed
), and a reissue project with jungle icons
Foul Play
. (Alex McFadyen)
Despite being less than a year old,
Eclair Fifi
's own imprint is already making some serious (excuse the pun) waves. The esteemed Edinburgh selector is a hugely popular figure among both her DJ peers and clubbers alike, as evidenced by her popular NTS show and packed-out residencies at the likes of Glasgow's La Cheetah. The burgeoning River Rapid shows promise in emulating its founder's own individual successes in the scene. So far we've been treated to
Afrodeutsche
's jacking percussion complementing largely more subtle bass-heavy melodies;
Santiago Salazar
paying homage to his
Underground Resistance
co-conspirators with some classic house tropes; and
DC Salas
' more experimental and cosmic take on electro-house last month. All exceedingly tasteful stuff -- with more than enough intrigue to pique your interest for the year to come. (Jonno Mack)
Listen to Afrodeutsche live from Printworks on Red Bull Radio in the player below.
Launched in 2019 as an outlet for dark, heavy-swung garage -- with all the old-school styling of rough-stickered 12" white labels to boot -- GD4YA (or 'Good For Ya') has put out a steady drip of bag-on-site garage steppers, including sought-after cuts from the vaults of UKG legends
El-B
,
Zed Bias
, and
Horsepower Productions
. But with recent releases bringing new-school producers into the fold (see
Wen
's recent three-tracker, or the inventively named
El-Sull
collaborations between El-B and
Sully
), and regular road-tests at the affiliated South Circular club nights, the label has reinforced its commitment to nurturing a new generation of garage swagger. (Will Pritchard)
Founded by Reprezent Radio resident
High Class Filter
and Definite Party Material's
Ian DPM
, Scuffed Recordings launched in 2017. Their Scuffed Presents compilation series puts a spotlight on the artists they're tipping for the future (the most recent, the third in the series, featured
Dubrunner
,
An Avrin
,
Avernian
, and
Young Muscle
), and on the solo EP front, their roster includes the likes of
Stones Taro
,
Croft
, and
Nikki Nair
. The label champions music prepared for the peak-time hours of the dancefloor: house, techno, UK funky, breaks, electro – anything goes, as long as it bangs. Wherever there's thunderous basslines, mind-bending rhythms and tough, thumping percussion, you'll find Scuffed up front and centre. (Katie Thomas)
Run by London-based producer
Desert Sound Colony
, aka Liam Wachs, the Holding Hands imprint is about as wholesome as slamming house and breaks bangers can ever be. Hand-delivering new vinyl releases to shops, and always with a smile on his face, it's Wachs' personal and friendly touch that shines through in the label's curation and output. Accessible without sacrificing quality, it's no wonder these releases are appearing in record bags of a wide variety of DJs. This is doubly so now with the launch of reissue side imprint, Holding Hands Again, that's seen mid-90s Brazillian techno classic
DJ Mau Mau
's Hell's Club EP get another go-round. (Rachael Williams)
Over 12 years of experiments in music and sound-based art, Bill Kouligas' fearless PAN imprint remains just as impossible to pin down. The London-born, Berlin-based label is home to some of the decade's most adventurous work – from records by visionaries like
Rashad Becker
and
Florian Hecker
, to launching label debuts by artists including
Objekt
,
Yves Tumor
,
M.E.S.H.
,
Pan Daijing
and, this year,
Beatrice Dillon
. This hunger for creative progression stretches beyond music into digital and physical forms too. Collaborations with establishment institutes like the ICA, and last year's audio-visual soundtrack offshoot, ENTOPIA, demonstrate Kouligas' broader ambitions. Consider PAN an exchange of ideas around art, sound and technology, a force that's long been at the vanguard of contemporary music -- and remains so to today. (Josie Roberts)
More Time could easily have been named More Drums, such is the London-based label's appetite for percussion. Run by producers
Ahadadream
and
SNØW
(who's one half of Jus Now), the label squeezes dembow-indebted global rhythms through a UK club juicer to come out with some of the most bouncy, contorted grooves to grace the dancefloor. Vocal outings on the imprint from the likes of
Bala Bala Boyz
and
Bryte
, meanwhile, have delivered up swaggering singalong moments to boot. (Will Pritchard)
Launched in July 2019 with the release of her own S1N EP, SZNS7N is the imprint founded by producer and visual artist
L U C Y
. Hailing from Bristol and now based in London, L U C Y's interest in multi-disciplinary art and her love for a punchy low end drives the SZNS7N blueprint. The label has been busy since it's debut, racking up nine releases in barely six months from the likes of 6 Figure Gang member
Yazzus
, Bristol's
DJ Lijah
, and
Raheim
, the London-based producer, photographer and Kenyon Sound affiliate. SZNS7N specialises in leftfield club music: percussive and explosive bangers that linger around the 140 to 160 BPM mark. Having hosted a sell-out party in December at new east London venue Colours, and with the first 2020 drop on the horizon, SZNS7N is quickly establishing itself as a key player pushing high energy UK club sounds. (Katie Thomas)
Listen to L U C Y b2b Oneman at Red Bull Refractions on Red Bull Radio in the player below.