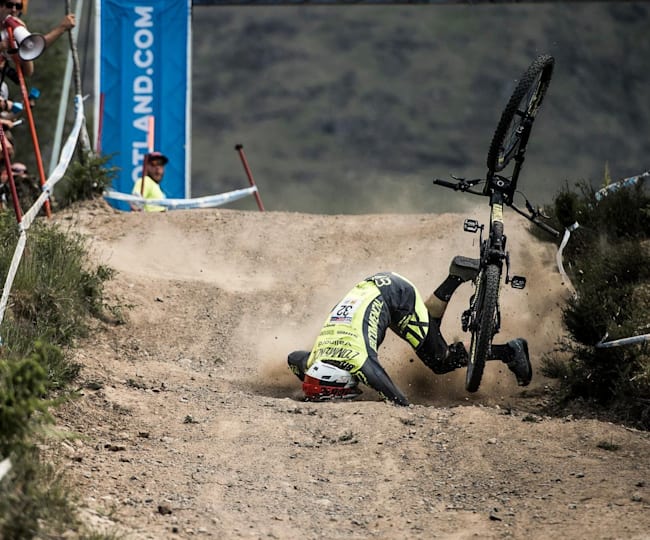 © Bartek Woliński
Interview: SixSixOne explains how to stay protected on the bike
How is mountain bike safety kit certified as, um, safe?
Remount. Attempt new thing again. Crash. Repeat. Nail it.
There's nothing like the feeling of progression, that sense of achievement and knowing you'll be able to outsmart your riding buddies on a future outing or throw some steeze for your next Instagram post.
But with all that enjoyment and self-congratulatory satisfaction often also comes a stronger feeling, one that isn't easily forgotten. That's the one – pain. As anyone who's tackled the learning curve to becoming a mountain biking legend (relatively speaking) can confirm, crashes are best served with a side of body armour.
But who ensures the armour we wear is up to scratch? What safety certifications exist for mountain bike protection?
We spoke to the team from
SixSixOne
– a well-established and pretty iconic protective equipment manufacturer – to get a little more background on the who, where, what of mountain bike protectives.
Red Bull: What safety certifications exist for mountain biking protectives?
661:
There is no MTB, or indeed Cycling specific CE Standard for protectives, such as knee pads, etc. In theory as a protection manufacturer we need to prove our body protection products meet basic health and safety levels to present the product to market, but there are no body protection standards specific to cycling or MTB. However, there are a variety of tests that protection has to pass in order to gain a CE certificate/CE stamp which allows sale as specific 'protection' pieces.
These CE standards and resulting tests originate for Motorcycles. Meaning bicycle products are being tested to the impacts likely to occur whilst riding a motorcycle. Whilesome of these tests have definite crossover into mountain biking, some are seen as overkill and result in protection being over-engineered in order to pass a test standard which might not have any relevance for the type of riding the pad is designed for.
CE Marking on a product is a manufacturer's declaration that a product complies with the essential requirements of the relevant European health, safety and environmental protection legislation and European Community directives for that product to be sold within the European Economic Area (EEA).
CE certification and hence markings are governed by appointed 'test houses' such as Rico and SGS who test products, submitted by brands and manufacturers such as 661, under lab conditions.
What CE standards are used for mountain biking protectives?
The main CE Standard that you will see listed on MTB protection is EN:1621 (a motorcycle certification), which is broken down into three parts: Part 1 for Limbs (Knee/Elbow/Shoulder), Part 2 for Back, and Part 3 which was introduced recently for chest protection. There are also different certification levels of each part of EN:1621, Level 1 & Level 2 which are applied based on the amount of impact force transmitted through the protective piece.
The EN:1621 Standards have only been adopted as there are no closer applicable standards for cycling products. When DH protection first arrived on the market it was seen as very close to motocross – hence, the EN:1621 standards were applied, and have been ever since.
What does each 'Part' involve?
Part 1, EN:1621-1, tests for motorcycle armour covering any body part protection except the Back and Chest. This test asses the performance by measuring force transmitted through the protection when impacted by a falling mass. The test apparatus consists of a mass of 5kg with a 40mm x 30mm striking face, dropped onto the sample mounted on top of a 50mm radius hemispherical dome. The anvil is further mounted onto a load cell, allowing a measurement to be made of the force transmitted through the protector. The kinetic energy of the falling mass at impact must not exceed 50J.
There are further tests to determine if a product passes EN:1621 at a Level 1 or Level 2.
Part 2, EN:1621-2, tests for motorcycle armour covering the back. The impactor is a rounded triangular faced prism, of length 160mm, base 50mm, height 30.8mm and radius 12.5mm. The anvil is a radiused cylinder, with its axis orientated to the direction of impact, of height 190mm, diameter 100mm and rounded end radius 150mm, and again a 50J impact is applied.
Part 3, EN1621-3, tests for chest protectors against mechanical impact. The Flat impactor is tested at 50J impact force, with two levels of certification: Level 1 & Level 2.
Do manufacturers have to adhere to this testing?
As a manufacturer there is not a legal requirement to use conform to any of the motorcycle standards. However, there is a requirement to have products tested in accordance with PPE directives of test reporting and certification.
Is this sufficient for mountain biking?
Since the sport has developed and people are riding faster for longer on more severe terrain there has been a call to develop more lightweight protection. Even three or four years ago, body protection for all-mountain or Enduro was almost non-existent (being either full impact protection or nothing). However, in recent years riders have expressed an increased demand for products that give them adequate protection whileremaining comfortable to wear all day and not affect theirability to pedal long distances. Currently there are no CE Standards or tests to match this type of bicycle relatedproduct.
Our
Recon Pad
is a great example. It's light, breathable, comfortable and affordable – it is a fully CE Certified PPE product tested using a hybrid application of 2 standards, which means it is better suited to the modern type of trail riding.
The Recon pad is tested to parts of EN 1621-1 and EN 14021, which is 'Stone Shields for Off-Road Motorcycling' and so,as a result, does not have one specific 'CE standard' applied to it – rather, parts of two. Anyone who's worn this pad will agree that it's a great pad for a full day at the trail centre, but perhaps isn't ideal for smashing out runs at Fort William.
Is there a future for MTB-specific testing?