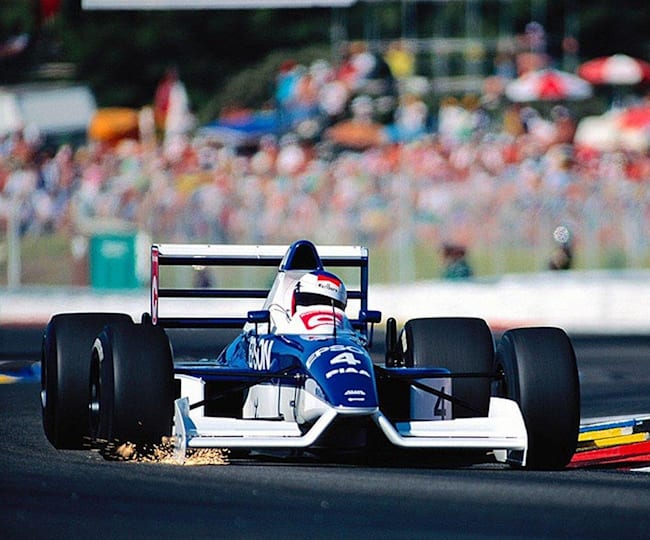 © Getty Images
Hot Topics: Who's the most underrated F1 driver?
Who in the history of Formula One deserves more credit? Our panel of experts give us their opinion.
Many drivers haven't fulfilled their full potential throughout
F1's
history. Poor team choices, an inability to avoid the free bar, a strong ability to avoid the treadmill…the reasons are often many and complex!
So that got us at
RedBull.com
thinking: who is the most underrated F1 driver of all time? As we racked our brains, we decided to pick those of a set of experts too. Some of their answers may surprise you…
And remember, if you don't agree with our experts' choices, let us know on Twitter
@RedBullUK
Jack Elleker, F1StatBlog – Alain Prost
Alain Prost is a four-time champion but very few people rate him as much as they should
Call me crazy, but one of the most underrated F1 drivers among fans nowadays is Alain Prost. Yes, he is a four-time champion and a 51-time winner, but very few people rate him as much as they should. In Prost's 13-season career, he only failed to outscore his team-mate in two of the those years, one being his first season and the other when he was just half a point from Niki Lauda. With just 10 more points Prost could have won seven championships – and without the confusing 'dropped points' rule (which saw Prost score more points than Ayrton Senna in 1988 but still lose the championship), it could have been eight. In only two seasons of his career Prost failed to win a race. Statistically, he's second best of all time, but he's usually placed fourth in polls.
Vince Pettit, The Checkered Flag – Jean Alesi
Unfortunate events and poor teams prevented Jean Alesi from showing his full potential
Despite only winning one race, Jean Alesi had much more potential than he was able to show. He made waves in his early career in the Tyrrell, leading the 1990 US Grand Prix in Phoenix ahead of the mighty V10 Honda-powered McLaren of Ayrton Senna (who would go on to win the championship that year).
A series of unfortunate events and poor team choices would prevent him from showing his full potential throughout his career. A classic example was Alesi's move to the Benetton team in 1996 just as they entered their post-Schumacher slump while Ferrari, the team he'd left to join Benetton, were starting to gain momentum. I feel that, had Lady Luck shone a little brighter for him, Alesi would have definitely won more than his solitary F1 victory.
Tom Bellingham, WTF1 – Luca Badoer
Luca Badoer doesn't deserve the reputation he gets
He was no Ayrton Senna, that's for sure, but I don't think Luca Badoer deserves the reputation he gets. He's often talked about as the worst F1 driver ever – no thanks to the couple of races he did for Ferrari in 2009.
People forget though that Badoer hadn't driven in an F1 race for ten years, and when he was replaced by Giancarlo Fisichella, the more experienced Italian driver didn't score a single point in the Ferrari either.
Greg Stuart, Red Bull UK – Damon Hill
Damon Hill made the most of his opportunity
It still puzzles me why Damon Hill has to struggle to justify his reputation – I'm pretty sure that no other Formula One world champion, let alone driver, is as underrated as he is. OK, people point to his famous father, or the fact that he was fortunate to go from driving a terrible Brabham in 1992 to the class-of-the-field Williams in 1993.
But unlike other drivers who've been gifted amazing drives – Riccardo Patrese, the man he replaced at Williams, for example – Hill made the most of his opportunity, working hard to improve his driving, learning from team-mates like Prost, Senna and Nigel Mansell, outshining Michael Schumacher on a number of occasions and taking a title – never an easy feat. Plus, he still holds a very respectable 13th place in the all-time F1 winners' list with 22 victories, ahead of better thought of drivers like Mika Häkkinen, Ronnie Peterson and Jack Brabham.
And if you need any more convincing than that, just think about Hill coming so close to victory in the Arrows at Hungary in 1997, or his win in the wet at Spa in 1998 for Jordan.