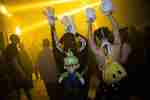 Off grid: Why the UK free party scene is thriving
© Drew Gurian
The unlicensed rave isn't just a '90s thing. A new wave of underground and outdoor parties are sweeping the nation – are these ad hoc events the ideal antidote to dance music elitism?
Things may have changed in UK dance music since rave locations were passed on through cryptic coordinates found in a telephone box, but not necessarily for the better. Back then, the Criminal Justice and Public Order Act of 1994 banned the playing of repetitive beats in open spaces. Today, Form 696 continues to stifle genres that Westminster OAPs fail to understand and stigmatise the artists who make it happen. On the bright side, in the UK free parties – often regarded as a relic of the 1990s – are thriving.
"It was all pretty much word of mouth back then," says
Mark Archer
, who as one half of Altern-8 pretty much wrote the rave rulebook. Free parties may no longer strike fear into the hearts of tabloid newspaper editors, and the days of self-governing dance music settlements springing up across the country may be no more. But determined soundsystem crews across the country continue in the cause.
The whole dynamic that evolves around a free party is completely different to anything you can experience elsewhere
In May, a disused building on the site of Aylward School in Tottenham welcomed an unauthorised 600-strong crowd of ravers. "Nothing bad happened, the music was banging," an unnamed raver
told the Evening Standard
at the time, adding: "It was not publicised at all, you just have to know people. You get told just before the event and head there." Earlier in March, Northumberland police were called to a Newcastle underpass at 4am to disperse
a crowd who had waded through sewage water
to get there. Call free parties what you will, but you can never say those who seek them out aren't dedicated.
GOING WILD
"The whole dynamic that evolves around a free party is completely different to anything you can experience elsewhere," says DJ Pete Woosh. A veteran within Nottingham's famed DiY sound system crew, Woosh is now a regular at more legitimate festivals like Field Maneuvers, but on any given weekend you'll likely find him in a countryside pocket somewhere in the north of England. For him, the free party is the antidote to dance music elitism. "Everybody's on a level… nobody's paid or is getting paid, and whether you're turning up as a person or a DJ, it's a whole level playing field," he says. "Nobody is more important than the other, and that's what attracts me to it. There's something beautiful in that. It's a sense of freedom, and that's becoming harder for people to find elsewhere."
So why does the free party scene continue to thrive today? Perhaps it's because things haven't really changed. "Politically it's as bad now, if not worse, as it was in the late '80s," says Archer. "In the '80s, there was social unrest and a right-wing government with a complete disregard for the working class, and things seem to be in a similar place today," agrees
Suddi Raval
, whose band Together scored a hit with Hardcore Uproar back in 1990. UK nightlife in its more traditional sense is in turmoil, too. London has lost too many cherished venues in the past few years, and Manchester's much beloved Mantra Warehouse is just one of many venues embroiled in a council battle to keep its doors open. Throw in an EU referendum reviled by the youth and it's no wonder dancers are taking to the fields once again. "There are loads of people who say, 'It's not as good as it used to be'," says Suddi. "But they're wrong."
SO WHERE'S THE PARTY?
From London to Glasgow, in any given city across the UK you're never too far from a free party. But they're not always easy to find. In Manchester, news of the latest
GASHcollective
party would spread amongst the city's students within an afternoon. Closed Facebook groups going by the name
Doing It Ourselves: 20 Years of DiY
and creative searches on forums like RaveTalk can lead you to the right place. Sometimes you can stumble upon a cryptic Facebook event where "Somewhere in Derbyshire" is the only hint you're getting, but naturally, illegal raves are kept secret for a reason.
That may be why the old word of mouth methods remain the best. "Parties spread through word of mouth, and that's how these events happen," says Woosh. "If you start using things like social media or advertise the party without consideration you run the risk of things not happening or it becoming too big." If you want the party to survive there are a few rules you should also abide, says Woosh. "You've got to make sure the party doesn't get flagged by people turning up too early or cars getting noticed. That sends out warning signs."
In the tiny UK towns and villages where weekends typically revolve around £2 ales, events are a little harder to find. But there is a way, thinks Woosh. "If I was a teenager growing up in a small town, I'd look to make it myself," he says. "Get yourself a little soundsystem, some lights, some decks, and to coin a well-used phrase, just do it yourself. Create a scene yourself, that's the best thing people can do. Make something happen."
The more abstract and weird a location is the better, but choose your spots carefully
Soundsystems have always had to stay one step ahead of the police to survive, and sure enough more than a few rigs now lie dormant in stations up and down the country. Police in Wiltshire have began using camera drones in an attempt to break up illegal raves, but as UK governments are quick to utilise new technologies, soundsystem crews need stay one step ahead to keep them going until morning. "The more abstract and weird a location is the better, but choose your spots carefully. The police are always going to be an issue but in this day and age a lot of police forces, especially if you get out of the major cities, don't have the resources, manpower or the money to keep an eye on things," says Woosh.
"If you do have an event and the police do turn up during it, be polite, talk to them, come to an arrangement with them, listen to them," he goes on to say. After a literal 28 years spent in the field soundsystem amateurs should heed his advice. "When the police turn up they know they can't stop an event, they just want it to finish at some point and for people to leave there safely. If the police turn up speak to them politely; you'll probably have a little bit longer to go at it and chances are they'll walk away and not come back again."
There's a certain nostalgia that comes with the late '80s rave heyday, a romanticised portrait of a time most of us never experienced. But rave never truly died. "I don't think free party culture has changed. It's a soundsystem in a field, and the ethos behind it hasn't changed, nor do I think it ever will," says Woosh. "I don't think it will ever go away, it's a different kind of paganism. What we do is not legal, far from it. It's illegal, but in the spirit of doing what the fuck you want, as long as you leave the place how you find it I don't see an issue with anything we do. That's how we view free parties, and that's the mindset we've always had."
Pete Woosh: 5 classic tracks to play in a field
1. Donna Summer – I Feel Love (Patrick Cowley Remix)
2. Davina – Don't You Want It
3. Test Dept. – New World Order
4. The Underground Solution – Luv' Dancing
Now check out what goes into the making of Boomtown festival in Red Bull's AAA podcast.