If
Henrique Avancini
is on the startline, he is among the favourites to win. His magnificent Marathon World Championship title in 2018, multiple World Cup podiums and a brilliant Short Track victory in Andorra place him among the very best cross-country racers in the World. Beyond that, he has won legions of fans thanks to his beaming smile, eloquent interviews and humble nature. His passion and charisma match his strength and fitness.
But these attributes overlook a central characteristic, the foundation which Henrique says his success is built upon and the pillar which holds it up: hard work. Plain and simple hard, hard work. It is, he says, what compensates for a lack of natural talent.
Perhaps more than others, Henrique knows what it is to grit your teeth and graft, how to overcome obstacles and elevate yourself, to find the will and the way. Now, more than ever, this is what we all need. So, what can we learn about finding positives and finding perspective whilst racing is postponed?
1. The race against yourself
Pushing the limits along a journey of self-discovery is classic Henrique. If the training programme says three hours he will want to do four. If he can stand up at the finish line, did he even race at all? Pushing the boundaries, discovering new territory and reassessing what he is capable of brings a huge sense of accomplishment for the Brazilian. Of course, the passion lies with racing, but a lot of satisfaction comes from personal improvement rather than comparison with competitors. "There is always some personal best to be improved. I love those races against myself," Avancini admits.
With this attitude, cancellations and postponements don't need to be a negative. For Henrique it's about re-fashioning the situation, looking inward, and moving forward, even if that's on a pathway that was unplanned. We have to start and finish with ourselves; we are our own greatest competitor.
How athletes behave when the spotlight is not on them, and competitors not next to them, will, says Henrique, be critical. "It's all about being resilient. The main point in question is how much every single athlete is going to be committed, even without getting the attention for that."
With no spotlight, no attention and no racing, what is the biggest motivator for Avancini at the moment? "I always had to work a lot to compensate my lack of talent and try to reach the top of the sport, he says, "having a lot of time to work on and develop my skills and abilities is quite a boost. I believe the time away from racing might take me to another level. Time will tell."
Do you have a song that you listen to before a race?
"God's not Dead - Newsboys, always makes me reflect on what I have lived through in sport, what my path looked liked over the years and why I still need to keep moving forward."
2. One more year to Olympics means one more year of improvement
The postponement of the Olympic Games has also been an example of Henrique dawning the positives out of a tricky situation. As with athletes throughout the world, summer 2020 has been the focus of nearly four years' work and dedication, and to have this incredibly important goal post moved is hard to grapple with. Once again, there are personal positives that Henrique is taking, although he is characteristically conscientious about the wider picture and what it means beyond his own goals.
"[The postponement] makes me sad when I see how important the Olympics are to people in so many different ways. But when I look to my personal side, I believe it's a great chance. When I look to my career, I always took small steps forward year by year, so having one more year could be great to get where I want to be," said Avancini.
3. Finding happiness at home and the world at large
Spending time at home in Brazil is a sweet side effect of this current situation, and Avancini sees the positives in it.
"The best thing I'm experiencing during this time is to enjoy the progress of my little daughter. She is like a small hurricane. Since she was born in January 2019, I never got the chance to spend long periods with her. I'm taking the chance to follow her growing more closely and I'm loving it." Hearing from athletes around the globe, it seems time with loved ones is a good way of finding perspective amidst the madness of a completely disrupted schedule.
Some aspects of being an athlete require selfishness and blinkered vision, but Henrique has a natural knack of finding his place within the bigger picture. Does he have advice for us to do the same?
"Individually, I have had similar situations in life. Certain times put us in a critical position. Every time we face a crisis, we end up at a junction. There are two ways to go. Let the circumstances destroy all that you built up to that point, or fight against it and use the challenging times to develop yourself. It's not easy at all, but we shouldn't forget that having to deal with those times is also a great opportunity to reach a better level as a person. I'm embracing this chance."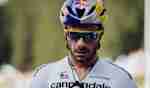 Henrique Avancini's heavy weekend
Savouring the opportunity to work on weaknesses, remaining dedicated when the focus is hazy and the spotlight is dim, and extracting positivity from negative situations all take a spectacular mental strength. Thankfully, this is a key weapon in the Avancini armoury!
"I do a lot of mental training focused on the needs of mountain bike. In general, I'm putting even more energy and attention into that now. I really like to work on this area and it's crazy how much progress you can make once you focus this work in the right direction.
"I'm adapting to some restrictions, but in general I'm training like I would race a World Cup in a couple of weeks. I'm just determined to keep engaged and waiting for the green light. If it will come in a week, month or year, it doesn't matter. I'll remain ready to go."
How does this play out on practice? Well, setting crazy goals and celebrating your birthday in unorthodox fashion is one way that Henrique channels his focus. "That was a funny one!" he says. "Funny" is definitely not how any normal person would describe it…
"I was just back home after not racing the Cape Epic. I knew I wasn't going to have a party with friends and family, so I took the chance to celebrate life and challenge myself. 
I live very close to a reserve. I woke up around 4am, packed my car with some bottles and bars and parked at the entrance, just before the first climb inside the area: a 2.5km ascent, on a narrow and rocky path.
"I decided that I would do one climb (and one downhill) for each year of my life. 31 runs in total. 10 hours riding and some good, deep talks to myself. 
In total I had 6,400m of ascent on a nasty route, but I tell you that the way down was way more painful! 
It was a good way to celebrate the journey of life."
Henrique is managing to take a really difficult situation for an athlete, turn it on its head, and produce positive outlooks and outcomes. When we take Henrique's perspective, we see that there is a unique chance to develop and grow, to work on the things that normal life moves too quickly to concentrate on, and in the long run we can be a better athlete and person thanks to this time.
We can't be certain when racing will resume, but one thing is for sure: Henrique Avancini will be ready to rip it up when the time comes. Watch this space!