The jury has spoken and the search for the 2021 Jr's Global Five team is officially over. Hundreds of hopefuls have been submitting clips of their tastiest tricks and skills over the past few months as they attempted to wow the judging panel, and seven talented winners have now been selected to form a unique international team at the 2021 World Final of Red Bull Neymar Jr's Five, the world's biggest amateur five-a-side football tournament.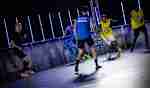 This is the Jr's Global Five Team 2021
Entries came in from all corners of the globe as hundreds of gifted amateur players posted 60-second clips to their Instagram channel using the hashtag #outplaythemall. After hours spent viewing the footage, Neymar Jr and his fellow judges finally settled on their seven-strong squad.
Jr's Global Five team 2021:
Jaimy Schallenbergh, Belgium
Leon Gillies Mannes, Norway
Abhinash Shanmugam, India
The winners will now receive a direct ticket to the World Final, where they will meet for the first time to take on teams from across the world in the most exciting five-a-side tournament format – 10 minutes of intense action, no goalkeepers and teams losing a player every time the opposition scores.
In Qatar, Neymar Jr himself will be on hand to personally crown two new champions in the women's and mixed categories. The Jr's Global Five squad will compete in the mixed category, where the ultimate prize for the winning team will be an opportunity to play a match against the Brazilian superstar and a hand-picked selection of world-class team-mates.
"I'm proud to see so many applications for the Jr's Global Five," said Neymar Jr. "Incredible talents out there and I'm looking forward to watching the seven outstanding team members play at the World Final in Qatar."
At the heart of the Red Bull Neymar Jr's Five ethos is the global and uniting spirit that proves anything is possible, bringing players from different backgrounds, different nations and with different skills together in one shared passion: football. The Jr's Global Five team is the embodiment of this ethos, and all eyes will be on the team at the World Final.