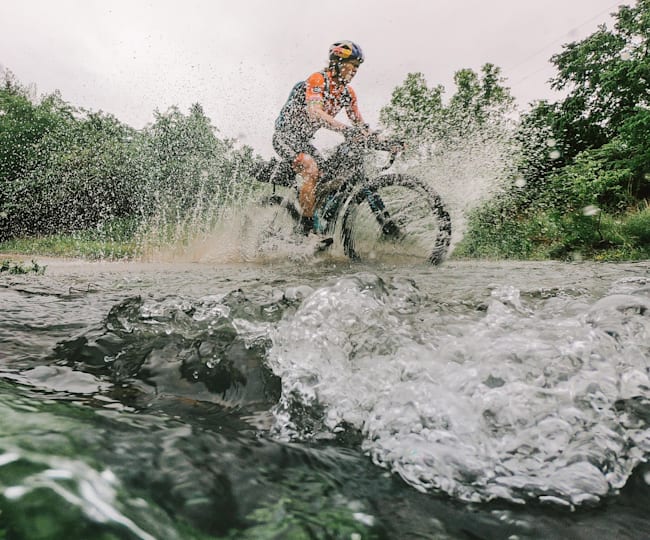 © Bligh Gillies/Red Bull Content Pool
5 great gravel bikes for epic adventures
Find out what's so special about gravel bikes and then check out our top five steeds to buy for 2020.
Gravel, adventure, all-road, multi-media bikes: whatever you want to call them, these bikes are here to stay and for good reasons. Slotted somewhere between the historic discipline of road cycling and it's younger, more extreme cousin mountain biking, gravel is the name given to a whole host of bikes and riding styles, from fast and furious racing to multi-day bikepacking tours.
Mountain biking as we know it today has evolved far from its simple roots and many claim that gravel bikes are close relations to the '80s MTBs used by the likes of John Tomac. They share a few things in common – rigid frame and narrow knobbly tyres – but beyond that, technological advances have stepped in to enable a whole new breed of bike. The combination of powerful disc brakes, drop handlebars, 700c or 650b wheels and tubeless tyre setups with 21st-century componentry have produced machines that are not only bombproof, but also a lot of fun.
What makes gravel bikes different?
There are
four things
that make a gravel bike different from any other type of road bike.
Perhaps the defining feature that sets gravel bikes apart from road bikes and some cyclocross bikes, is the amount of clearance in the fork and rear triangle, which accommodates much wider tyres for hitting the trails and dirt roads.
The width and tread on these tyres will depend on the conditions and the type of terrain you'll be tackling. Wider tyres give more grip on technical terrain and more aggressive tread patterns help in the wet with mud, although will slow you down a little on smoother sections.
Unlike cyclocross's 33mm tyre width limit, gravel doesn't have this restriction, so clearance is usually the only issue. The introduction of smaller 650b wheels also means that even mountain bike tyres can be used with some gravel bikes.
Typically, gravel bikes are more slack than road bikes, meaning their headtube angle is less aggressive. Just like the range available in mountain bikes, slacker designs are more suitable for steeper and more technical riding, giving more stability when it gets rough.
A longer wheelbase refers to the overall bike length, giving better tracking over loose and unpredictable surfaces compared to their compact road bike cousins.
Wider bars are also usually offered for the same benefit of improved stability and flared bars are very popular in gravel riding. These give you the same position on the hoods, yet a wider stance when in the drops for more control when descending tricky trails.
Just like tyre choice, gearing for gravel riding is another area where you'll need to select based on your chosen terrain. Fast, flat-ish gravel races can lend themselves to gearing that's not too dissimilar to a compact road drivetrain, but more mountainous riding requires a much greater gear range, especially when taking technical or loose trails into account. If you want to add further weight with luggage for bikepacking, consider even lower gears still.
Single chainring setups (also known as 1X) are incredibly popular among gravel riders for their simplicity.
A few other things you'll notice on a gravel bike compared to a road bike are disc brakes, mudguards and rack eyelets, so you can add bag racks yourself. The disc brakes allow a bigger tyre clearance for the fatter tyres and the mudguards and rack eyelets are useful if you plan on travelling long distances over different terrains, which is exactly what you're supposed to be doing with a gravel bike.
So now you're a pro on gravel bikes, check out our five top picks for 2020.
Pinnacle, the in-house brand of British cycling retailer Evans Cycles, provides the perfect entry level gravel bike with its Arkose range. Don't be fooled into thinking you'll be sacrificing quality here, though – with generous clearance and versatility, these aluminium frames can take either 700c (up to 45mm tyres) or 650b (up to 52mm) wheels. The bike comes with a full suite of mudguard and rack mounts, plus no less than three bottle cage mounts. And if you're looking to upgrade later on, there's even Di2 cable routing for those who want to take their gears electric.
Pinnacle offers sizing in both men's and women's specifications, with different WTB saddles and flared bar widths and all models are finished with the generous 45mm WTB Riddler tyres, which are perfect for summer dirt riding.
German brand Bombtrack might have started out creating beautiful track and city bikes, but over the last few years it's really broken into the off-road scene with its gravel offering, the Hook EXT. The 650b wheels fitted with WTB Ranger Light tyres really put this build at the MTB-end of the gravel spectrum and together with the plentiful mounts (three bottle cage, top tube, rack and mudguard mounts on the frame and triple mounts on the carbon forks) make it the perfect choice for multi-day bike-packing adventures.
The frame itself is quality Columbus steel tubing and new for 2020 is the 86.5mm T47 bottom bracket shell, giving a wider Q-factor (distance between pedals). This allows room for wider chainstays and bigger tyres, plus more room for frame bags, too. Win win.
Price:
€3,600 (frameset)/£3,000
The Allied Able rocked the gravel world in 2019 when it was ridden by both Colin Strickland and Amity Rockwell to victory at the Dirty Kanza – arguably the world's biggest gravel race. It has a striking design, too; proudly engineered, manufactured and painted in Arkansas, USA.
The first thing you'll notice is the asymmetric chainstays. As a 1X-dedicated design, Allied has been able to shorten the wheelbase for a more responsive ride whilst maintaining great tyre clearance. Compared to Allied's race focussed Alfa Allroad model, the Able is adapted for rockier, more challenging singletrack and trails, and can take both 700c and 650b wheels to accommodate different tyre widths.
The Able is certainly a performance-orientated ride rather than expedition one – you won't find any rack or mudguard mounts on this clean looking build – but three bottle mounts and a top-tube mount mean you'll be able to carry plenty of water for big days in the saddle.
Price:
From €1,149/£1,000
The Checkpoint is Trek's gravel offering and adds an off-road edge to its endurance-orientated Domane road bike. The range covers both aluminium and carbon fibre frames, although it's the latter that have some extra features that are particularly exciting. Trek has employed its signature IsoSpeed technology here at the junction of the seat and top tubes, detaching the former from the latter to provide extra flex that absorbs some of the harsh bumps along the trail.
Despite its racy appearance, the Checkpoint still features many mounts for bottles, racks and mudguards and positions itself as a very versatile steed – and that's before you get to the Stranglehold Dropout. This design of this sliding dropout gives the option either to convert to a singlespeed, or gives some flexibility in ride feel with geometry adjustments, making it the ideal companion whether you're doing a cyclocross race or a long-distance kit-hauling trip.
If a mountain biker came up with their idea of a great drop bar bike, you'd probably end up with something like the Kona Sutra LTD – the only completely steel frameset in our list. The wide, 16° flared bars, MTB-standard 73mm bottom bracket shell, single chainring design and massive 50mm clearance on wide 700c rims all make this the perfect bike for getting rowdy off-road.
As you might expect for a gravel bike of this character, there are plenty of bottle mounts, including triple mounts on the forks and, of course, rack and mudguard mounts. Steel is a robust material for heavy use and long-distance escapades, which is probably why Kona has backed it up with a lifetime warranty on the frameset.