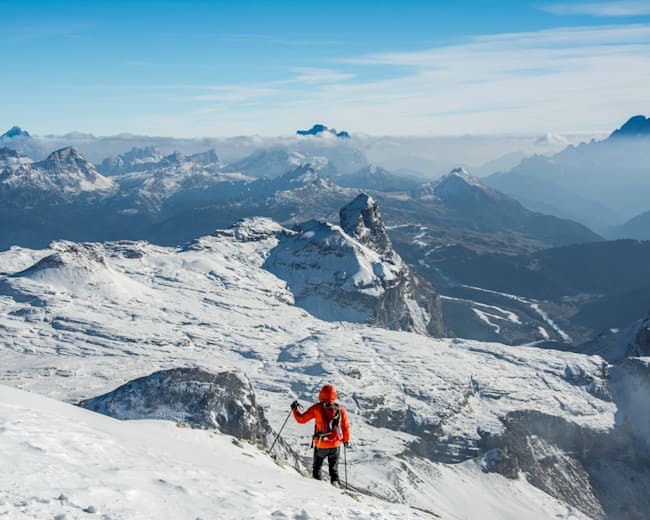 The 5 greatest snowshoeing trips in Europe
© Jean Merlin / Flickr
Love the snow but don't fancy hitting the slopes? Then strap on some snowshoes and try these five stunning winter walks.
When the snow hits Europe this season, ditch the skis or snowboard and strap on a pair of snowshoes, and you will find yourself opening up a whole new world of adventure.
What makes snowshoeing such a brilliant form of hiking lies in the shoes themselves – specifically, how they evenly distribute body weight across large surfaces and ensure your feet won't completely submerge into the snow below you. They're also easier to pack into your suitcase than a pair of skis.
All around Europe, the resorts that create pistes for downhill adrenaline junkies also mark out routes for uphill adventurers, creating miles and miles of trails for snowshoe-clad hikers of all different abilities.
From frozen lakes in Austria to Dracula's stomping grounds in Transylvania, here are five of the best. But always remember, winter can be dangerous in the mountains so check out local conditions before heading off and take all the right kit to be prepared in case you get stuck or lost.
1. Dolomites
Closest airport:
Treviso or Milan
This stunning region sees hoards of crowds flying down its ski slopes each winter, but if you swap skis for snowshoes you can escape to a slower pace, and discover a different world of snow-covered trees and jagged grey peaks.
The five towering pinnacles of
Cinque Torri
and the
Three Peaks Nature Park
are two standout locations within easy reach of the Cortina valley, with more than 100km of prepared trails in some of northern Italy's most dramatic landscapes.
Use the cable cars to reach high altitude destinations and you can connect single or multi-day routes between refugios. There's also the bonus of great post-trek food, from Italian-Austrian fusion to Michelin-starred dining.
Try the hike through the Innerfeldtal Valley to the Drei Schuster hut, where you can come back down by toboggan, or the trail to Klammbachalm hut, which has a sunny terrace to take a break.
2. Tyrol
Where:
Carinthia, Austria
Closest airport:
Klagenfurt
This region offers surprisingly untouched scenic winter landscapes right in the heart of the Alps, with alpine pastures and peaks covered in snow and plenty of clear trails with regular guided treks to join for free.
Nockberge has relatively easy snowshoe summit climbs with big mountain views whereas Obergurgl has the highest trails in the country. Why not check out the remote Lesach Valley or Hohe Tauern, which has the Eastern Alps' largest winter hiking zone?
3. Carpathian Mountains
Closest airport:
Cluj-Napoca
The land of Dracula, Transylvania's forests and mountains are an ideal place for winter trails – but snowshoeing here is as much about what lies beneath the endless snowy trails as what sits on top.
The region is full of limestone caves, and popular trails lead to Coiba Mare, Tauz karstic spring and the famous ice cave at Vartop. While you walk, you can even spot traces of local wildlife, including wolves and bears.
This is truly a get-away-from-it all destination too, because some areas are so remote they are only accessible by horse drawn sleigh.
4. Korouoma Canyon
Where:
Rovaniemi, Finland
Closest airport:
Rovaniemi
This 30km-long canyon in the rugged region of Southern Lapland gets up to 130m deep, with high-sided cliffs and freezing streams that create huge spectacular ice formations.
Aside from making an impressive snowshoe trail, it is also one of the top ice climbing locations in the country and has plenty of winter hiking options all around. You may even spot Jolly Saint Nick enjoying some well deserved downtime.
5. Engadin
This region offers a huge variety of marked winter walking and snowshoeing trails, along valley floors, across frozen lakes, past glaciers and high up in the mountains and hills around the ski areas.
Muottas Muragl Mountain has blue, red and black trails for different levels, Furtschellas has a spectacular lakeside route, the Staz Trail in Pontresina is in a forest and the Morteratsch Trail leads to the snout of a glacier.
Sils also has two specific snowshoe trails, one leading to the spectacular Muotta da Güvè viewpoint and the other to the Lake Silvaplana Beach Club – although don't try to take a dip because the lake will probably be frozen.