Find out why the Brenta Dolomites will leave you breathless
© Lukas Pilz
Explore the amazing mountain bike riding of Italy's Dolomiti Paganella plateau in our latest destination guide.
The soaring spires of the Italian Dolomites are renowned for their spectacular beauty, and enjoy UNESCO World Heritage status. To ride in their shadow is to to have your breath taken away – in more ways than one. The
Dolomiti Paganella
is a small, stunning plateau situated in the Brenta Dolomites of the Trentino region that's also home to Lake Molveno, apparently Italy's most beautiful lake. This guide focuses on the three bike areas of Molveno, Andalo and Fai.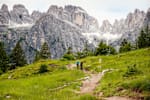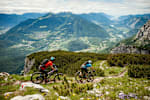 The Dolomiti Paganella Bike area
offers a great network of 400km of mountain bike trails. It has three bike park zones, bikers-only flow trails, technical trails and shared singletrack.
There are two famous trails they're really proud of. Firstly,
The Bear trails
are a perfect enduro experience for confident riders. You combine the best singletrack of the area in covering 4,000m of descending and 1,000m of ascent over a total distance of 59km, which is possible thanks to six different chair lifts. The trail's name comes from the fact that it'' still possible to see brown bears in the nearby Adamello Brenta Geopark.
The
Lake to Lake trails
is a stunning all-mountain tour, again for experienced riders, where you ride along rough alpine trails boasting epic panoramic views. The lift-serviced trails pack 2,500m of descent and just 300m of ascent into 75km.
The sophisticated trail network allows easy travel between the three bike areas, almost entirely off road. The routes are well sign-posted with trail signs and billboards that give general info, maps and hazards.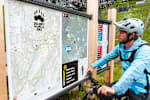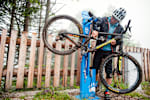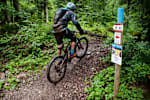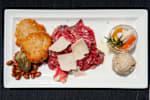 Various maintenance zones, E-bike charging stations and information centres are further useful amenities for riders. You'll find orientation centres at the bottom of the cable car and lift departures. Here, guides will give you helpful instructions and tips about trails, rentals, courses and all the other mountain bike services.
If you're a beginner looking to improve your skills or you want somebody to show you the area, check in at the Dolomites Paganella Bike Academy, where one of the instructors will help you.
The Dolomiti Paganella Bike Park is made up of three bike areas.
Molveno Zone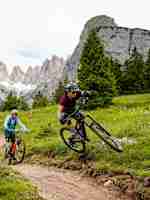 POV: Paganella Big Hero MTB Trail
The
Molveno Zone
offers two new flow trails, completed at the end of summer 2017 –
Big Hero
and
Blade Runner
. They are two of the easiest flow trails in the entire area.
The two kilometre long Big Hero gently descends as it winds through an open area on top of the mountain, offering breathtaking views of the Brenta Dolomites and Lake Molveno. With its easy berms, rollers and smooth surface, it's a great trail for non-technical riders.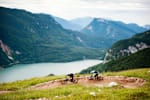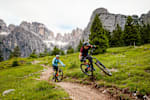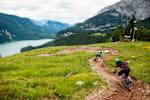 Blade Runner is the trail after Big Hero. It's an intermediate, rollercoaster style trail through the forest that leads towards the base of the Molveno–Pradel gondola. To get to the lift, you'll need to take the enjoyable
Goonies
trail.
Checkout the 806 trail in the POV video below: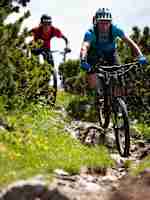 POV: Paganella 806 MTB Trail
Andalo Zone
The
Andalo Zone
offers one new flow trail,
Willy Wonka
, and two others currently under construction –
Hustle & Flow
(due to be completed by mid-summer 2018), and
Zanna Bianca
(set to be ready by the end of summer). The bike park zones are connected to each other by shared trails.
Willy Wonka is an easy and fun flow trail. It's playful and offers lots of berms, rollers and little jumps. The highlight is a circular and boardwalk loop that's protected so you can't fall off.
Take a ride down the Willy Wonka trail in the video below: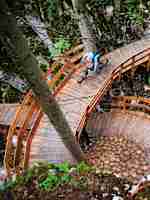 POV: Paganella Willy Wonka MTB trail
The area also offers natural single trails. The
806/ Giada Line
starts directly on the summit of Cima Paganella and descends to the mountain restaurant of Malga Zambana. The panoramic views of the Brenta Dolomites and Lake Garda below are unbelievable. This shared trail is for experienced riders, as it's sometimes quite steep, narrow and rocky.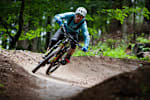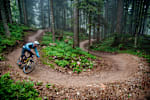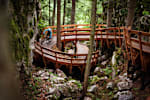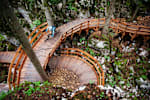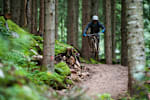 Fai Zone
The
Fai Zone
area, open since 2011, represents the historic part of the Dolomiti Paganella bike area and is more like a traditional bike park. A fast four-seat lift from Santel (1,040m) takes you to Meriz (1,440m), from where four main tracks and their variations can be accessed. These include the technical trails
Easy Rider
,
Arancia Meccanica
and
Apocalypse Now
, as well as the
Peter Pan
flow trail.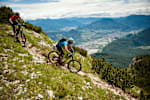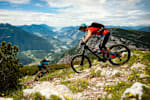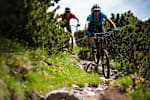 Where to stay
A list of bike friendly hotels can be found on the
Dolomiti Paganella website
. They all have key amenities, such as secure bike storage, changing rooms and laundry area, maintenance and bike wash.
Riding the lifts
The Dolomiti Paganella bike lifts start operating with a weekend service from the end of April through May, and daily from June until mid-September, before going back to a weekend-only service in September. Molveno stays open longer, with daily lifts still running at the beginning of October.
To ensure you're not unexpectedly faced with a hike-a-bike situation, check all
lift operating dates and times here
. A bike pass costs €25 for four hours and €30 for a full day.
Getting there
The Paganella Plateau is situated in the heart of the Dolomites, in the Trentino region of northeast Italy. Paganella offers good transportation links and is 30km from Trento, and 50km from Lake Garda. The nearest major cities are Innsbruck (170km) and Venice (250km).
By car:
Arriving from the South, take the A22 Motorway, Trento Nord exit. Continue along the SP235, following signs for Altopiano della Paganella. Continue through the Rupe tunnel to Mezzolombardo, and then follow signs for Fai della Paganella, Andalo, Molveno, (SP 64).
Arriving from the North, take the A22 Motorway, S. Michele all Adige/ Mezzocorona exit. Take the SS43 and follow signs to Fai della Paganella, Andalo, Molveno (SP 64).
By plane:
The closest big airports are Verona (140km), Innsbruck (190km), Bergamo (220km) and Milan (300km).
By train:
You can check train times and links for the Trento and Mezzocorona stations via the Italian Railways,
Linea ferroviaria del Brennero
, as well as Austrian and German operators OBB and DB-ÖBB Eurocity.
When to go
The best time to visit is from June through to the end of August, but it can get busy during these periods. Early September can therefore be a good option, too. But remember, like in any mountain area, the weather can change quickly.