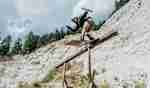 Wakeboarder
Dominik Hernler
spends much of his time out of his Austrian homeland to hone his skills, but he likes nothing better than coming back for all the home comforts he grew up with.
His home province of Carinthia is populated with a multitude of lakes, and they provide Hernler with the ideal place to train when at home. However, there are very few closed-cable wakeboarding parks around for him to practice that particular form of his sport, though.
About three years ago, Hernler spotted an abandoned quarry near Lake Millstatt in Carinthia. He knew immediately this spot was unique and could be the perfect place to set-up a cable wakeboard playground. The only problem was there was little water there at the time for anything to be sustainable in terms of planning anything.
Fast-forward to 2018, where enough water to form a small lake had now formed there, and the quarry had at last become viable for wakeboarding.
At this point, Hernler brought long-time friend and winch maestro
Felix Georgii
on board alongside wakeboard legend
Parks Bonifay
, and the Falling Rocks project was born. The aim was to construct on the quarry site a post-apocalyptic wakeboard park that Mad Max would approve of. It was time for Hernler's DIY dream to be realised.
Over 12 days this summer the boys got to work on the site. The majority of obstacles on the site were made by the guys themselves, though Hernler was keen to use as much of the materials and equipment left behind in the quarry for the project.
After all the hard work and planning it was time to get to play with their creation. The guys did a good job of putting together a set-up that offered up some creative lines that also pushed their own comfort boundaries. Bonifay, in particular, is more comfortable behind a boat, but it was he who took on the very difficult challenge of circling around the excavator's boom arm, as seen in the action clip.
For more on how the Fallen Rocks project came together watch the behind-the-scenes video below: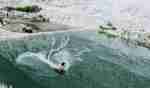 Falling Rocks – Behind the scenes
Be sure to download the free Red Bull TV app and catch the wakeboard action on all your devices!
Get the app here