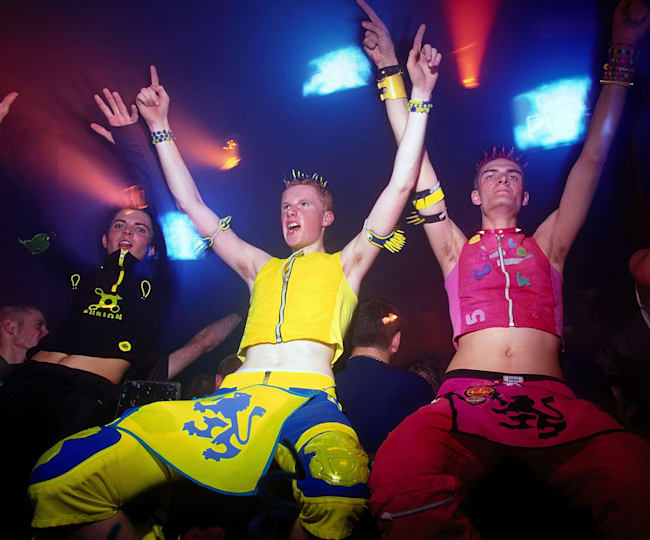 © PYMCA / Contributor / Getty Images
A guide to 25 years of European rave fashion
Club scenes across Europe come and go and so do their accompanying fashion trends. Here's a cut-out-and-keep guide to European rave clothing over the years.
Music tastes change and mutate at roughly the same rate as fashion trends come and go, and nowhere is this more evident than in the rave scene. What you're wearing in the queue is almost as important as what you're about to listen to.
Back in the late '90s, Sheffield's Crasher Kids – clubbers found at trance superclub
Gatecrasher
– were decked out in space-age neon and furry boots, and had dummies dangling from their necks. But head to Berlin's
Berghain
club dressed like that and
Sven Marquardt
and his notoriously strict doormen are unlikely to let you in. Even in post-revolution Kiev, with its weak, faltering currency,
Cxema
rave-goers trawl second-hand shops to make sure that their rave look is spot on. In London, the deceptively casual get-up at grime raves proves that just because you're wearing a tracksuit, it doesn't mean that you don't care. The floors might be sticky, but that doesn't mean your footwear can be anything less than pristine.
Here's a handy cut-out-and-keep guide to three decades of rave fashions across Europe.
Raves in early '90s Central Europe were where minimalism went to die. The UK rave scene was still in the throes of acid house, hardcore and illegal raving, with party people clad in oversized jeans, puffer jackets and Joe Bloggs T-shirts. Berlin's techno and electro scene, however, was marked by excess. Ensembles were an eclectic mix, with metallics, PVC, and overt sexiness all carried off with aplomb.
Sheffield's Crasher Kids – late '90s
Stepping into Sheffield's trance superclub
Gatecrasher
was an assault on the senses. And it wasn't just the music. There was nothing even vaguely tasteful about its ravers' choice of threads. Neon highlighter colours, bikinis, fluorescent plastic jewellery, dog colours, spiky hair and, of course, fluffy boots – it was the visual equivalent of dropping a couple of tabs of acid and starring in your own
Cartoon Network
show.
Berghain – 2004 and beyond
Lady Gaga held her album launch party there, and Staatsballett Berlin have performed there, but that doesn't mean that Berlin's most revered club,
Berghain
, is all fancy. In fact, the style there can be characterised by an affected nonchalance; a casual, grungy, just-thrown- together look that, in reality, has been well thought out.
London grime – circa 2010
Authentic, down to earth and from the streets – one of the best things about grime is that there's little sartorial difference between performer and crowd. Tracksuits, baseball caps, and trainers (Nike Air Max 110s or Air Force 1s) is the uniform of choice for both. It's this rejection of excess that differentiates grime from its flashy cousin, UK garage.
If you take the earthy, punky, DIY spirit of grime and mix it with the deceptively casual Berghain aesthetic, and then place your hybrid creation in post-Soviet Kiev, what you're left with is Slava Lepsheev's
Cxema
raves. Folks arrive dressed in '90s sports jackets, vintage furs, and trainers or flat boots – a look that's about as far away from London's flashy West End as you can imagine.