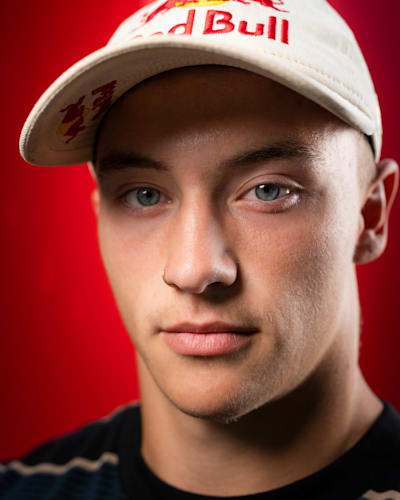 © Leo Rosas/Red Bull Content Pool
How to smash your first HYROX event
With Ireland's first HYROX about to hit Dublin, BMX star Kieran Reilly shares his tips for the indoor fitness competition.
HYROX has taken the indoor fitness world by storm since it was first launched in Hamburg, Germany, in 2018. Similar to obstacle course racing and CrossFit, the events see competitors take on a mixture of running and functional training, interspersing eight one-kilometer runs with eight different exercises, aka 'movements'. Athletes can participate individually, as a team or in a relay format, and naturally, there is a competitive edge too, with the best in the business going head-to-head to see who can complete the circuit the quickest.
Best of all, HYROX puts on events across the world which welcome fitness endurance racers of all levels. On Saturday 28th of October, the competition will be gracing Irish soil for the first time when it comes to
Dublin
. Entry places are sold out, but you can
join the wait list here
. Failing that, spectator tickets are still available for €12.

12 min
Kieran Reilly's world-first triple flair
Watch as 20-year-old British BMXer Kieran Reilly attempts the world's first triple flair on a BMX.
One person who has first-hand experience of what it takes to finish an event is
Kieran Reilly
. While a professional freestyle BMXer capable of landing
world-first triple flairs
by trade, he has a handful of HYROX events under his belt, including his first solo attempt at the 2023 London edition in May 2023.
Get signed up for the first one and the ball will start rolling from there.
Although he doesn't train specifically for HYROX events, he attributes the functional exercise-focused training required to compete with some of his best seasons on a bike. "I started training in a CrossFit gym about two years ago and my fitness just skyrocketed. It's helped me massively. I've been able to do significantly more in a 60-second competition run than I could before."
If you're one of the lucky competitors who managed to snag a place for Dublin on 28th of October, then you're in luck: below, Kieran shares why he's addicted to HYROX and his top tips for taking part in your first event.
What inspired you to take part in a HYROX event?
Fitness-orientated events are something I've always loved doing. I'm riding all the time so I can't really go out and have a drink, but at the weekend, I can do an event and have a good day out with my mates. The fellas that I went down with from my gym are all pretty competitive, so it was a fun little challenge.
It was definitely tough but really good. The atmosphere was amazing and keeps you going – it was the biggest crowd they've ever had at a HYROX event. Everyone's right on the sidelines, so the whole time you're running around and for every movement there's someone screaming support.
What was the hardest movement?
The sled push and the run after the sled push. We haven't got sleds at our gym, so I hadn't done any before. I completely underestimated the weight of it [the sled weighs 152kg in the open category]. Straight after, when your legs are in bits, you do a kilometer run and are trying to flush them [of lactic acid]. It makes you grateful when you get onto the other movements.
What did you find easiest?
Any movements on the ERG – like the 1km row and 1km ski – as you can go at your own pace. The sandbag lunges [100m with a 20kg sandbag] and burpee broad jumps weren't too bad. Another hard movement would have been the wall balls, but as it's the last one, you get this second wind before you finish.
How does it compare to BMXing in terms of fitness?
It's very different kind of fitness. For me, riding in a competition involves a high-intensity one minute run, whereas HYROX is [moderate intensity] zone two work for an hour. When I do a run in a competition, it's challenging the whole way through, but sitting at 80% [intensity] for the duration of a HYROX event is challenging in other ways – such as pacing it right and keeping going.
Although different in terms of movement, I think having the baseline fitness from BMX, especially in the legs, probably helps a little bit on a couple of leggy movements. I'd like to say it helped in the sled push but it didn't…
01
What would your advice be for someone looking to enter their first HYROX?
Just do it!

Get signed up for the first one and the ball will start rolling from there. Once you do one, it's addictive – I'm quite competitive, and as soon as I finished I thought 'I can't wait to go back in and beat my score'.

Compete with your mates.

Find a group of friends who want to do it – it helps massively as it means your training can be sociable, and makes it a lot easier than sitting in a gym on your own. Try and make the environment you train in as fun as possible and you'll just enjoy the day more.

Stay hydrated.

In terms of nutrition, I would say to hydrate before as much as you can. I find it hard to eat before an event, so I have liquid carbohydrates instead. I also had a Red Bull in the warm-up area as close to my start time as I could so that I'd arrive caffeinated and ready to go.

Get some decent footwear.

Aside from a t-shirt and pair of shorts, the only other kit you'll need is a half-decent pair of running shoes. A lot of people do it in CrossFit-type shoes that can be used for all-round functional fitness, but I definitely found running shoes a lot more beneficial on the runs. You aren't lifting any heavy weights, so there are not many movements in there that a running shoe isn't fit for.