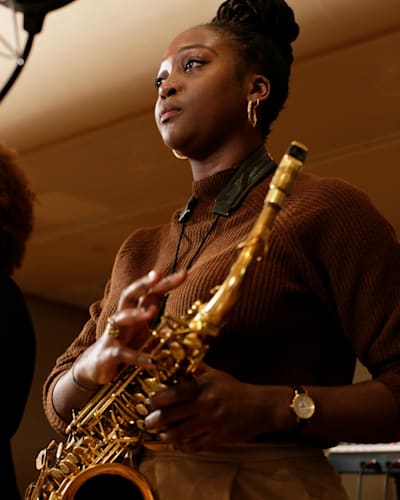 © The Master Sessions/MQA and Bluesound
Cassie Kinoshi is taking jazz to cosmic new places
Composer, saxophonist and bandleader Cassie Kinoshi makes futuristic jazz music that tells stories about modern society and the experience of being a young Black woman in the UK.
"I've just woken up – I didn't get back from my gig until 3am this morning," laughs Cassie Kinoshi down the phone at the start of our early Saturday interview. "Sorry if I sound a bit out of it." A busy schedule is standard for the London-based alto saxophonist, composer and arranger. When Kinoshi isn't touring with her Mercury Prize-nominated 10-piece band SEED Ensemble, or playing as a member of the Afrobeat collective Kokoroko or female-fronted sextet Nérija, she's composing and arranging scores for orchestra, film, theatre and dance, or creating installations for various festivals and residences. Weekend lie-ins, it seems, are not a regular occurrence.
This extraordinary work ethic has already paid dividends. At just 28, Kinoshi is among the UK's most accomplished musicians. Since graduating from London's Trinity Laban Conservatoire of Music and Dance in 2015, she has enjoyed astonishing success, including a British Composer Award (Best Jazz Composition for Large Ensemble) in 2018 and the 2019 Jazz FM Award for Breakthrough Act of the Year. Alongside band-leading and composing, Kinoshi also teaches young musicians and supports projects that promote music in the national curriculum.
Having grown up in the suburban Hertfordshire town of Welwyn Garden City, Kinoshi moved to south London a decade ago to study music, with the aim of composing for film and television. "I wanted to be exactly like [American film and TV composer] Danny Elfman – he was my hero," she says.
Kinoshi portrays her 18-year-old self as an enthusiastic and somewhat earnest undergraduate; she cringes at the memory of taking sheet music to a recital of Prokofiev's Cinderella Suites at the Royal Albert Hall and reading along with the performance. From there, her influences grew more diverse, and soon she found herself inspired by composers from many different backgrounds and experiences.
"Someone who's been really influential to me is the classical composer Samuel Coleridge-Taylor, who was half English and half Sierra Leonean," she says. "I also became inspired by the way that musicians such as Ornette Coleman and Vijay Iyer have combined their jazz and classical composition skills."
Kinoshi's musical expansion grew further when she joined the jazz organisation Tomorrow's Warriors in her first year at Trinity Laban, fell in love with performing, and found her crowd. "It was such a warm environment to learn, not just about jazz but how to put yourself into your music; how to connect with other people and love the music you make," she says. This led her to playing in collectives alongside other revered UK jazz contemporaries including Nubya Garcia, Moses Boyd and Sheila Maurice-Grey, and becoming the bandleader of SEED Ensemble.
Whether she's composing for a jazz collective, a film score or an orchestral project, what connects Kinoshi's work is the way in which it starts conversations about society. Platforming and protest has been an element of her music from the very start – one of the first pieces she ever composed in school, she recalls, featured the inflammatory 1968 'Rivers of Blood' speech on immigration by British Conservative politician Enoch Powell. "It's something I always wanted to do in my work – to write about my politics and my personal experience as a Black woman in the UK," she says.
In her compositions for SEED Ensemble, the message is more nuanced, but even the creation of the band was layered with meaning, with the intent of celebrating the UK's vibrant musical diversity and planting 'seeds' of awareness of underrepresented issues. "Even though I grew up in a mostly white area in Hertfordshire, my friendship group was always different races and socio-economic backgrounds," Kinoshi says. "SEED [Ensemble] is such a mix of people, and that's important to me, because it presents lots of different interpretations of jazz and improvised music – and of life."
The band's 2019 eight-track debut album, Driftglass – named after the 1971 collection of short stories by African-American science-fiction writer Samuel R Delany – won both commercial and critical acclaim, along with a Mercury Prize nomination. A mix of Kinoshi's original compositions and improvisation from various ensemble members, Driftglass explores modern-day issues such as race, class and social policy using themes from science fiction, space exploration and fantasy.
"Science fiction has always been a point of escape for me – reading it, writing it, watching it, listening to music influenced by it," she says. Delany's words, therefore, seemed a natural fit for Kinoshi. "I love how beautiful a lot of his descriptions are, and how abstract a lot of the themes are while still being very real," she says. "I just thought [science fiction] was the perfect medium and genre to express how I feel about my own existence in the world. Science fiction relates closely to feelings of otherness."
Album tracks The Darkies, Afronaut and Interplanetary Migration explore themes of identity and belonging through poetry and music, while W A K E (For Grenfell) speaks of the 2017 Grenfell Tower tragedy – where a fire broke out in a block of flats in west London, killing 72 people – through the words of poet and Harlem Renaissance leader Langston Hughes. "Tell all my mourners to mourn in red," the poem states within the track, "cause there ain't no sense in my being dead." Did these inclusions on the album start the conversations that Kinoshi had hoped for? "On a small level, yes," she says. "I think that track has allowed the issues around Grenfell and that whole tragedy to still be talked about."
Since its release, Driftglass has widely been described by reviewers as 'Afrofuturist', the artistic style that explores the intersection of African diaspora culture and technology. Was that a conscious stylistic choice, or a label retroactively put onto her music?
"It's definitely something that was put on afterwards," Kinoshi says. "It's something I'm still learning about myself. I didn't write it thinking, "This is African futurism," though I do see how some of the tracks can be read that way." One of Kinoshi's greatest influences is Sun Ra, the visionary 1950s jazz composer and bandleader considered by many to be one of the pioneers of Afrofuturism. "But I feel like the way he came by it was really organic as well," she argues. "It was just how he felt about himself and his music's place in the universe. He also didn't think, 'Oh, I'd better jump into this concept of Afrofuturism.'"
Kinoshi says that while SEED Ensemble's current tour is at its tail end, the schedule isn't about to become any less hectic. Over the next month she's embarking on an artist residency at the London Unwrapped festival – a celebration of the past 400 years of London culture, where she'll present Echo, a sonic and visual installation with artist Anne Verheij; and an evening of new material with members of SEED Ensemble and the Aurora Orchestra. "There are quite a few layers to it, compositionally and musically," she says. "I was approached by the programme director, Helen Wallace, to use the space to explore different layers of my artistic practice."
I'm really inspired by combining jazz and classical composition skills
Filmed entirely with handheld cameras, Echo will be an immersive audio-visual triptych with London as its main character. "It's very personal," says Kinoshi. "It has a sort of nostalgia about London, but it's also a very personal exploration of myself and on my own journey in coming [to the capital] and living and growing up here." She laughs at herself: "It all sounds a bit overwhelming, so I hope people just find their own interpretation. It is quite abstract."
Kinoshi's evening event with Aurora Orchestra will be more traditional, however, with new original compositions performed by principal players from the orchestra and Kinoshi's own ensemble. "I'm really inspired by combining jazz and classical composition skills, and that is the inspiration here," she says. "I was so happy when Aurora agreed to do it with me – I've wanted to write for them since university. They're one of the most open-minded orchestras I've ever seen."
Will the coming year see Kinoshi delving deeper into composition and installation, or heading out on the road now the world is open and live music is back? She shrugs. "This year, I've put in a lot of work that I hope will come to fruition in 2022, on every front," she says. "I think the media will always try to put an artist in a box, because it makes them more palatable and easier for audiences to understand, but I will always go against the urge to be boxed into any one discipline."
This suggests more music of all kinds from Kinoshi, as long as it platforms diverse voices and speaks frankly about society. "But I want the choice to always write about whatever I want," she says. "Not just my politics and stuff like that. If I wake up tomorrow and decide I just want to write about cake next year, then I'll write about cake."
Cassie Kinoshi's artist residency at London Unwrapped takes place throughout November and December. Echo is being presented on November 19 and 20; Aurora Orchestra with Cassie Kinoshi will be performing on November 27; and Synthesis, her curated night with three artists – Lunch Money Life, Joviale and un.procedure – is on December 10;
kingsplace.co.uk