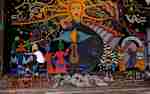 Madars Apse talks UN peacekeepers and meeting new skate scenes
Everyone's favourite skate adventurer gives us his personal take on the Unknown Treasures skate tour through Montenegro, Albania, Kosovo and North Macedonia.
Nobody in the whole world of skateboarding enjoys an unlikely skate mission more than our main man
Madars Apse
. One of skating's great ambassadors, the Latvian pro is well seasoned in the challenges and occasional hardships that are the flip-side of the coin called opportunity.
Not every skate trip involves encounters with UN peacekeepers inside mainland Europe, making crutches from mop handles, or landscapes dotted with the remnant military bunkers of a former paranoid dictatorship. The Unknown Treasures trip managed to chalk up all three.
This last big Skate Escape mission before lockdown, the 13-day overland journey features Apse and friends
Wes Kremer
, Ben Skrzypek, Josef Scott and Tino Arena in a van chugging from Montenegro to Albania, through Kosovo and onwards to meet the skaters of North Macedonia. It managed to squeeze in unseen spots galore and plenty of other wildness besides.
Dani Millan and Gaston Francisco were on board to record the adventure on our behalf. With the final edit from this
unique skate experience just gone live
, we dropped in with Apse to ask him what he took from this latest unrepeatable adventure and how he's keeping right now.
Do you ever take a deep breath before one of these trips, and ask yourself if it's a good idea?
Sometimes I do, if I think the country is sketchy, but for the most part I'm down to explore every corner of this planet – especially if it's with a crew like ours. Gaston has seen more countries than most of us!
How was linking up with the skate scene in Skopje?
Amazing, of course. It's always a pleasure to see skateboarders in a new city and those guys were very welcoming. As you can imagine, not many pros come around there and after 12 days on the road, they were the first proper skate scene we encountered.
It must be nice as a pro to have kicking it with local scenes be such a big part of your skating life. Is that something you consciously try to do for balance?
If I go somewhere, I try to make it a point to meet the locals instead of just doing solo missions in the streets, as sometimes happens. As a kid I really, really appreciated seeing my favourite pros just hanging out and skating. It makes it much more real and it made me believe that I could skate just like them and get in the van, just like them.
Food-wise, what was good in the southern Balkans?
I love food and in the Balkans it was no exception – delicious breakfasts and dinner everywhere we went. Kačamak [a type of cornmeal porridge] was my favourite!
Were you aware of how much of a flashpoint Mitrovica in Kosovo was? It must have been unusual to see UN vehicles deployed in mainland Europe...
I wasn't very aware at all, but after visiting the place it sure felt real. Some of the border crossings are extra-protected and towns have been split in two. Even in the early 2000s, Kosovo still wasn't stable.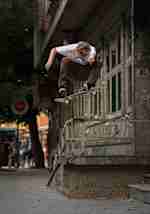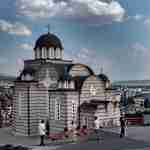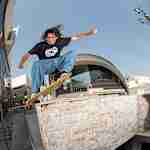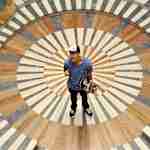 You saw some of the thousands of bunkers Hoxha built throughout Albania. How was beach life there, just 240km from Italy, but surrounded by defunct military installations?
It didn't seem very different to the beach life in Italy, actually, only that everything is much cheaper in Albania. It could be a cool tourist destination.
Where was your favourite stop on the whole trip?
I really enjoyed every country and there were lots of cool spots and interesting sights. We went to the beach in Budva, Montenegro and all I remember is how beautiful it was and how we all agreed to come back there at one point for a reunion tour – more like a reunion chill at the beach.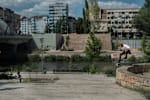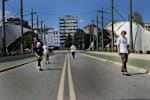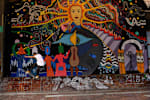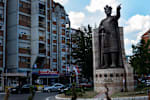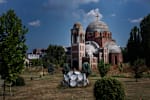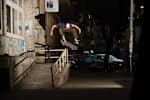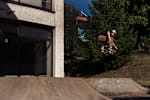 Of all the places you've been through skating, if you had to pick just one, where do you like the most?
There are so many, but I will say California, because that's where skateboarding was born and that's where it's at the highest level; cool people, great filmmakers, perfect skate-spots, generally great weather and good culture.
How is day-to-day life for you right now?
It's amazing: staying on my board as much as I can, filming season two of
Skate Tales
and hitting the streets to film a new part for Element Skateboards. That's due to drop in 2022, for their 30-year anniversary. I'm currently living in Portugal, but visiting Latvia now and then.
Skate the hidden spots of the Balkans with Madars Apse's hand-picked posse
The Balkan region of Europe is simultaneously the least-known and most interesting part of the world's smallest continent. The easternmost of Europe's three great southern peninsulas, the Balkans cover a vast and beautiful area that stretches from
Romania
in the north-east to Montenegro on the Adriatic Sea at its south-western flank and all the way from Slovenia (which borders Italy) through to the Black Sea beaches of Bulgaria.
That said, the term 'Balkans' often brings to mind images of the break-up of the former Yugoslavia in the 1990s, which led to the creation of several new states within this vast region. Newly-independent republics
Croatia
,
Serbia
, Slovenia,
Bosnia and Herzegovina
, Montenegro and more recently Kosovo took their place as stakeholders in the shared history of this storied crossroads, alongside
Bulgaria
,
Romania
, Albania and newly-christened North Macedonia.
Be sure to download the free Red Bull TV app and catch the skateboarding action on all your devices!
Get the app here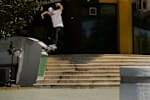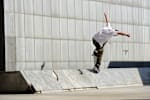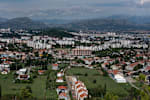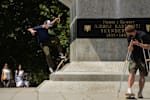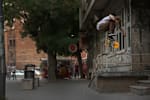 Now, as you're already likely to know, developing skate scenes are where the pure energy always truly lies. Visits from pro skaters can prove pivotal markers in those scenes' developments – "Hyping it up", as Wes Kremer talks about in Albania.
Within all the skate trips through this region (and by this point there have been quite a few) there remained one that represented such a big undertaking that it really wouldn't be for just anyone to go on – the lesser-known countries of Europe's under-explored skate terrain: Albania, Kosovo, Montenegro and North Macedonia, located far down the peninsula in a region that can be politically tumultuous.
Late in the last summer before lockdown, Sk8 Mafia's
Wes Kremer
, Element Skateboards'
Madars Apse
, Sour Skateboards' Josef Scott and widely-respected veteran shredder Ben Skrzypek were joined by Uruguayan vibesman Tino Arena on a 13-day skate mission to spread the good word of global skate culture from the beach towns of Albania to the killer scene in North Macedonia's capital, Skopje.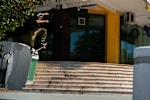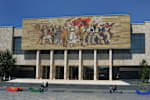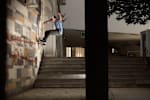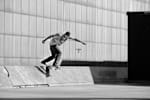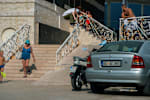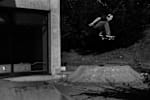 Taking the temperature of the skate possibilities in the capital cities of Podgorica, Tirana and Pristina on a huge overland journey that involved hospitals, sunset sessions, food poisoning and UN peacekeepers, join our eclectic and seasoned road crew as they chart Europe's final skate frontiers. Not everyone's going out like that.
Enjoy
Dani Millan
's superb film of the pioneering trip they dubbed Unknown Treasures in the player at the top of the page right now.