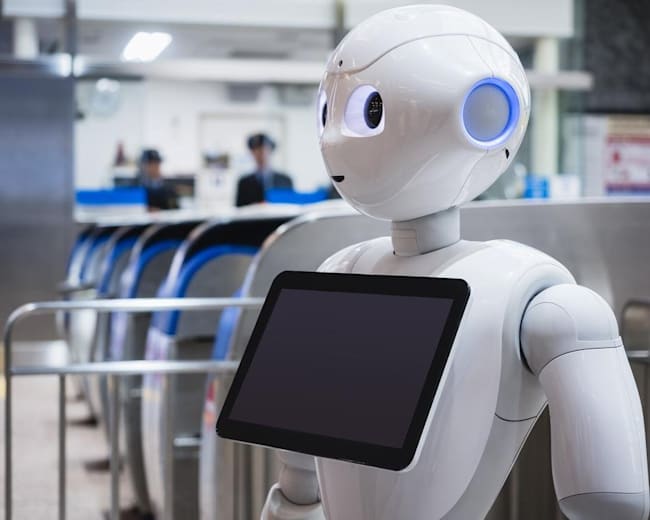 The bizarre robots doing the jobs you wouldn't expect
© VTT Studio/Shutterstock
It's easy to expect robots in factories, but we never thought we'd find them sitting next to us at baseball games. These are the weird and wonderful creations doing the jobs we never expected.
2016's Passengers
gave a futuristic glimpse of what life could be like if robots took over the jobs we humans take for granted. Among more traditional characters, the film contains a humanoid bartender called Arthur, who proves both incredibly effective at delivering flawless cocktails while simultaneously struggling with the subtle nuances of human behaviour. It's amusing in films, but it never really felt like the sort of thing we had to worry about anytime soon – look around though, and it's apparent that real-life Arthurs are already here, already handling our orders and doing a whole lot more besides.
1. Japanese robot hotel
The robots we see carrying out dangerous or repetitive jobs, and even in homes and gardens in the form of autonomous vacuum cleaners or lawn mowers, are a far cry from the bizarre robots that have popped up in
Henn na Hotels
in Japan. The robotic hosts have replaced traditional human staff altogether, and instead you'll be greeted and checked in by robotic dinosaurs, while mechanical fish swim in the aquariums and autonomous bins take away your rubbish. We'd happily visit Japan just to experience such a brilliantly quirky environment, although much like Arthur, we're not sure how the robotic hosts will cope with more taxing requests, questions or attempts at conversation.
2. Pepper the day-to-day companion
If the thought of being checked into a hotel by a mechanical T-Rex was surprising,
SoftBank Robotics' Pepper
takes things to a whole new level, with the miniature humanoid created to be "kindly, endearing and surprising". His creators claim that he's the first humanoid robot capable of recognising the principle human emotions and adapting his behaviour accordingly, and this has helped Pepper to gain employment in banks and stores around Japan, in hospitals and nursing homes, in private homes around the country and even taking on a
Buddhist monk role at a funeral parlour
.
3. The Hanwha Eagles robotic baseball fans
Head west from Japan to South Korea, and things get even stranger on the robotics front, with the country's
Hanwha Eagles baseball team
showing off the world's first group of robotic sports fans, complete with screens that can replicate the faces of actual people watching from their homes. The robots ensure there aren't rows of empty seats, and they can cheer, chant and even join in Mexican waves, controlled via the internet by people who aren't even at the game. Could this be the future when it comes to watching sports from your sofa? It's certainly more interactive than we expected.
4. Robotic bee
Inspired by insects, scientists at Harvard University have come up with some of the most impressive robots yet, with the tiny mechanical bees capable of both swimming and flying in quick succession, turning water into oxyhydrogen for both buoyancy and fuel. Watching them escape from under the water in the first place is impressive enough, let alone the ability to take to the skies, and the brains behind the tiny robobees hope they'll be able to take on particularly important jobs in the future, from environmental explorations to search and rescue missions.
5. The AI novelist
We're not just seeing unusual robots in terms of hardware, either, and the developers who are focusing on AI are achieving some amazing results – not least Hitoshi Matsubara, the computer scientist at Future University Hakodate who is responsible for artificial intelligence that not only wrote its own book, but even
made it through the first round of a literary competition
. Maybe our future book cases will all be filled with novels written by A Machine – it'll certainly make it easier to categorise books by author.