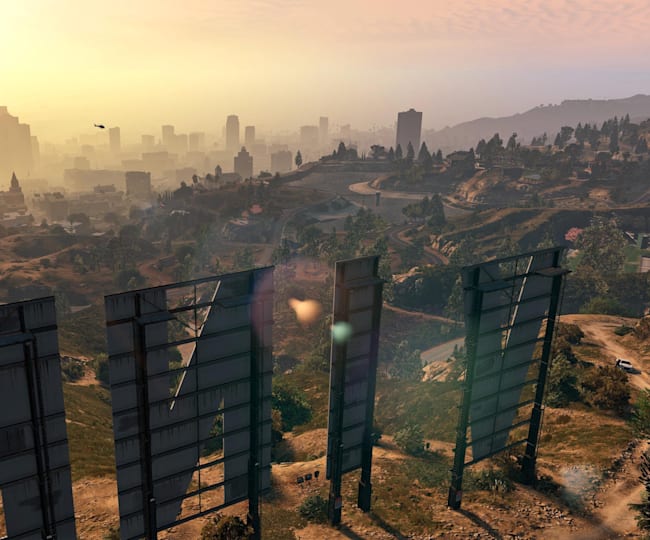 © Rockstar Games
This is where we'd set Grand Theft Auto 6
These are the incredible cities we'd set Rockstar's next big open world adventure in.
When it comes to open world action adventure romps, hardly anyone does them better than Rockstar Games and their Grand Theft Auto series, and after several years of exploring every nook and cranny of Los Santos in
GTA V
, we reckon it's time for a change of scenery with the next game in the series.
We've already seen New York City, Miami, Los Angeles and San Francisco given the GTA treatment, but there are plenty of cities outside of the USA that are ripe for a 3D rendition.
With almost every game in the series set in a fictional version of North America, save for London that one time as an expansion pack, we're itching for a new destination to explore and cause mayhem in.
Join us as we run through the ideal places we'd set GTA 6 in – although really, any new playground would be incredible.
Rockstar has visited London before, with Grand Theft Auto: London 1969, a mission pack for the very first game, but plenty has changed since that was released way back in 1995. For starters, GTA is now in 3D, but also, London has changed immensely, and is ripe for a digital recreation with plenty of parody in tow.
We've seen London depicted before in the likes of Sony's own The Getaway series, but we reckon Rockstar's unique flavour on the city would give us a whole new playground that could easily rival Los Santos or Liberty City in a myriad of ways – besides, the bulk of Rockstar's work is done in the UK too.
With London's city streets not stuck to a grid system, numerous iconic landmarks, large areas that feel like small towns and an incredible tube system that could be replicated, London would give Rockstar a huge challenge to make – but one that we'd love to see created.
When we think of Rome and video games, we think of humdrum real time strategy titles or historical games drenched in Roman lore, not the fast and furious, bullet soaked world of GTA – but think about it. Rome could be brilliant.
The cobbled streets are perfect for dashing through in Mini Cooper-esque cars, the Vespa knock-offs are ripe for cruising around the city, while the ancient ruins and the Colosseum could be the perfect stages for a dramatic finale. The sprawling streets, and the gorgeous architecture would make for the perfect setting – and there's always the Vatican City to sneak into for some sort of Mission: Impossible-esque mission.
If there's anything Sega's Yakuza series has taught us, is that an open-world adventure set in Japan's capital has plenty of room for all sorts of stories to be told, and it'd be an amazing place to set a new GTA game in.
From the sheer amount of foot traffic around Shibuya to the sprawling streets of Shinjuku, the nightlife and western expats of Roppongi and the scenery of Ueno, there's plenty to see and do within Tokyo – and there's room to bring back some of the gangs from previous games, such as the Yakuza from GTA 2 and the Zaibatsu Corporation crime syndicate.
It doesn't even have to be the present either – we've seen futuristic takes on the city in the likes of Jet Set Radio Future and Rocket League, and even anime such as Akira, which could be an interesting era to set GTA in, and while the city has been done before in other games, we're sure Rockstar's take on the world's most populous metropolis would be one for the ages. Besides, everyone was way too clean cut and earnest in The Fast & The Furious: Tokyo Drift
Hong Kong, nicknamed the pearl of the Orient, has been the setting of various games over the years – Sleeping Dogs springs to mind as a full 3D depiction of the city in a similar way to GTA – but a Rockstar take on the eastern land has room for plenty of action.
While Sleeping Dogs was a great game, it lacked much of the polish that Rockstar Games applies to its games, and we reckon a GTA title set in same place could elevate it to new heights and give a new spin on the Triad gang relations. Besides, there are plenty of incredible skyscrapers and huge buildings to explore, and Sleeping Dogs barely scratched the surface.
If Rockstar Games does decide to head back to plucking cities from the USA, what better place than the nation's capital, which is ripe for all sorts of current political jabs in the typical Rockstar way. With the likes of the Washington Monument, the White House and the Pentagon all in close vicinity, we can picture all sorts of ridiculous heists and missions that can take place around Capitol Hill, while neighbourhoods with names like Friendship Heights, Mount Pleasant and Chevy Chase are sure to be lampooned.
Why not head down under for GTA 6? Sydney's not Australia's capital, but the city itself is one of the country's most vibrant cities, with iconic landmarks, numerous bustling neighbourhoods and a lively city centre that thrives at all hours of the day – perfect for a GTA game. Much like with London, you might have to get used to driving on the left though!
Why not Rockstar North's very own stomping grounds, where GTA all began? Scotland's capital has a deep heritage and plenty of iconic landmarks that make it ripe for a story to be told, plus it's hardly been touched by any other video game.
While Edinburgh might not be home to weird office buildings like the LifeInvader offices, the varied architecture, the winding streets and a massive castle make for a brilliant locale. Besides, the GTA universe needs more angry Scotsmen.
Rockstar Games has visited São Paulo before with Max Payne 3, but we think it's worth a revisit, especially if given the open world GTA treatment.
The huge city is Brazil's largest, and home to the tallest, biggest buildings in the country too – making it ideal for weaving around in a helicopter. The city has a reputation for its arts and culture, its thriving nightlife and foodie scene – all elements that have popped up in GTA games before.
It's an economic powerhouse too, and even though the city is thriving, the favelas skirted around outside the city pose a stark contrast. With word of corruption throughout officials and the police, there are plenty of thematic hooks that the city provides, and you can bet a GTA game set here would thrive.
Brazil's scenic city, Rio, home to gorgeous beaches, exciting nightlife and iconic locales, would be an incredible location for a new GTA game – we think it could offer Vice City-style vibes.
With the sun practically always shining and the massive Christ the Redeemer statue looming overhead, there's always something to do in the city – whether it's seedy or not. Still, another depiction of Rio would be appreciated, as we don't think Angry Birds Rio has done the city justice.
Dubbed the 'City of Love', Paris is a bustling multi-cultural hub filled with gorgeous sights, memorable buildings and iconic landmarks that could easily be used in all sorts of GTA ways.
From descending the Eiffel Tower, to scaling the Arc de Triomphe or even breaking into the Louvre, we have a feeling Paris could be something special if done right by Rockstar Games, and would blow away Los Santos.
Assassin's Creed Unity
: did the city well, but we think it could be done better.
Forget going anywhere new: just like GTA IV returned to Liberty City, it's high time we returned to Rockstar's version of Miami. Vice City's cool climate, bright visuals and killer soundtrack gave us a gorgeous city to explore, and we reckon it could be re-explored in brand new high definition. We'd love to head back and explore the city again, and there's surely more to it than what was covered in GTA: VC.