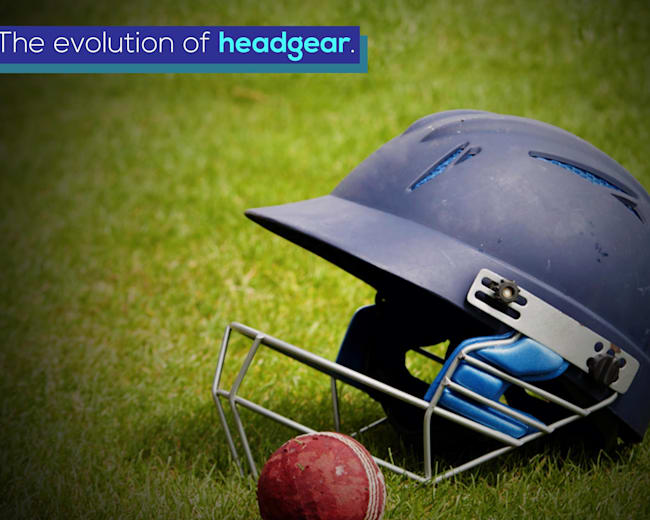 History of helmets & crickets
© Shutterstock
The helmet is one of the greatest assets that a cricketer can have: Matthew Hayden
The first time a player wore a helmet on the cricket field, the crowd booed him. It was an Englishmen by the name of Dennis Amiss, who decided to wear one to protect himself against the lethal bowling attack of West Indies and Australia. Thus a customised fibre-glass motorcycle helmet made a debut during World Series Cricket (WSC) in 1977.
"I went to a motorcycle helmet manufacturer, and he came up with something lighter than the fibreglass motorcycle helmets around in those days and had a visor that could withstand a shotgun blast at 10 yards."
Amiss told The Telegraph in 2005.
The visor was a vital inclusion in his design, stopping a delivery from South Australian pacer Wayne Prior from knocking out his teeth. This incident led to a shift in mind set and the then stars Tony Greig, David Hookes, Zaheer Abbas and Sunil Gavaskar started donning helmets. I
t first made an appearance in test cricket a year later in 1978, when the Australian Grahan Yallop wore one.
They all chose safety over the crowd taunting. After all they were at the receiving end of lethal bowling attack from West Indian fast bowlers of Joel Garner, Michael Holding, Andy Roberts, Vanburn Holder and Malcolm Marshall. Not to forget the Australian pace duo - Dennis Lillee and Jeff Thomson were masters in taming the best batsmen during their days.
The helmet's professional debut
The helmet made an entry as late as the 1970s but the fear of facing the West Indies bowling attack existed even in the 1930s. In fact many would agree with me when I say that 90 % credit goes to them for making batsmen and authorities think about any sort of protective gear.
A British batsman going by the name of Patsy Hendren was the first to walk to the pitch wearing protective head gear in 1933.
His wife designed a three peaked hat with rubbing padding to protect him from bouncers and short balls.
Post 1978, the helmet gained popularity amongst the cricketing fraternity. Wicket-keepers and close in fielders also started wearing them to avoid injuries. Numerous freak incidents before and after 1978 definitely aided in the shift of thought. George Summers of Nottinghamshire died in 1970 after being hit by cricket ball while batting, Abdul Aziz of Pakistan was killed in 1958-59. Ian Folley of Lancashire died in 1993 after being hit by the cricket ball. Raman Lamba was hit by the ball in his head while fielding at short leg position in 1998 which led to his death. Nari contractor of India also had to retire after he suffered an injury.
The initial few helmet designs were heavy, produced a lot of heat because of the material used and also ventilation was an issue. A few designs also obstructed proper vision. Over the years a lot has changed and many versions have been launched. Each one is better than the previous one in style, design and protection. Now with adequate ventilation holes, the modern helmets are made from moulded plastic or man-made fibre. They have straps enabling them to fit firmly and steel visors give a proper fit near the ears.
The art behind the design
The cricket ball weighs anything between 155.9g to 163 g. It is bowled with varying speeds, touching or crossing 145kmph. Helmets these days are designed keeping this in mind. Modern helmets are designed to absorb the ball's energy by becoming deformed, or dented, on impact. They contain foam injected in to the cavity between the inner and outer shells to help this. "We believe there's more that can be done," says Rene Ferdinands, head of cricket biomechanics research at the University of Sydney. "It is possible to offer protection that extends beyond the area covered by the helmet." This was after the tragic incident that caused the death of the 25 year old
Phil Hughes
.
There is no doubt that the concerned authorities and manufacturers will continue to improve the design of the helmet. They will stretch technology as much as they can to cut down the chances of accidents and injuries but at the end of the day, Cricket is a sport and as sad as it may sound, these freak incidents and accidents are a part and parcel. April 2015 saw two Bengal cricketers suffering from head injuries. One of them, going by the name of
Ankit Keshri
died after sustaining the injuries. The second player, Rahul Ghosh was lucky to elude death. Both of them suffered these wounds while fielding which just proves the point that a game like cricket is not 100% safe in spite of all the advancements.
"The helmet is one of the greatest assets that a cricketer can have," said the Australian opening batsman Mathew Hayden, and I believe he hit the sweet spot with that statement.