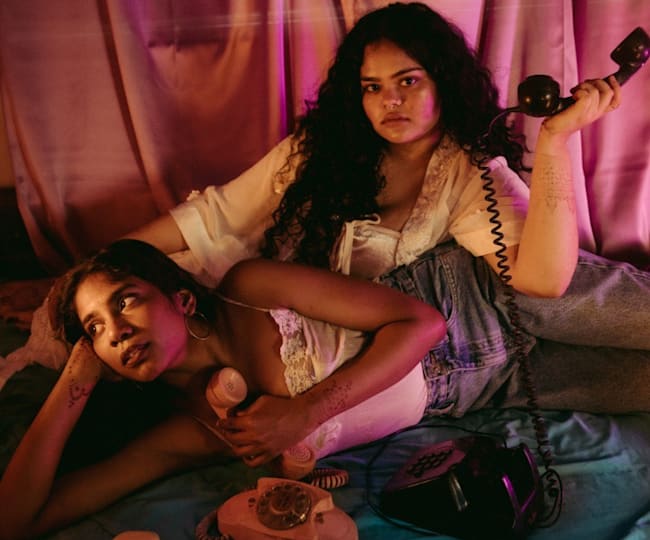 © Water & Rum
Check out India's best in alternative music each month of 2021
February in Indian music serves up future garage, slo-mo techno and poignant, glistening pop music. Keep scrolling for updates from January.
The transition from spring into early summer in India tends to bring out more melancholic music than usual. As another month passes with people mostly staying indoors, our second round-up of independent music releases from India from 2021 takes a look at a number of collaborations and solo efforts across electronic body music, ambient-garage, pop music and more. All killer, no filler as always.
c a s h, 4lienetic – 'Asphyxia'
The collaborative duo of c a s h (Rishit Kotian) and 4lienetic (Sugam Khetan) made early waves in the indie-electronic world with their subtle takes on melodic expression that folded together ambient music and nostalgic mid-'90s (think Boards of Canada) electronica. In past months, both have gone on to enrich their personal bodies of work, maintaining their separate identities as prolific record producers through releases such as 4lienetic's
Ascending
and c a s h's
dreamscapes EP
. Their latest lovechild 'Asphyxia' sees a pitched vocal waft-and-tumble its way in and out of the mix, riding a contemplative piano line that recalls the weighted simplicity of Hauschka, and a laid-back garage beat that serves as the perfect vehicle for the depth of emotion on display here. It's deceptively simple and totally addictive.
Merak – 'Multicolored Dreams'
Nebulous bedroom-pop is easy to latch on to and get lost in, especially in an era where most people have spent more time indoors than ever before. From the sandier pastures of Goa comes a new single – 'Multicolored Dreams' by Merak, the duo of siblings Brandon and Belinda Mendes. With a vocal melody that faintly recalls a yesteryears Childish Gambino hit, Merak skirt along with some affecting, evocative poetry, soundtracked by fuzzy guitar that sits perfectly in the middle of the sonic spectrum and allows the song's chunky bassline to do the heavy lifting. Almost exactly midway through the song, that smoke-filled bedroom turns into a pellucid pond, as the words "I'll show you how to make a boat with paper origami" come to life on a bed of electric piano. A neat little jam that welcomes the upcoming summer months with open arms.
Utilising her voice as a unique point-of-departure (spectralism in a sense), Bangalore singer, producer and instrumentalist Akrti has in recent months released compositions that dance almost effortlessly on the horizons of musique concrète, experimental pop and ambient music. With a voice that could easily support most modest pop endeavours and the guitar skills to boot, Akrti's current output instead tends to move in the opposite direction, one that is less risk-averse and more in line with a Varèse-like sentiment of fearlessness in sonic exploration and organisation. 2020 single '
a she goes to mars
' is a potent example of that stacking of ideas, and her latest work 'Slow Down', released via Krunk Kulture's
Thandai - Flavours of the East
compilation, sees her reverb-drenched voice support a head-nodding groove built studiously from drone-y bass, splintered percussion and what almost certainly sounds like prepared piano.
When I first heard Water & Rum – the Mumbai duo of Ramya Pothuri and Tanya Shah – back in 2020, I was immediately catapulted to the 18th century proto-Romantic literary movement of Sturm und Drang (Storm and Stress). That short-lived period of German expression saw works of poetry and prose that were decidedly self-conscious – a response to the cold, rationalistic confines of the time – and were characterised by the unbridled expression of individual subjectivity and emotional turmoil. Water & Rum's early singles '
Sticky
' and '
silly boi
' were similarly un-alloyed pearls of pop that were not just immaculately-produced, but also came as a direct rebuttal to the distinctly un-emotional emoting in modern pop, a place where relationships tend to be depicted as primary-level infatuations rather than the monolithic pools of confusion that they actually are. Their latest single, the cheeky 'tfru' is further proof of their ability to craft terrific, habit-forming music that enraptures those willing to listen intently.
Sawhorse – 'Munchhausen by Proxy'
On to music that ought to inject some much needed grit into the few dance floors that still operate across the country, the latest from Aditya Nandwana aka Sawhorse is a single contribution to the
AsymetriK
series of records, a name tag that functions both as a label and as the alt-techno alias of DJ and producer Arjun Vagale. 'Munchhausen by Proxy' is the release's most disorienting and least "functional" cut in the traditional sense, but will no doubt please DJs who like to live on the edge. Its metallic abstractions arrive like deadly shrapnel, each element slicing a chunk off the song's slowly-disintegrating EBM/techno skeleton.. As the seconds wear on, you realize this is less song and more fog-covered auditory phenomena. Like a lot of tasteful techno, it's lethal, uniquely psychedelic and best served loud.
With 2020 safely in everybody's rear-view mirror, the new year brings both hope and promise in the world of both live and recorded music. And while the past year could have been a slouch in the Indian indie-sphere, it was far from.
Barely a month into 2021, India's musicians seem to be on a course to easily overtake 2020 in terms of sheer musical output. In our first round-up of releases from this new year, we dive into a smorgasbord of new singles and EPs; everything from live synth jams to introspective psych-pop to reworks of rap classics.
Himay, Fr4ctal - Trench [Rusted Round]
There's no shortage of newfangled techno-electro hybrids these days, so it's almost refreshing to hear music that is almost deliberately old-school in its sonics and arrangement. Trench comprises four, linear, hardware jams that hit that aforementioned sweet spot and birth a brand new collaborative effort between two Mumbai minds – Himay and Fr4ctal. EP opener '
TRAC A
' starts things off on a proto-trance tip, it's rubbery squelch doing just enough to get those muscles moving, before '
TRAC B
' and '
TRAC C
', really the meat on the bones of this EP, serve up early-'90s electro in their snappy drum work and unashamedly-digital ambience. The highlight of the release, '
TRAC D
', is a no-nonsense peak-time cut, robotic vocals et al, that would easily rock a dance floor close to you, provided you make it to one sometime this year.
Noni-mouse - 'No Sound Part-Deux'
Producer, musician and mix engineer Radha Priya b.k.a Noni-mouse enthrals in her first output of the new year. 'No Sound Part-Deux' contains a fragility that is both purposeful and pleasant, embodying the very idea of the state of flow, all in under two-and-a-half minutes. And while it showcases none of the structured bombast of 2020 single '
BFF
' or the relatively loose swing of '
Lilt
' from the year-gone-by's
22-2 compilation
, 'No Sound Part-Deux' has all the special anomalies that endear most listeners to Noni-mouse's shapeshifting catalogue, mainly a thoughtful outpouring of ideas that trigger a search for an inner, more private universe.
brijplease - 'i have a thing for saw pads'
Brij Dalvi – who also operates under Three Oscillators – has had new music out nearly every month since, well, forever. Not one to twiddle his thumbs during the worldwide downtime, Dalvi also began offering up lessons in music production (to much fanfare) and remains one of Indian music's most prolific contributors. Kicking 2021 off on a seriously high note, Dalvi, under his brijplease alias pitches down and flips the stone-cold, Just Blaze-produced classic '
Song Cry
' from Jay-Z's 2003 déclaration d'intention The Blueprint, updating it well and truly for a new world order. Dalvi's version is a bass-forward after party jam that burrows deep into your brain almost instantaneously and highlights Dalvi's ear for both composition and melody.
KHIRKI - Is It Today or Tomorrow?
If you don't know who KHIRKI is, well, good luck finding out. What you do need to involve your time with is the artist's new three-tracker
Is It Today or Tomorrow?
Nods to The Postal Service are aplenty on opener '
Home
', especially if you've got a keener ear for early-noughties indietronica, but it would be a disservice to label this at all. '
Bhishonghum
', a supremely crafted tune that closes out this release, has the kind of interplay between organs, strings and drums that most musicians would take years to arrive at. It's a grand statement in melody, tension and restraint, one that should stay on your playlists until the year comes to a close and for a long time after.