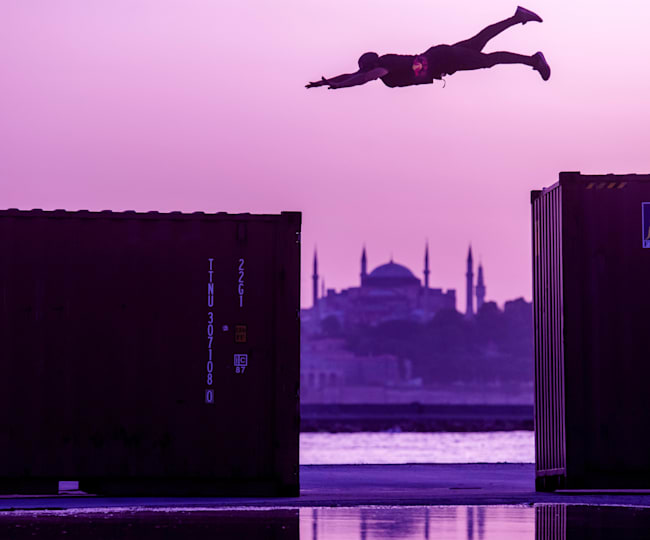 © Jaanus Ree/Red Bull Content Pool
Leap into the world of parkour with these movies
Indian parkour athletes list out some true-to-the-sport movies to inspire your journey in parkour.
Interested in parkour? Want to know more about it? Be inspired by it?
We spoke with Indian parkour athletes Delson D'Souza, Lalita Sirvi and Sam Chhabra to ask about the films that inspired their journey in the sport.
Here are their picks for parkour movies that can inspire you to get going (and if you want to learn how, read about their workout tips to build strength for parkour).
District 13 (Banlieue 13)
The founder of parkour,
David Belle
, plays the lead role for the first time in this French action film released in 2004.
District 13 is based in the ghettos of Paris, France, that are beset with social problems and run over by gangs. The plot revolves around how Leito (Belle) and a policeman uncover a government operation to blow up the district.
With Belle at the helm, the film is bedecked with thrilling parkour stunts and sequences. The film stands out for doing a lot of these sequences without wires or computer-generated effects.
A sequel, District 13: Ultimatum was released in 2009 and its 2014 English remake is called Brick Mansions, starring Belle in his original role along with the late Paul Walker.
It's a trip across London like no other. This documentary, first broadcast by Channel 4 in 2003, was meant to introduce parkour to the English-speaking world and captured the imagination of the audience instantly.
"This is a story of a journey," the narration begins. "A journey that begins on the rural edge of a Parisian suburb and culminates in an unprecedented trip across the rooftops of London's most famous landmarks."
Interestingly, it was during the shooting of Jump London that the term 'freerunning', which is now a recognized offshoot of parkour, was coined. In the documentary, the creator of freerunning,
Sebastian Foucan
, along with fellow French freerunners Jérôme Ben Aoues and Johann Vigroux run across town and through city landmarks like the Royal Albert Hall and HMS Belfast.
The founding group of parkour, including Belle, Foucan, Châu Belle Dinh, Williams Belle, Yann Hnautra, Laurent Piemontesi, Guylain N'Guba Boyeke, Malik Diouf, and Charles Perriére—later came to be known as Yamakasi.
The French movie, by the same name, released in 2001, is loosely based on them.
One fan-contributed synopsis on IMDB summarises it as: "7 guys from Paris' suburbs like challenges like climbing tall buildings and doing parkour – especially with cops/flics chasing them. When a kid fan urgently needs a heart the Yamakasis try to find a way."
A semi-sequel, called Les Fils Du Vent was released in 2004.
Traceur or tracer is, technically, a person who practices parkour.
The 2015 film Tracer is about how lead character, Cam (played by Taylor Lautner) becomes enamoured by parkour. He joins a crew that uses parkour to pull off daring heists.
Though the film failed to impress critics, the action sequences are well worth a watch.
"The plot is strictly routine, and so is the script, but the scenes in which the gang members dash and leap, tumble and spring across the city's rooftops give the film a giddy rush of adrenaline," wrote Jason Best in his film review on Movie Talk.
Who doesn't remember the opening sequence from the 2006 James Bond film?
Bond (Daniel Craig) giving chase to Mollaka (Foucan) through the construction site, up and down scaffolding, leaping from one crane to the other sets the tone perfectly for the action thriller.
On the official website 007.com, screenwriter Neal Purvis explains, "We wanted to establish the new Bond is gadget free, raw, slightly crazy, very physical and incredibly brave. We were also aware there had never been a foot chase in a Bond movie before."
Alexander Witt, who also worked on the production, gave a nod to Foucan's art: "The way Sébastien does it is like a ballet. It's not like running like a stuntman would do, there is a kind of flow in his running and jumping."
The 2019 Netflix action film, starring Ryan Reynolds, has some cut of the edge stunt choreography.
The movie is about how Reynolds, gathers a vigilante squad to take down criminals, terrorists and even corrupt governments. One of his team, Billy (Ben Hardy) is a tracer.
A well-known British parkour group, called Storror, did all the freerunning stunts in the movie. Including one audacious slide off the dome of the iconic Florence cathedral.
According to Toby Segar, a member of Storror, about 90% of the jumps and stunts in 6 Underground have not been meddled with by CGI. But during high-risk jumps, the stuntmen did wear cables and boxes were placed off camera to help break their falls.
An eccentric criminal (Mr Frank played by Danny Dyer) pits eight of the world's best freerunners in the "race for their life", against their will.
A ticking time bomb is attached to their collar, which they have to scan on three checkpoints across the city. The winner takes a million dollars, the rest are destined to die.
Sean Farris plays the protagonist, Ryan, in this freerunning fest, which promises, "No wires, no CGI, no holds-barred" action.
Some popular Hollywood movies that have parkour sequences: The Bourne Ultimatum, Prince of Persia: Sands of Time, Live Free or Die Hard.
And popular Bollywood movies that have parkour sequences: Dhoom 3, Bang Bang!, Aadhi.