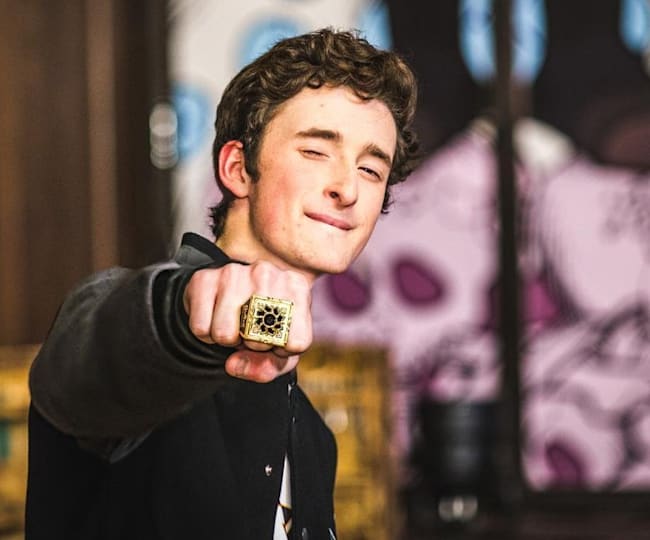 © CD Projekt RED
5 CCGs that could be the next big thing in esports
Hearthstone may be king of the digital card game, but competition is always looking to claim the throne. From Gwent to Artifact, these are the five CCGs that have some serious esports potential.
Collectible card games may not seem like the most exciting prospects in esports, yet there's undoubtedly an audience who enjoy watching players order creatures to attack each other or fling spells across a tabletop. And while tournaments have been a big part of physical card games for years, the rise of Hearthstone has seen more digital card games aim to captivate a portion of that ravenous audience.
Blizzard's game clearly sits at the top but something new can just as easily come along and stake its own claim for competitive greatness. Whether they're fresh-faced or have already started to establish their own regular tournaments, these are some current or upcoming digital card games that could have an exciting future in esports.
1. The Elder Scrolls Legends
Sensibly, Bethesda's big foray into the world of digital CCGs uses one of its most well-loved franchises to entice its existing fan base. The Elder Scrolls has a rich lore and history that, like Hearthstone, means there's a vast well of themes and ideas to draw from in a card game. Since its release in 2017, the game has been performing comfortably, offering a unique two-lane board and releasing a number of new expansions to add to the existing card pool.
Meanwhile, the competitive side of The Elder Scrolls Legends is slowly gaining traction too. At this year's QuakeCon, Bethesda hosted its first major tournament for the game: the Legends Masters Series. The competition saw 16 players from around the world compete in Dallas, Texas for a shot at $50,000 in prize money.
It's a huge step up from many of the smaller, grassroots tournaments that had previously been organised around the game and a big statement of intent from the game's publisher. Looking ahead, Bethesda have said they want to continue this esports push at a steady pace, so while the game is still in its early days, the potential is clearly there for more in the future.
2. Magic: the Gathering Arena
Perhaps the most well-known CCG, Magic: the Gathering has been a staple of the physical tabletop for 25 years and often serves as many player's introduction to card battlers. Before long, you've settled on your favourite colour, invested far too heavily in booster packs and decided that everyone who plays Blue is the worst person imaginable.
That monumental success for Wizards of the Coast has seen the game attempt to break into the digital realm a number of times – although it has found mixed success. Yearly releases were messy titles that often served more as additional marketing material for the latest expansions, rather than replayable games in their own right. Magic: the Gathering Online, however, offered a reasonable replication of the game in a virtual form.
There's a potentially exciting future ahead, though, with Magic: the Gathering Arena. The intention behind the game is to have greater parity with the physical releases, making new expansions available at the same time they are released in store, while also exclusively focusing on the Standard card pool for competitions. The game is currently in beta, though a full release is expected in 2019, when we might see how Wizards of the Coast look to push for competitive play.
Starting out as just a fun little distraction for players in The Witcher 3: Wild Hunt when they wanted to take a break from monster hunting with Geralt, Gwent quickly soared in popularity. It made sense, then, that with the trilogy of RPGs concluded CD Projekt RED would consider a standalone version of its card-based army battler.
A competitive community quickly built around the game during beta, with long-time CCG players including Adrian 'Lifecoach' Koy and Jan 'SuperJJ' Janssen deciding to switch over from other games and make regular tournament appearances. CD Projekt RED also set up the Gwent Masters: an entire season of official esports competition that will reach its conclusion with the first World Masters in the near future.
It's strong start for Gwent esports, then, though what comes next is very much up in the air right now. The game itself is going through a hefty rework that intends to change many of its fundamental aspects. So far we've seen one row completely cut from the battlefield, a rethink of how card abilities work and some significant attempts at game balancing. Perhaps this will revitalise the esports scene around the game?
OK, we're slightly breaking the rules with this one. Prismata is ostensibly a card game, but it also combines real-time strategy and turn-based strategy mechanics to make a fascinating hybrid. At its base level, though, it's a game of resource collection, unit construction and army battles as you attempt to eliminate your opponent – and it's incredibly fascinating to see in action.
Prismata has already got some pre-launch buzz during its early access period from CCG players and top pros. Many praise the combination of genres that truly set it apart from similar games, while others appreciate that – first and foremost – Prismata is a skill-based game that removes a lot of the randomness that can frustrate in traditional CCGs. It's even broken out from the videogame world, with poker players showing considerable interest in Prismata too.
Quite whether any of this will translate to esports success is tough to say right now, though Prismata will launch its free-to-play version later this month. That influx of new players could prompt a surge in popularity, and if community led tournaments start to crop up, then it would be wise of Lunarch Studios to nurture that scene.
Valve's Dota-themed Artifact seems almost a dead cert for some kind of esports push. First off, it's riding on the back of one of the most popular MOBAs out there today, with prize pools that would make even the most jaded esports cynics raise an eyebrow. With that audience for Dota 2 already established, it makes total sense that there's a lot of room for crossover, especially if players are looking for a healthy environment to compete in thanks to Valve's years of experience in esports.
The game itself is one that should excite CCG players too. It takes the rich and complex skirmishes of Dota 2 and attempts to replicate them on a much smaller scale, but without losing the intricacies that make them so compelling time and time again. That sort of gameplay is exceptionally enticing for esports pros, who are constantly looking for more opportunities to display their superior skills.